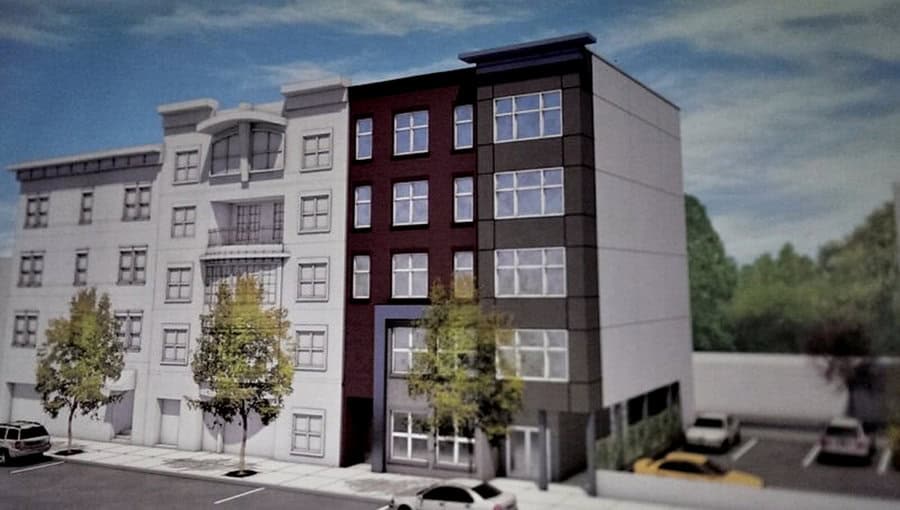 In April, there will be an empty space at 308 Second St. where American Legion Post 107 now stands. It's not disbanding, but rather expanding after demolition. Their new building will contain five floors and 11,000 square feet of space, and will provide housing for six homeless veterans.
According to Commander John Carey, an estimated 40,000 veterans are homeless throughout the United States and 29 are in Hudson County.
Finance officer for the post, Mark Villamar, said he believes veterans find themselves homeless for many reasons.
"It's interesting," he said. "Just keep in mind, when you think about it, every person that goes in the military without any exception has to pass physical and mental tests. So something happened to these people when they were in the military, whether they were in a Humvee that ran over an explosive device and got their head smashed against the inside of the car, or injured in some other way, or shot and got addicted to some kind of pain killer. Or most likely and most often, the stress of being in a combat zone for extended periods of time weighs on them in ways that are hard to define or describe."
_____________
"We will be working with the Hoboken Homeless Shelter to help come up with services as well." – Mark Villamar.
____________
He added, "It's serious enough to raise the kind of problems that we have in this country where not only are there a lot of homeless veterans, but a lot of suicides."
Carey and Villamar said they plan to have programs for the tenants, and will offer supportive services to those housed.
"We will be working with the Hoboken Homeless Shelter to help come up with services as well," said Villamar.
Carey said he would like to store donated items such as clothes on the first floor to help other homeless veterans, not just the six who live there.
"It's important to say that we are not providing transient housing," Carey said. According to Villamar, the tenants will have to pay rent, which is "30 percent of their income," and applicants will be provided by the county.
The amount tenants will pay will be minimal, as it will be connected to any income including Social Security checks, pensions, and low-income jobs, with federal funds making up the difference. According to Villamar, the legion was awarded six federal housing vouchers for homeless veterans in 2015 from The Department of Housing and Urban Development (HUD).
The building will eliminate three parking spots in the city's lot next door.
Layout and funding
According to Villamar, the top three floors of the new building will each have a studio unit and a one-bedroom unit with shared laundry facilities on each floor.
The second floor will consist of meeting space for the post's members and the first floor, which is in a flood zone, will have mailboxes, a vestibule, and elevator access.
Carey said they began the process a year and a half ago and have received financial help from residents and the government.
"The administration has been helpful and is working with us," said Carey.
In March of last year the City Council approved of the post's plans after a public meeting was held.
According to Carey, "The community and our neighbors have been supportive. I was a little worried when the mayor said she would like to have a public meeting to discuss the project."
He said he was worried some residents would react negatively to the development. "But everyone supported the idea."
On Jan. 19 the New Jersey Mortgage Town Home Finance Agency provided $1.29 million in funding for the project. Unfortunately they had been hoping for $1.5 million, according to Villamar.
Villamar said the post has enough funds for demolition and to begin construction but needs about $1 million more to complete the project.
The Legion plans to raise $1.2 million through soliciting donations, through an online campaign, and through a few fundraising events which they are planning.
Marilyn Baer can be reached at marilynb@hudsonreporter.com.