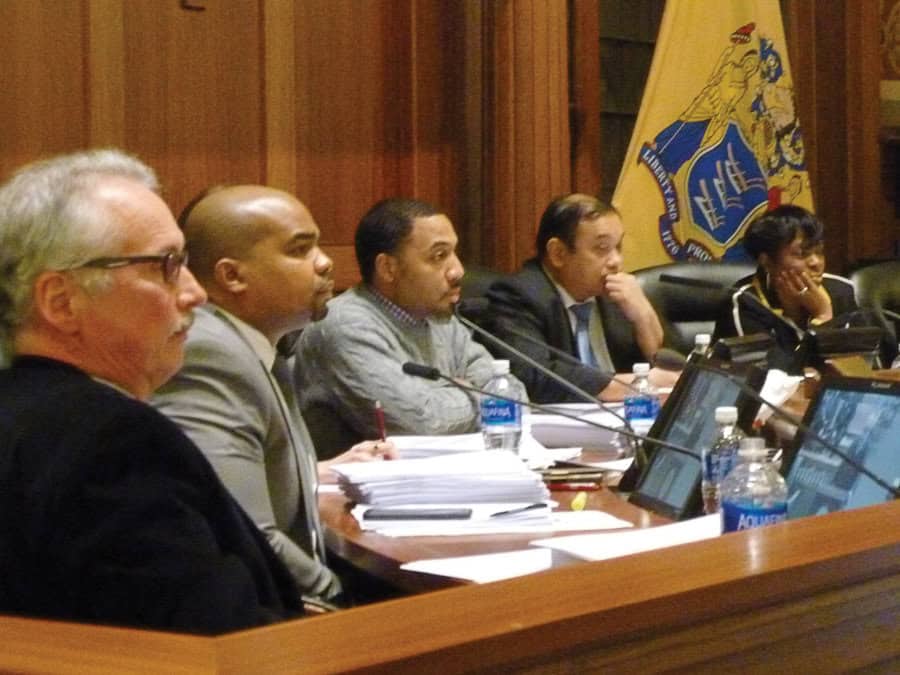 Jersey City officials announced last week that the first city-wide revaluation of property since 1988 is set to start. Revaluations can be politically unpopular because they bring old homes up to current tax rates.
City Council members learned at their Feb. 6 caucus that the last state requirements have been met to clear the way for the city to start the process.
Although the council voted last fall to hire a company to conduct a new revaluation as part of a state mandate, a delay ensued when the state also required the city to update its tax maps.
Despite having already prepared tax maps for a revaluation started then stopped in 2013, city officials said the state needed certain areas clarified, including properties surrounded by taxable properties that which appeared to have no assigned ownership, and condo properties that needed to be listed individually, rather than as part of one large condo development.
Early in 2016, state tax officials told the city that the process must be completed by November 2017.
Revaluation reassesses the value of all properties up to their actual potential sales value. This may help people who bought newer properties that went down in value. However, many properties in the city are assessed at values that are decades old compared with more recent properties constructed or sold.
_____________
"We will conduct at least one hearing in each ward as well as more focused hearings in places such as senior buildings or before neighborhood associations that may want them." – Robert J. Kakoleski
____________
While a revaluation theoretically would increase the potential tax on older homes, city officials say the impact might not be as drastic as people would expect. The overall value of the city property tax base will rise, and the tax burden will be spread out across many more properties, so that could lessen the impact on individuals.
Since Jersey City has not conducted a revaluation in 28 years, the average property is assessed at 27 percent of its market value. Any figure under 80 percent, the state contends, is in violation of state statutes and requires the city to conduct a revaluation.
Business Administrator Robert J. Kakoleski said the city will hold public hearings in each of the sixth wards, as well as before neighborhood associations, to talk about the process and the possible impact of the revaluation.
"We will conduct at least one hearing in each ward as well as more focused hearings in places such as senior buildings or before neighborhood associations that may want them," he said.
These events will explain the process by which the revaluation will take place and what residents should expect, and will listen to and respond to public concerns, city officials said.
"In some cases, these issues will be different, depending on the hearing," Kakoleski said. "The issues for seniors will likely be different from those of a neighborhood association. So the public hearings will address each."
They will start over
Although many homes were inspected during the previous attempted revaluation, this information is already out of date and so the revaluation must start from scratch, city officials said.
The city started a revaluation in 2012 under Mayor Jerramiah Healy then this was delayed in order to update tax maps. The revaluation kicked off in early 2013. But when Mayor Steven Fulop took office in July, 2013, he halted the revaluation.
Fulop argued that there was a conflict of interest involving Realty Appraisal, a West New York firm hired to perform the revaluation, since an employee of Jersey City at the time went on to work for the company. But courts ruled against the city, and ordered the city to pay for the portion of work done up until Fulop ordered the reval to stop. The city has appealed that decision.
Last September, the council approved a $4.4 million contract with Appraisal Systems, the lowest of three bids submitted to the city. This was opposed by Councilmen Michael Yun and Richard Boggiano.
Boggiano called the new revaluation "a waste of money," and said the first revaluation should never have been halted. He originally raised concerns about the negative impact the revaluation might have on older home owners, but had a change of heart after learning some details about the potential revaluation on future taxes.
The revaluation comes at a time when Fulop is running for reelection and control of the city council could potentially shift. Many expect this to become one of the central issues of the campaign, as those opposed to Fulop and some of his development policies play up the fear of potentially higher taxes.
The Fulop administration, which is expected to announce dates for the public hearings shortly, has encouraged people to come out, ask questions and get answers, before they get barraged with misinformation.
"We will be holding public meetings soon, within a few weeks, in each ward," said Jennifer Morrill, spokesperson for the city.
Al Sullivan may be reached at asullivan@hudsonreporter.com.