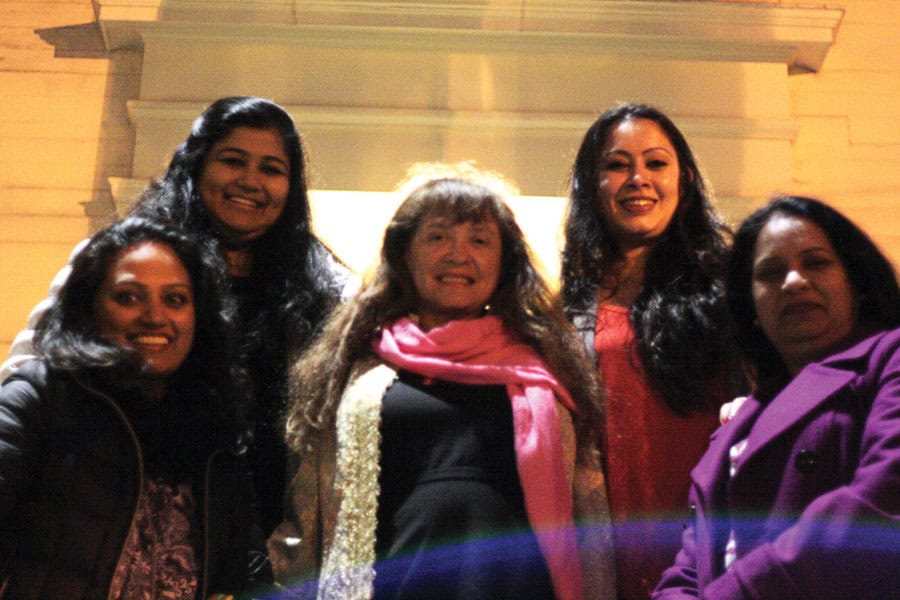 For many Americans, anticipation of the change from winter to spring starts with Groundhog Day on Feb. 2, and continues through a series of national and cultural holidays that includes St. Patrick's Day, until spring actually comes.
But there is a much older and even more picturesque holiday called Holi, part of a Hindu tradition.
While most people are aware of the autumn Indian celebration of Diwali (an incredibly joyful event in the Indian calendar), Holi is an ancient Hindu religious festival which has even become popular with non-Hindus throughout the world. The date varies from year to year, coming sometimes in March or even as early as February. The festival always celebrates the coming of spring.
The Van Vorst Park Association and The Barrow Mansion will hold its first "Holi and Art Experience" art show on March 11 and 12.
The event will feature four women artists from Jersey City and Bayonne, whose work reflects both traditional and contemporary views of Holi, and for the most part will feature vibrant colors associated with this ancient celebration.
The Holi, organizers point out, originated throughout South and East Asia as a festival signifying the victory of good over evil and the coming of spring. It is now celebrated worldwide.
The four women, whose work has appeared in shows throughout Hudson County and the region in the past, bring their own unique visions to this show, presenting a range of traditional to the most cutting edge, using sometimes the vibrant colors standard for the holiday and at times playing with minimalist tones, such as a bright single image against an otherwise black and white backdrop.
The four artists are seeking to showcase their talents in contemporary and traditional renditions of South Indian art.
Award winning artist Alpana Mittal "Tejaswini" endeavors to modernize traditional themes in her art, and tries to embody the concept of the tradition.
_____________
"Holi is about color and you can expect vibrant color." – Shilpa Gowda
____________
Nupur Nisith, also an award winning artist, aims for a contemporary reinterpretation of the Indian folk art Mithilia and Madhubani painting.
Tharanga Gooetilke utilizes an "east meets west" nontraditional style in her striking, intricate, predominantly black and white drawing.
"I use this to emphasize the color," she said. She is also a critically acclaimed soprano and the first Sri Lankan woman to graduate from the Julliard School.
Shilpa Gowda is an emerging artist with an innate sense of color and design. Her creations are full of life, light, and dance with vivid color.
"Holi is about color and you can expect vibrant color," she said.
The event will be held on two nights, from 5 to 10 p.m. on March 11, and from 5 to 8 p.m. on March 12, in the historic Barrow Manson, 83 Wayne St., Jersey City.
There will be Indian light fare, complimentary wine, and refreshments Saturday and Sunday. There will be a special operatic performance at 8 p.m. on Saturday, featuring Tabla artist Anirban Roy Choudhary.
The event is sponsored by the Barrow Mansion and The Van Vorst Park Association. Donations to the nonprofit organizations are welcome.
Women's history month art show in City Hall
Not far from the Barrow Manson, local artists will help celebrate Women's History Month with a month-long show in the City Hall Rotunda with a reception scheduled from March 14 from 6 to 8 p.m.
"My Janis Joplin piece will be on display at the City Hall gallery for Women's History Month," said Cecilia Martinez.
The free event is sponsored by the Office of Cultural Affairs.
In the United States, Women's History Month traces its beginnings back to the first International Women's Day in 1911. This was later expanded to Women's History Week in the late 1970s, and became a nationally-recognized event when President Jimmy Carter a presidential proclamation
Women's History Month highlights the contributions of women to events in history and contemporary society. It is celebrated during March in the United States, the United Kingdom, and Australia, corresponding with International Women's Day on March 8, and during October in Canada, corresponding with the celebration of Persons Day on October 18.
Al Sullivan may be reached at asullivan@hudsonreporter.com.