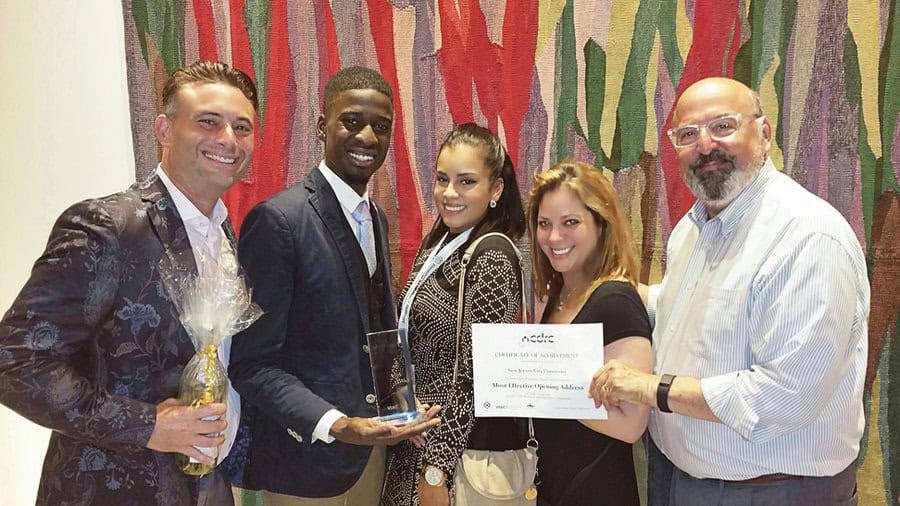 Legislation initiated by the New Jersey City University School of Business for dispute resolution could put the state in the forefront of settling international business disputes, says Karen DeSoto, co director of the NJCU Institute of Dispute Resolution. A bill NJCU introduced to the state legislature and passed on Feb. 6 is the first step towards the state becoming a global center of international arbitration and would allow New Jersey to become a center for resolving international and business disputes.
Gov. Christopher Christie signed the legislation into law on Feb. 7
Called the New Jersey International Arbitration, Mediation, and Conciliation Act, the law proposes to allow certain nonprofits in the state to organize alternative dispute resolution centers that facilitate the resolution of international business and trade disputes through arbitration, mediation or conciliation.
New Jersey is one of 10 states that have passed similar legislation.
The legislation, sponsored by Senators Sandra Cunningham and Sean Kane, is based partly on protocols established in what is called The New York Convention in the 1950s, which was signed by 117 nations including the U.S. These protocols set up a system that allows collections to be enforced in other nations.
David Weiss, who also serves as co-director, said the 1950s protocol for legal disputes, however, did not mandate mediation, so mediated settlements were often not binding.
Mediation is a less confrontational way of settling these disputes, he said, and often allows individuals and companies to salvage business relationships that might be lost through a more confrontational legal process.
_____________
"Arbitration is hostile. Mediation is not." – David Weiss
____________
The law would allow these settlements to be recognized in the way legal rulings are under the New York Convention Protocols by those countries that have signed onto it.
Weiss said mediation will hopefully reduce the cost associated with traditional lawsuits.
Since business people do not want to risk long standing relationships, they seek to find ways to resolve these disputes without hostility. This often means they will seek a neutral third party, a professional mediator, to help reduce the legal costs and to maintain good terms.
"Arbitration is hostile," Weiss said. "Mediation is not. If you do business, then you' re going to have a dispute, if you don't have a mediation process, all you're left with in arbitration or the international courts."
NJCU is becoming a leader in the field
NJCU is expected to become a center for dispute resolution. It is already years ahead of other institutions in the state.
Last July, students and Faculty from New Jersey City University were selected as one of three American teams to compete in a prestigious international mediation and negotiation competition in Vienna.
Only30 teams from around the globe were selected to negotiate as teams of council and client at "CDRC Vienna – The IBA-VIAC Mediation and Negotiation Competition."
NJCU and Universidad de Jaén (Spain), paired as a negotiating team, were awarded the prize for "Most Effective Opening Address."
This competition was designed to highlight dispute resolution practitioners, paving the way towards consensual methods of settling the business disputes of the future.
"The CDRC in Vienna is a proving ground for expansion of commercial negotiation and mediation from a cross border perspective and is paving the way for a new generation of business leaders utilizing dispute resolution frameworks to facilitate business transactions," Weiss said. "NJCU students competed with leading law schools and business schools around the world by negotiating actual international business disputes with the support of a mediator. The scenario can't be more real world than that."
A total of over 90 experts, trainers and coaches from over 30 countries worked with the students for their preparation and during the competition.
Weiss and DeSoto served as coaches for the team. Student participants included Marcos Amor Bayona, law graduate of the Universidad de Jaén (Spain) and Leman Kaifa, a senior majoring in political science at NJCU; and Paola Leguizamo, psychology graduate minoring in pre-law and business. Kaifa and Leguizamo shared the award for Most Effective Opening Address.
Others on the team included Cody O'Malley, Anna Maria Meca Pérez, and Kendall Tribbett.
"We prepared for two months," Weiss said. "Judges come from all over the world."
These include arbitrators and mediators, people from Fortune 1000 and other companies.
NJCU has been a pioneer in the field as part of its business school. Weiss said often went commercial disputes arise, lawyers get involved, and business people have to make decisions on how to deal with these disputes.
Weiss said he and DeSoto started the program about two years ago. The school has become something of a business laboratory.
Al Sullivan may be reached at asullivan@hudsonreporter.com.