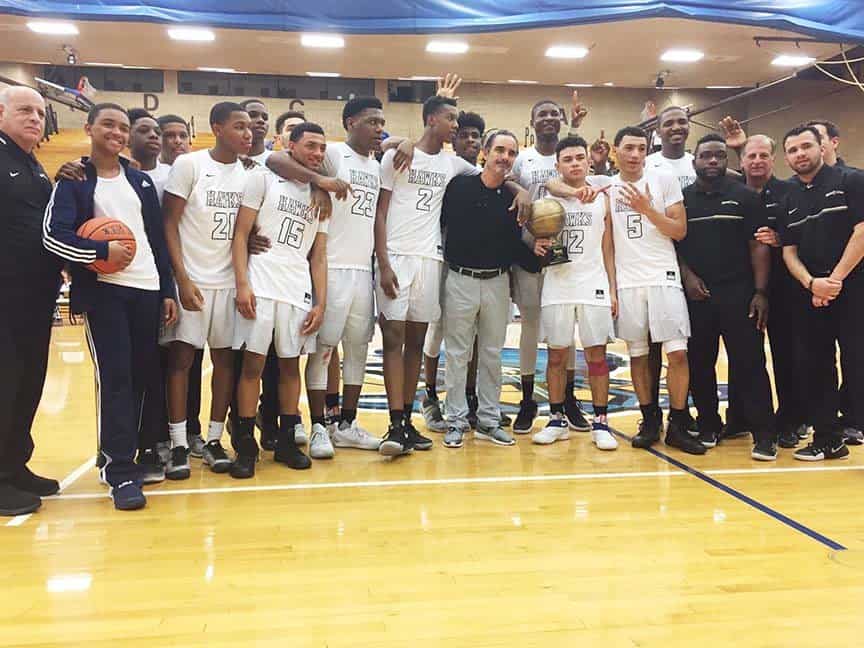 Hudson Catholic head boys' basketball coach and athletic director Nick Mariniello has a lot of different rituals he goes through prior to games. Except one.
"I don't get nervous before games," Mariniello said. "I never have. I keep myself occupied with other things. I don't like being uneasy and playing things over and over in my head."
But for some reason, before Mariniello's Hawks faced St. Peter's Prep last Saturday night for the annual Hudson County Tournament championship at St. Peter's University's Yanitelli Center, Mariniello had a weird feeling in his stomach about one particular member of the opposition.
"Brandon Thiele is a very good player," Mariniello said of the Prep junior sharpshooter, who scored 24 against the Hawks in last year's county title game. "I knew we had to play good defense on him."
The Hawks did exactly that, holding the Marauders to 19 first-half points en route to a 48-32 victory to capture their record-setting sixth straight county championship in basketball.
No Hudson County team has ever collected six straight boys' basketball titles. The previous record was five straight secured by Marist, the Mike Leonardo-led Royal Knights of the late 1990s-early 2000s. It's now a record the Hawks own all to themselves.
And to think, there was talk in 2008 that the school was actually going to close.
Now, the school is a record-setter.
Mariniello was proud of his team, but more importantly, he was proud how they played,
"That's the way I wanted them to defend in the game and defend all season," Mariniello said. "Our man-to-man defense was pretty good. The guys stepped up. I would rather win a game like we did today than to win a game in the 70s or 80s. I pride myself as a defensive-minded coach first. I've always said that if you can defend, you have a good chance to win. To hold this team to 32 points is amazing."
Mariniello said that the Hawks "had to work hard for everything."
"Alex [Mirabel, the Prep head coach] did a great job against us," Mariniello said. "They wore us down early on."
But down the stretch, it was a lot of juniors Jahvon Quinerly and Louis King to seal the deal.
Quinerly had 20 points and King added 16 for the winners.
"I knew we were going to play Luther [Muhammad] and Jahvon a lot after that slugfest of a first half [22-19 at the half with Hudson Catholic leading]," Mariniello said. "I knew we would eventually get Louis King involved. We needed patience and that was good. High school basketball is a guard's game. At least, it is in Hudson County. We know we have some good guards. We had to let the guards, like Jahvon and Luther, take over. They did what they had to do."
The Hawks took control in the third quarter, then coasted home to yet another county title.
"Putting everything in perspective, I'm happy for this team, because they have been through a lot," said Mariniello, who lost senior guard Tyheim Burno for the season for disciplinary reasons a month ago. "I'm happy for the school. We're in a good place. It's all positive stuff for us."
Mariniello was asked to reflect back on six straight county titles.
"When I think back, I think to other teams that weren't as talented and still managed to win," Mariniello said. "So I wanted to make sure that we were prepared this time. And we won because of our defense. So I'm more impressed with the way we won more than the fact we won."
The Hawks now try to secure the one thing that has been most elusive and toughest for the Hawks to attain — the NJSIAA state championship.
No matter the section, either Non-Public A or B, the Hawks have hit the wall in the states — and usually that wall has been St. Anthony.
The Hawks will more than likely once again face the Friars in the eventual Non-Public B North state title game at the Louis Brown Recreational Facility on the campus of Rutgers University in Piscataway next Wednesday night, March 8, at 8 p.m.
This year, perhaps more than any other previous meeting, the talent gap between the two teams has lessened. The Friars, who have lost five times this season, are not as talented as they have been in the past and the Hawks boast of three major NCAA Division I products (Quinerly, Muhammad and King).
So maybe this is the year that the Friars get toppled by the Hawks and Hudson Catholic can lay claim to a state title. We'll know more for certain a week from now.
Jim Hague can be reached via e-mail at OGSMAR@aol.com. You can also read Jim's blog at www.jimhaguesports.blogspot.com