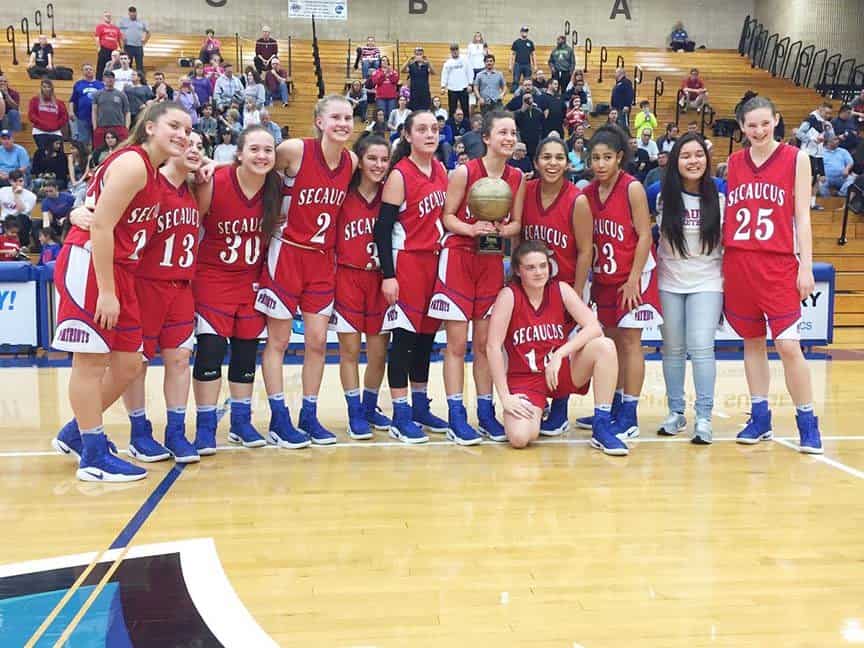 When the high school basketball season began in earnest with the first days of tryouts last November, veteran Secaucus girls' head coach John Sterling really didn't know what kind of team he had.
It wasn't a veteran team. It wasn't a proven squad. The Patriots were a team of question marks and Sterling knew it.
"I wasn't really sure what we had," Sterling said. "I knew we had a good freshman class coming in. I just hoped that things would happen for the best."
However, early in the season, the Patriots played in the always tough Joe Poli Holiday Tournament at Pascack Valley in Bergen County. Most of the teams at this long-standing and respected tourney are much larger schools than Group I Secaucus. The tourney also attracts the best teams in northern New Jersey.
When Secaucus had very good teams, like the one the Patriots fielded two seasons ago with standouts Julia McClure and Andie Lennon and won the first 27 games they played that year, the Pats went to the Poli Tournament and fared very well.
But this year was a crapshoot – and it didn't turn out in the Patriots' favor.
"We lost two games in the Poli [tournament]," Sterling said. "We lost to Northern Highlands at the buzzer. The next game, we had the lead against Holy Angels, but we just got worn down and lost. In the preseason and in practices, we focused more on the teaching at the expense of conditioning. We just got worn down."
But Sterling made a realization after the loss to Holy Angels.
"I felt that we had a good team, a quality team," Sterling said. "I felt like we could play very well against quality opponents."
The Patriots did exactly that on a regular basis, winning 16 straight games at one point, before losing by a three-point margin to perennial power John F. Kennedy High School in Paterson.
"They jumped out on us and led 13-0 early," Sterling said. "But our girls really battled back. We ended up losing by three [59-56], but they played well. A lot of other teams could have quit and packed it in, but they stuck with it and played hard. I was really proud of their effort. It proved to me that they could do it against quality opponents."
In the Hudson County Tournament finale last Saturday night at St. Peter's University's Yanitelli Center, the Patriots were facing undefeated top-seed Marist.
The Royal Knights had won their first 21 games of the season in relatively easy fashion, making them the pre-game favorite to roll over the Patriots.
But Sterling had a feeling.
"After we won in the semifinals [beating Bayonne, 45-30], I immediately said to the girls that being undefeated is both a blessing and a curse," Sterling said.
Marist was the last undefeated team left standing in the entire state. Some 350 teams play girls' basketball in the Garden State. Marist was the only one before last Saturday without a loss. Pretty impressive.
Sterling didn't flinch prior to the game.
"It's a blessing because you've played so many games and didn't lose," Sterling said. "It's a curse, because if things get tough, you start thinking to yourself, 'Hey, we're undefeated,' and it gets a little tight. We felt like we had a good chance. It's girls' basketball. It all comes down to making shots."
Which is exactly what the Patriots did. They made their first 3-pointer. Standout junior Lindsay Mack, who gave a verbal commitment to play at Fairleigh Dickinson University in Teaneck after next season, calmly drained her first 3-point attempt of the game just 20 seconds into the game.
The Patriots didn't stop there. They made their next trey. And their next. And the next.
"You can't shoot much better than what we did," Sterling said. "I was a little concerned, playing at St. Peter's on the bigger court. I didn't want fatigue to set in. I made a decision not to press. I wanted to save our energy on the offensive end, so we played half-court defense against their quick guards."
All totaled, the Patriots connected on an astounding 14-for-27 from beyond the arch en route to a convincing 76-50 victory over the previously undefeated Royal Knights.
"The score is a little misleading," Sterling said. "We got up 15 in the second quarter and our defensive effort was outstanding. They're a good offensive team and we made the effort to play defense. They only played six players and I think the big court and fatigue finally set in."
Mack led the way with 22 points and 10 rebounds. Amanda Ulrich, the sophomore point guard, added 19 points and nine assists. Damaris Rodriguez, the fabulous freshman, also threw in 19 points and added six rebounds.
And now, Secaucus has its second Hudson County championship after going so many years without one, the second in three years.
"We had some nice successful seasons," Sterling said. "We were close a couple times."
No worries about coming close now. Secaucus, from the little Group I program, is the county's best again.
"When you finally do win it, it feels really good," Sterling said. "I'm so happy for the girls. They accepted their roles and worked hard."
With not a single senior on the roster, can we be looking at a repeat performance in 2018?…
For the first time since 2011, New Jersey City University is headed to the NCAA Division III men's basketball tournament. The Gothic Knights received an at-large berth and will face Skidmore College in the first round at Babson University near Boston this weekend.
The Gothic Knights were a little devastated when they lost in the New Jersey Athletic Conference title game to Ramapo College, coached by North Bergen native Chuck McBreen, on a 45-foot heave at the buzzer.
After getting snubbed by the NCAA D-III committee last year and now dealing with the buzzer beating bomb, NJCU senior Chinwe Wosu had to wonder what the Gothic Knights had to do to go to the D-III dance.
"Coming off that loss [to Ramapo], I felt we deserved a second chance," said Wosu, the Jersey City resident and first University Charter grad to play college basketball. "Now, I'm getting a chance to go out with a bang. It would have been hard for us not to go again. We worked hard all season to get this chance. We're building something here and I'm glad to be a part of it."
Wosu is a graduate student who already received his bachelor's degree. He was named the NJAC Defensive Player of the Year for the second straight year. Not bad for someone who was cut from the squad as a freshman.
NJCU head coach Marc Brown, the former Siena great, knows how important it is for his program to get the chance to dance again.
"It's a very big deal," Brown said. "Our goal every year is to get to the tournament and sometimes that doesn't happen. I want to get this program to where my father had it."
Brown's father is the legendary Charlie Brown, who was the head coach at NJCU for 20 years and led the Gothic Knights to the postseason in almost every single one of those years.
"It was a devastating loss we suffered to Ramapo," Brown said. "Our goal was to get to the NCAA and see what we can do. We want to keep the season going."…
St. Dominic Academy track standout Malia Gray reached 17-1 in the long jump at the Eastern Invitational meet Tuesday night at the New York Armory. She became the first SDA athlete to reach 17 feet and it's the longest jump in Hudson County since 1984…
Last week, we made a horrendous error with the Boys' Basketball Top Five, for some reason omitting St. Peter's Prep, who should have been listed as the No. 3 team, as the Marauders are this week. We apologize to the Marauders and to anyone offended by the sloppy mistake…
Hudson Reporter Boys' High School Basketball Top Five: 1. St. Anthony (20-5). 2. Hudson Catholic (23-3). 3. St. Peter's Prep (18-7). 4. North Bergen (21-5). 5. Snyder (15-9)…
Hudson Reporter Girls' High School Basketball Top Five: 1. Secaucus (24-3). 2. Marist (21-1). 3. Lincoln (20-5). 4. Bayonne (19-6). 5. Weehawken (22-3)…-Jim Hague
Jim Hague can be reached via e-mail at OGSMAR@aol.com