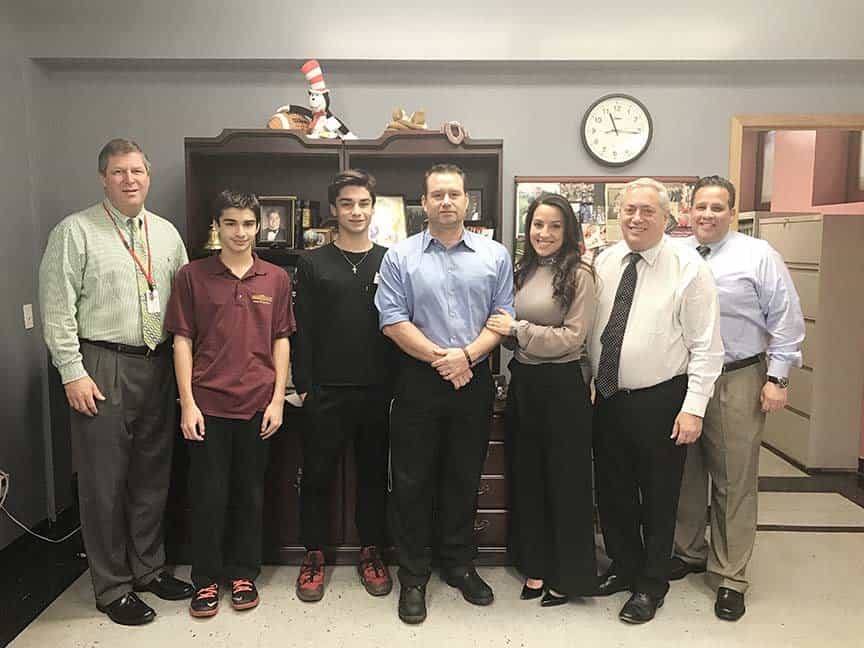 The offseason has led to some major changes among the head football coaching ranks in Hudson County high school football, perhaps an unprecedented total.
There will be new head coaches at five Hudson County schools this fall. That total is simply mindboggling.
It used to be that the coaches remained at schools for decades. Guys like the late Vince Ascolese at North Bergen or the late Don Ahern at Bayonne or the late Tony Ferrainolo at Memorial or Frank Gargiulo at the now extinct St. Joseph's of the Palisades or Ed Stinson at Hoboken.
Those guys were staples of the Hudson County high school football. They were guys you knew were always going to be there and were highly recognized with their respective schools. Simply put, they were coaching legends and icons.
But that's not the case anymore. Coaches don't seem to stay around for extended stays.
Only Rich Hansen at St. Peter's Prep has remained in charge at Grand and Warren for the last 27 years. There has been tremendous turnover in the other schools, none more than in the last few weeks.
After 12 years as the head coach at Hoboken, Lou Taglieri has decided to resign, ending an incredible run with the Redwings. Taglieri posted a 95-38 record at his alma mater, including four NJSIAA state championships and five Hudson County titles.
"It was probably by the summer time last year that I got a feeling it was time to go," said Taglieri, who was a long-time assistant to Stinson before taking over as head coach in 2004 and promptly won his first 21 games in charge. "A lot of things have changed since I became the head coach. I remember talking to Jim Jacobson [the long-time St. Peter's University professor and track coach at the school] and I asked him why he was resigning. He said, 'When it becomes more important for you than it is for them, then it's time to go."
Taglieri remembered how he became involved with coaching in the first place.
"I was in the Air Force for 10 years and after I had enough, I asked Coach Stinson if he could find a spot on his staff," Taglieri said. "Then I got a teaching job. I never wanted to be a head coach. I only wanted to be a line coach. It wasn't my desire to be a head coach. But once I became a head coach, I did enjoy it. But it wasn't my goal in life."
Taglieri said that he had the time of his life as a coach.
"How else could I get the chance to meet my idols, Joe Paterno and Dean Smith?" Taglieri said. "I got to meet them both through coaching here. I got the chance to drive Joe Paterno to the airport on several occasions. Coaching also let me teach some life lessons."
Perhaps the toughest stretch for Taglieri was when his young son, Trey, was diagnosed with testicular cancer six years ago.
"He was only four years old," Taglieri said. "He had to go through three operations in nine days. It took a big toll on me and my wife. If I didn't have Gabriela to help me, I don't know what we could have done. She was tremendous. She also said that Trey looked forward to football season, so I couldn't quit. It was tough on me. Without my wife, none of this would have been possible."
Taglieri said that he's proud of the fact that he sent so many kids to play college football over the last 12 years.
"That's what makes my day," Taglieri said. "I had some of my players become policemen and firemen. That's what you coach for, to watch the kids become successful."
Taglieri said that he doesn't know if he's retiring permanently from coaching.
"I don't know," Taglieri said. "I'll probably pop up somewhere some day. But I won't be the head coach."
Rumors persist that former Redwing great running back and Syracuse standout Keeon Walker is the frontrunner to replace Taglieri.
Former Bruin Somick takes charge
Ed Somick remembers the glory days of North Bergen football. He was a member of the 1988 Bruin team that won the NJSIAA North Jersey Section 1, Group IV state championship.
Now, the 45-year-old Somick, recently hired to replace Mike Guasconi after just one season, believes he can turn things around.
"I know all of these kids," said Somick, a vice-principal in the district for the last 19 years and a coach in the famed North Bergen Recreation department for the last 24 years. "I just think we need to play old style football, grind it out, get the mentality that we're tough. The kids all know me. They played for me. It's my time. I'm well aware of the expectations. North Bergen is a football town. I don't want to disappoint anyone."
Somick knows that he's now the fourth head coach in the program since the legendary Ascolese retired after the famed 2011 season, one that saw the Bruins win the Group IV state title in the "Miracle of the Meadowlands," only to have the NJSIAA strip the Bruins of the title because of illegal recruiting allegations.
"I'm not trying to put myself in anyone's shoes," Somick said. "I just want to bring everyone together, get everyone on board. I do think we can turn this around pretty quickly, but everyone has to buy in."
Somick knows that the rumors have been swirling about him getting the position because of his mother Kathy's close relationship with Mayor Nicholas Sacco.
Kathy Somick served as Sacco's secretary for many years before recently retiring.
"I've heard it my whole life," Somick said. "Nothing bothers me anymore. Nothing fazes me."
Superintendent of Schools George Solter addressed the idea as whether nepotism had anything to do with Somick getting the job in place of Guasconi after only one season. The Bruins went 5-5 under Guasconi last season.
"It did not come into the equation once," Solter said. "Ed got this job all on merit. That should be told to everyone. The main thrust to get a new coach came when Mike retired [as the principal at Kennedy School]. Coaching is a seasonal job and each year you have to apply."
Solter believes that Somick is the right man for the position.
"We've been watching Eddie for a few years now," Solter said. "He played for me. He was a student of mine. I've seen him work his way up from the freshman level. He's paid his dues in order to learn and grow as an assistant coach. He's a vice-principal at the high school in charge of discipline and security, so he has a handle of what needs to be done and the climate of the school. He understands the athletes. He's the right choice."
Make no mistake about one thing: Guasconi wanted to remain as the head coach and was not given the option.
"We hope that Eddie has a long career," Solter said. "We don't want to keep changing coaches."
Fallon steps down at Dickinson
After three years, taking a program that was disbanded for five years and then restored, Sean Fallon has stepped down at Dickinson High School.
Dickinson had eliminated football for five years after the 2009 season, then brought it back when Fallon was hired. Fallon was also once the head coach at St. Anthony.
"My son was born during the season, so I now have two young kids at home," Fallon said. "I was spending so much time with football that I was missing time with my kids. You only get one chance to be a good Dad."
Fallon was a little disappointed that the Rams weren't as successful, posting a 7-22 record over the three years as head coach.
"I really thought we would be able to turn it around quicker," Fallon said. "But a lot of the kids never played football before. From that perspective, I think we did pretty well."
The 38-year-old Fallon doesn't know if he will coach again.
"I just started the doctorate program," Fallon said. "I already have a Master's in special education and a Master's in supervision. I'll finish up school and see where it takes me."
Fallon enjoyed his time as head coach.
"I got to spend some special time with some special kids," Fallon said. "That, I will miss. It was a good experience for me teaching football. That's what I liked."
No reports as to the frontrunner to replace Fallon.
The other coaching changes involve former Marist head coach Juan Garcia taking over the program at Ferris, where Garcia attended, and former long-time Jersey City assistant coach Rich Glover, Jr. taking over the head coaching position at Marist.
Both Garcia and Glover spent recent time as assistant coaches at Harrison. Got all that? It is certainly dizzying to say the least.
Jim Hague can be reached via e-mail at OGSMAR@aol.com. You can also read Jim's blog at www.jimhaguesports.blogspot.com