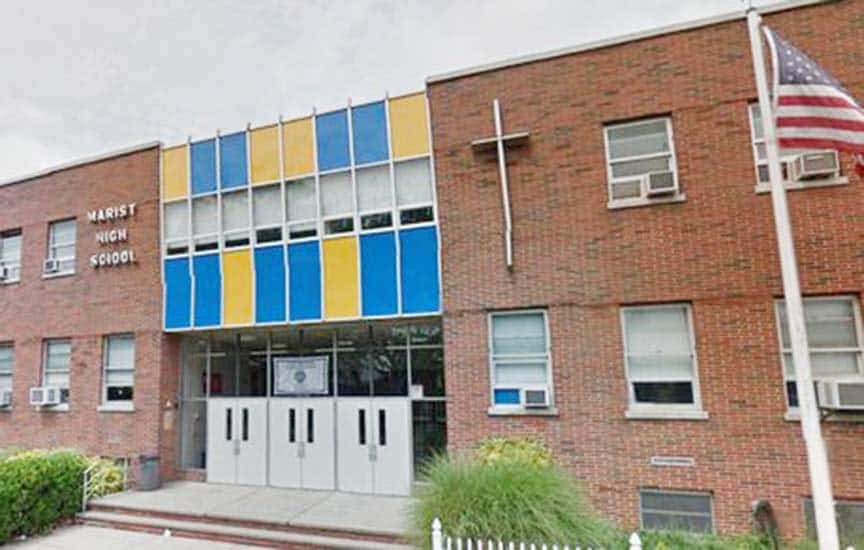 Mike Leonardo is one of the most successful head coaches in Hudson County boys' basketball history. Leonardo was the architect of the Marist High School program that won an astounding five straight HCIAA championships during the 1990s and captured the NJSIAA Parochial B state title in 1992.
Leonardo was floored with the news that his alma mater was closing at the end of the school year, unless a dramatic fundraising effort of $1.5 million is reached.
"I can't believe this news," Leonardo said. "I felt bad when I left the school, because I thought the kids who graduated each year liked coming back to open gym. The kids in the program enjoyed seeing the others come back. Well, before you knew it, there was a big brother/little brother relationship going on. It always bothered me that it came crashing down in the manner that it did."
The Marist Brothers issued a release Tuesday which read:
"After consultation with the Archdiocese of Newark's Education Office, it is with great sadness that the Board of Trustees of Marist High School announces the closing of the high school at the end of the current academic year…Despite the efforts to market Marist, the school continues to experience operating deficits, which have now eroded its modest reserves. Marist's projected revenue is insufficient to pay teacher and staff wages and benefits, utilities, maintenance and other essential expenses in the upcoming school year, and further reductions in staff are not conducive to being able to offer a complete and well-rounded Marist and Catholic secondary education."
The release said that only 76 prospective students enrolled in the school on the February 4 registration day held throughout the high schools inside the Archdiocese of Newark.
Leonardo, who moved on to become a vice principal at Sayreville Memorial High School before his illness prevented him from continuing in that role, said that he still remains in contact with a lot of his former players. He even returned to Marist last fall for the induction of all-time great John Giraldo into the Marist Hall of Fame. Giraldo is now the head coach at Matawan High School.
"I still hear from many of the kids who played for me and they are always connecting the dots between certain times of the year and some accomplishment that one of their teams achieved," Leonardo said. "I can still hear the pride in their words. I have an empty, uncomfortable feeling in the pit of my stomach that the school will no longer be there, not for me, but for all my guys who should be able to drive by the place or go watch a game with their children. They could tell their children they played on a championship team at Marist. I felt pretty nostalgic about the place."
Leonardo said that he was taken on a tour of the school when he was there for Giraldo's ceremony and was told of all the great additions to the school, like a medical lab and a computer lab.
"Why would all of that been done if they were so close to the finish line?" Leonardo asked.
The legendary coach has a point.
If Marist was so close to closing, why did the powers-that-be wait until after February 4 to announce their plight? It doesn't make sense to start a fundraising effort with only a month before the deadline date of April 25. Asking to raise $1.5 million in a month's time is a Herculean task.
If there was a financial crisis, then the fundraising efforts should have started in September or even October, much like what St. Anthony started and is continuing to try to do.
But even that school has set April 5 as a deadline as to whether it will remain open.
Can anyone in their right mind fathom the idea that the area will be without St. Anthony and Marist, both closing in the same year? It really limits the choices for prospective high school students, especially if parents are fearful to send their children to a public school.
"There's a huge sense of loss that many of us have," Leonardo said. "People have asked me over the years how I felt about the school and I would always tell them that I loved the kids, how they made a profound impact on my life. I don't mean just the players. I mean all of the kids that I had the honor of teaching every day. I remember going to work and looking forward to seeing the kids. I had great times in my class and it was truly amazing how genuine their support was of the team and each player. I could never reproduce what I had at Marist anywhere else.
Leonardo continued, "In fact, it would be fair to say that I didn't want to coach anywhere else. I have always said that I believe very strongly in the message at Marist. I never thought I would see a Bayonne that doesn't have a Holy Family [Academy] or a Marist."
The release from the Marist Brothers concluded: "Sadly, the same recent trends that led to the closure of other Catholic high schools have also affected Marist High School. The closure of many local Catholic elementary schools, the rising cost of education, the expansion of free charter schools, and the smaller number of Catholic school-age children in the area have brought Marist's sixty-two years of service to young people to an end."
Sadly is the correct term to use. It's sad to think of all the great athletic achievements and athletes the school produced. It was where Joe Borowski pitched before he went to become a top MLB closer. It's where the late Bill DeFazio coached the girls' basketball team to endless championships once girls were allowed to enroll. The gym floor is named for DeFazio.
It's where baseball teams won state championships under two different coaches. It's where an endless array of Leonardo's stars played before heading off to major college basketball. It's where legendary football coaches like the late Jackie Moore and the late Gene Pagnozzi led the Royal Knights to local and state playoff glory.
Simply put, Marist was a fixture in Hudson County sports for more than six decades. It was the pinnacle of what one would want in a Catholic high school.
There is a fundraising effort, a Save Marist campaign, hoping to raise the $1.5 million needed by April 24. It's an independent 501 (c) (3) effort, started by the Friends of Marist, Inc. There is a scheduled meeting to discuss the plight of the school on April 25 at the school at 6:30 p.m.
More information on the campaign and how to donate can be found at www.marist.org/savemaristnj.
Any questions about the campaign can be referred to Head of School Alice J. Miesnik at (201) 437-4545 ext. 102.
It's just awful news to hear of another legendary Hudson County Catholic school possibly closing, but like St. Aloysius High and the Academy of St. Aloysius, Holy Family Academy, St. Mary's of Jersey City, Sacred Heart Academy and St. Joseph of the Palisades before them, just to name a few, the Catholic school is becoming a thing of the ancient past.
And it appears as if relics like St. Anthony and Marist are soon to follow.
Jim Hague can be reached via e-mail at OGSMAR@aol.com. You can also read Jim's blog at www.jimhaguesports.blogspot.com