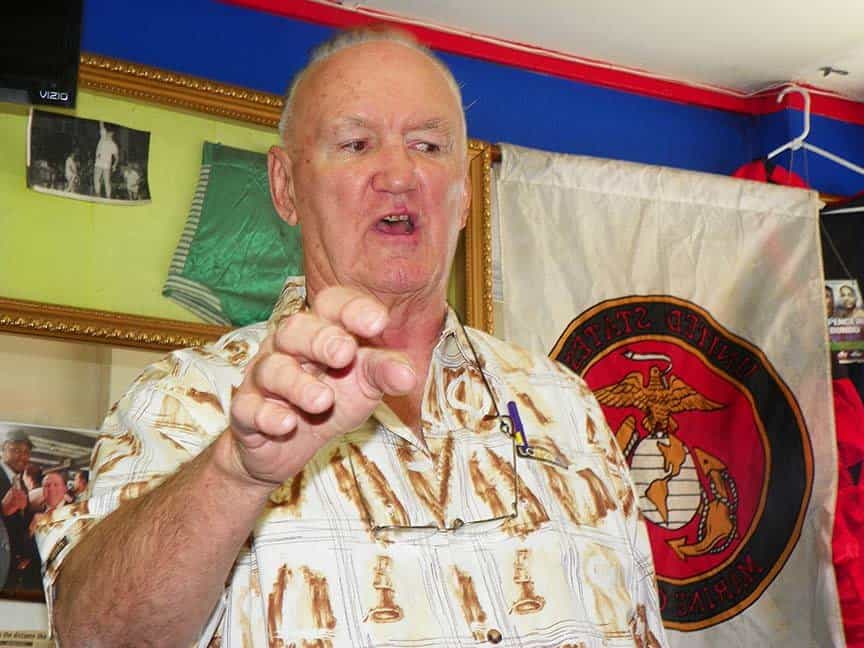 Chuck Wepner is conducting an interview, none different than the thousands of others he has had to withstand during his now legendary boxing career.
And in the animated interview, Wepner recalls one of his toughest opponents — and it wasn't Muhammad Ali, whom Wepner was the only man to put "The Greatest" to his hind quarters in over four years when they fought for the undisputed heavyweight title on March 24, 1975.
Nope, this opponent wasn't even human. It was a grizzly bear.
Victor the Bear was a real-live, 600-pounds plus grizzly. Of course, a muzzle was placed on Victor's snout to prevent him from biting, but everything else was real.
In 1976, first in Convention Hall in Asbury Park and later at a gentleman's club/resort called Art Stock's in Freehold, Wepner, who just recently turned 78 years old, climbed into the ring with Victor the Bear.
"The first time I got in the ring with him, I threw a couple of soft jabs just to entertain the people," Wepner said. "The second time, I told my manager [the late Al Braverman] that the bear had beady eyes and that he remembered me."
The second bout, Victor the Bear hurt the former heavyweight contender, called by many as "The Bayonne Bleeder," throwing Wepner clear out of the ring and made him to come back into the ring as a boxer, not as a brawler.
That's how the movie, "Chuck," begins.
It's the biography of Wepner, starring Liev Schrieber in the title role. Schrieber is best known for his portrayal of "Ray Donovan" on the Showtime network.
"Chuck" is set to open May 12 nationwide, after a premiere showing at the TriBeca Film Festival at the Manhattan Civic Center April 28.
There will also be a grand premiere May 12 complete with a fundraising dinner at Otaiko Sushi House in Bayonne followed by a showing of the movie at Frank's South Cove Stadium 12. All the proceeds of the dinner and movie will go to the purchase of a statue eventually to be erected in Bayonne County Park, where Wepner used to run the stairs while in training.
It is believed that Sylvester Stallone used those stairs as an inspiration for Rocky Balboa running the stairs of the Philadelphia Museum in the Oscar-winning movie. Stallone once said that Wepner was the inspiration that he used to create the Rocky Balboa character.
This movie has nothing to do with Rocky Balboa. This is strictly the life of Wepner, who gained the nickname of "The Bayonne Bleeder" by suffering hundreds of cuts to his face in his fights.
The idea for a movie about Wepner's life began 12 years ago, when famed producer Mike Tollin called Wepner to see if he was interested in doing a movie on his incredible life.
"Mike sent me a script and I wasn't for it," Wepner said. "They were putting things in there that weren't true. They had me beating all these guys. I said, 'I'm not Superman. I'm Chuck Wepner.'"
Wepner didn't like having foul language in the movie.
"That's not me either," Wepner said. "I wasn't for that."
The project appeared dead in the water, until two years ago, when Tollin got Schrieber to get involved.
"I knew of him," Wepner said. "He's a great actor. I've seen a lot of his movies. I love going to the movies. I think I've seen about a million movies. I figured now they had a great actor."
Tollin was also able to secure Schrieber's wife at the time, Naomi Watts, to play Wepner's third wife, Linda.
"I told Naomi that I loved her in King Kong," Wepner said of the remake of the classic. "She said that I could take on that big ape."
Wepner was on board, especially with Schrieber portraying him.
"I think I might have always had Liev in mind," Wepner said. "Everyone else, I turned down. I loved the fact that Liev wanted to play the real Chuck Wepner. Liev also worked on the script. He didn't exaggerate. He told the true story. It's not a fight movie. It's a love story."
Wepner's career as a professional boxer is highlighted, including his one big chance at glory, namely the fight in Richfield, Ohio against Ali for the heavyweight title some 42 years ago.
Wepner remained close to Ali and even traveled to Louisville last year to pay his respects at Ali's funeral.
"Sure, I was there," Wepner said. "I had to be there. All the greats were there."
The film has a star-studded cast, including Ron Perlman (Beauty and the Beast on television), Elisabeth Moss, Jim Gaffigan and Michael Rapaport.
Tollin was able to get all of the actors to work at a limited pay rate, considering the movie had a production budget of about $5 million.
Tollin recently was quoted in Business Weekly that the movie is already guaranteed to turn a profit before a single ticket is sold.
The post-production rights to "Chuck" have already been sold to IFC Films as well as Showtime.
"We're already in the black on this movie at this point before we even sell a ticket, which is a great feeling," Tollin said. "Cobble together the cumulative rights fees from foreign distributors, IFC Films and Showtime; work on a really tight budget; and everybody's happy."
The movie also shows Wepner being carted off to prison in 1988 after being convicted for a series of cocaine charges. Wepner was sentenced to 10 years and ended up doing 22 months in a federal prison.
"This movie is a documentary," Wepner said. "It's not a complimentary. If it's going to be a story about my life, then they have to tell the truth."
Since serving his sentence, Wepner says that "I turned my life around."
"I met Linda and that helped me turn my life around," said Wepner, who has been married to Linda for 24 years. "I've been clean for 30 years. I don't even drink anymore. I haven't had a drink in a while."
Wepner said that the movie had a showing in Canada.
"The people loved it," Wepner said. "They stood and cheered."
Back then, the movie was called, "The Bleeder," but since then, it has been renamed to simply "Chuck." That's who he is these days, simply Chuck.
Except that he's still imposing and still shows the scars of his many cuts, including several that he suffered at the hands of former heavyweight champion Sonny Liston in June of 1970 at the Jersey City Armory. In that fight, Wepner suffered a broken nose and cheekbone and needed 72 stitches to repair his cuts.
It was Liston's last fight. Six months later, Liston was found dead in a Las Vegas hotel room, thought to be via a drug overdose, but never really proved. Liston was just 38 years old.
"I lasted nine rounds with Liston," Wepner said. "There was blood all over the place. I asked the referee [Barney Felix] to let me go another round. He asked me how many fingers do I have up? I said, 'Three.' It was a good guess because I didn't see anything."
Wepner was asked how he liked the finished product.
"I loved it," he said. "It's great. I think it's a movie that kids can go and see. I wanted that. I wanted to be rid of the bad language and show the real Chuck Wepner."
Jim Hague can be reached via e-mail at OGSMAR@aol.com. You can also read Jim's blog at www.jimhaguesports.blogspot.com