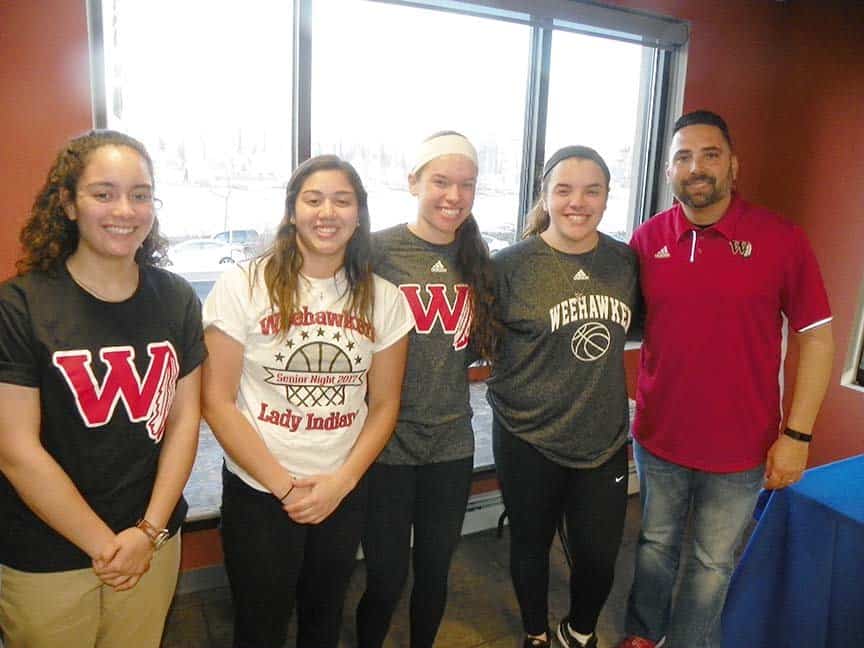 For the last four years, the heart and soul, the core, the lifeline of the Weehawken High School softball team has remained the same.
For four years, the pitcher and catcher have remained the same _ and ironically, they're the same because they happen to be twins.
But the shortstop has been there. And the third baseman. And the centerfielder.
Six main players have been the mainstays of the Indians for the last four years, since they strolled into the old building on Gregory Avenue together in September of 2014. Most of them have played other sports together, but it has been softball that has helped the Indians emerge from one of Hudson County's smallest school enrollments to become a local giant.
Now, the legacy of the Weehawken seniors has wound down to a precious handful of weeks. If they are lucky, they can carry the softball season into June, something that hasn't been done in Weehawken since Lyndon Johnson was President.
That's why Weehawken head coach Joe Coffaro, who has been the head coach for the last five years, knows that he might not ever get a chance like this again. A Group I school doesn't always get six standout players in one group. They usually get perhaps one or two standouts and you build around those.
Six in one graduating class from a Group I team is unheard of _ and also disastrous for the teams that follow. Because everyone knows that this Weehawken team might be all the school has for quite a while.
The Indians own a 9-2 record, winners of six straight, including impressive wins over perennial Bergen County powers Hasbrouck Heights and Saddle Brook and a 6-0 win over Union City last Saturday in the annual Autism Awareness Challenge that brought a lot of the top local softball teams to the Weehawken waterfront for a good cause.
"We're playing at a high level right now," Coffaro said. "And it's everyone contributing. It's not just one or two girls. Every single player is doing something to help us win. It's a different player every game stepping up. I just hope we can keep it going."
Coffaro doesn't want to even to conjure the thought of what the future holds when these seniors depart. There are a few talented souls sprinkled about, but to have so many in one class? It's once-in-a-lifetime, something to treasure and admire. It's like looking at a fine painting in an art museum or a classic movie destined for greatness. You just want to soak up the splendor for as long as humanly possible.
Sophie Chong is one of those six seniors. Part of the pair of talented twins, Sophie has been the queen of the hill in Weehawken for the last four seasons. She takes the ball, heads to the pitching rubber every single game and mows down batter after batter.
"What I've seen from freshman year until now has been a player who is constantly turning it up a notch and getting better and better," Coffaro said of Sophie Chong, who recently signed on to attend Muhlenberg College in the fall. "She's in total command on the mound. She now has a ton of confidence. She knows that this is her final year and she's going to make the most of it. And she's been on fire."
At the plate, Chong is batting .475 with four homers and 13 RBI.
On the mound, Chong has been totally unconscious, especially in her last four outings.
Over the last four games, Chong has not allowed a single earned run, a string of 25 straight innings. She has struck out 36 during that span and allowed just six hits.
She pitched a perfect game against Wood-Ridge, striking out seven. She threw a two-hit shutout against Union City in the Autism Awareness game, striking out 10. She also had two hits, including a homer, and two RBI in the game.
In the game against rival Hasbrouck Heights, Chong fired a two-hitter in the 1-0 win, striking out seven. She also had two hits in that game.
Sophie Chong has 99 strikeouts this season in pursuit of her school record for single season strikeouts, set last year when she fanned 227.
Need we say more?
"She's had a great career," Coffaro said.
Samantha Chong, Sophie's twin, is the team's catcher. On this team, she has to take a backseat to her sister, but Samantha is certainly no slouch.
"She's the vocal leader of the team," Coffaro said of Samantha. "She's been the team's catcher for four years and she's the one who gets everyone going."
Samantha is headed to Adelphi University in the fall, so the twins will separate, quelling all rumors that they have been conjoined forever. But Samantha's athletic career will end in a few weeks, thus the reason why she wants to go out with a bang.
The first baseman is senior Nicole Primero, who also will give up athletics when she enrolls at Boston College in August.
"She's in the top five in her class," Coffaro said. "She's been very consistent throughout. She's very good defensively. She does all the little things that I ask her to do."
Jennifer Acosta-Gutierrez is the shortstop. Acosta-Gutierrez is hitting .353 with a team-high 16 RBI. She had a homer and three RBI in the win over Wood-Ridge and drove in the lone run in the 1-0 win over Hasbrouck Heights.
"She's an excellent defensive shortstop and has great ability getting to the ball, moving side-to-side," Coffaro said. "She also has a lot of power at the plate."
Zoe Martin is the centerfielder, another four-year member of the team.
"She has totally surprised me," Coffaro said. "She keeps getting better every game, running, throwing. She's a totally different player."
Martin is batting .400 this season in the No. 2 slot in the Indians' batting order.
Anna Lentini is the last of the seniors, playing right field. Lentini is hitting .361 this season after enjoying a great basketball season, where the Indians won 22 games.
"We had a successful basketball season and we wanted to have a positive carryover," Coffaro said. "I think basketball and softball go hand-in-hand. The camaraderie that the girls have from one season to the next definitely helps. They want to play multiple sports and want to be together all the time. I work with [basketball coach] Chris [Hernandez] all the time to make sure they're all on the same page. We're such a small school that we need to support each other."
Junior Isabella Quinones is the second baseman who started last year when the Indians went 16-9. Junior Natalia Ordonez and sophomore Alexa Ruiz share time as the designated player.
But the player to watch will be sophomore Nicole Molano, who will have to carry the torch as the school's top female athlete for the years to come. Molano, the younger sister of former Weehawken do-everything Oliver Molano, is also a basketball and volleyball player at the school.
"She has a lot of promise," Coffaro said. "She's an all-around great athlete. She has the same type of versatility as her brother."
Nicole Molano is the team's right fielder.
This is now for the Weehawken softball team. There's no future and unfortunately no past.
"We can't take anything for granted," Coffaro said. "We have to play every game like it's the last."
Because in a few weeks, it will be the last. There's no stopping time. That's why this group has to be savored and soaked in and cherished. It may never be seen again.
Jim Hague can be reached via e-mail at OGSMAR@aol.com. You can also read Jim's blog at www.jimhaguesports.blogspot.com.