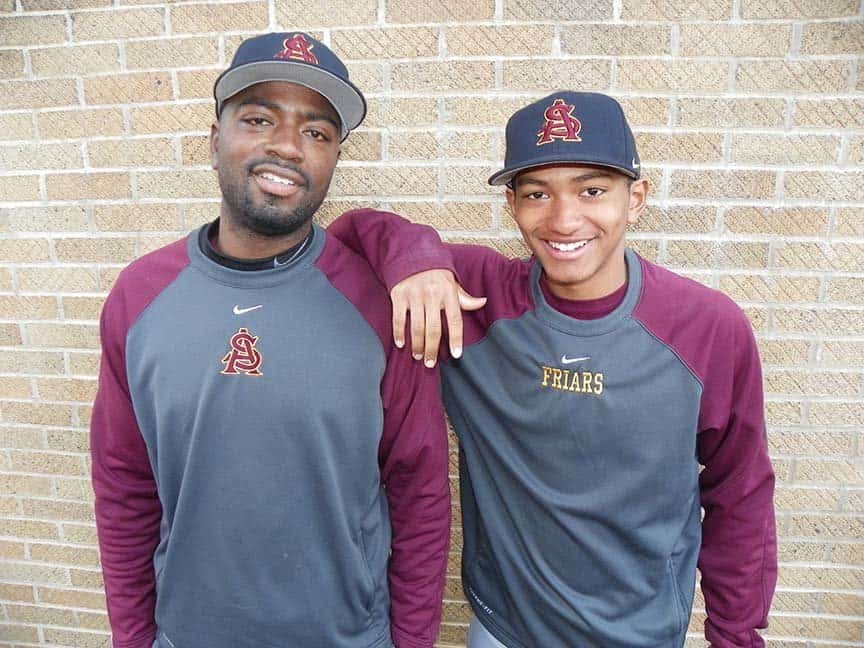 When the Archdiocese of Newark decided early last month to close St. Anthony High School at the end of the current school year, the school's head baseball coach Ron Hayward wasn't shocked at all.
Deep inside Hayward's soul, he knew that the news was not going to be good.
"I always knew that the school was on the edge," said Hayward, who is in his second year at St. Anthony after a long, stellar playing and coaching career at Marist. "But when we got the news, it was like a hit in the head. I knew that I wanted to work with Coach [Bob] Hurley in trying to keep the school open. When we were training in the offseason and the beginning of the spring, we knew that it might be closing."
So Hayward went about his business as a baseball coach, trying to accomplish what he initially set out to do when he made the decision to leave his alma mater and head to St. Anthony two years ago.
"I know that as a team, my kids never lost sight of anything," Hayward said. "They know the goals. They have not been distracted at all by all that has happened."
Hayward said that nothing was going to change the special bond he has with his players, whom he referred to as "my sons."
"They're always going to be my sons," Hayward said. "Regardless of what happens, nothing has changed. We have this bond since they were little kids."
Hayward guided most of his current roster on a summer baseball team since they were 9-years-old. The Friars' roster is comprised of mostly freshmen and sophomores, young men who decided to follow their summer coach first to Marist and then to St. Anthony when Hayward had a falling out with his alma mater's administration.
The Friars endured some growing pains last year, starting a lineup that was predominately made up of freshmen, but Hayward knew that they would be a little battle tested for the 2017 season.
"I knew we would perform well," Hayward said. "We just began to crack the surface last year. It just got me excited for this year."
Sure enough, the young Friars are doing extremely well in their final go-round. They own a 14-5 overall record, but a 12-3 mark inside the Hudson County Interscholastic Athletic League, three wins better than runners-up St. Peter's Prep and Bayonne.
In a topsy-turvy highly competitive HCIAL race, the Friars have only lost to Bayonne, St. Peter's Prep and Memorial.
Even though they are currently in first place in the league, the Friars received the No. 3 seed for the Ed "Faa" Ford Memorial Hudson County Tournament that begins play this weekend.
The Friars have received a bye to the tourney's quarterfinal round.
But it is a little strange that the Friars are in first place in the league standings and received the third seed for the county tournament.
Hayward isn't bothered by that at all.
"You still have to play the games anyway," Hayward said. "The seeds really don't mean much. I'm more upset that we've lost games that we should have won."
Hayward pointed to a game earlier in the season, when the Friars had a 5-1 lead against Bayonne going into the sixth inning and had to take out their starting pitcher because of the NJSIAA's new pitch count that is causing a ton of controversy throughout the state.
The Friars ended up losing that game, 7-5.
"They work hard," Hayward said. "They've learned a lot this year. They worked hard in the offseason to get ready. I basically have raised these kids. I don't believe in age anymore. I understand that they're freshmen and sophomores, but they've played a lot of baseball together. They just keep working. I'm proud of them."
Perhaps the Friars' main cog these days is sophomore pitcher/infielder Justice Ramirez, who is batting a robust .448 with five homers and 25 RBI. On the mound, Ramirez has a 3-0 record with a 1.48 earned run average.
Catcher Eli Colon, Jr. is also having a fine season, batting .370 with 25 RBI. Colon is one of only a few seniors on the Friars' roster, so his future is not up in the air like the rest of his teammates.
Second baseman Josh Roberts, a junior, has been a pleasant surprise this season, batting .412 with 10 RBI. But Roberts has been hot of late, collecting eight hits in the last five games with four RBI.
Then there's the coach's son, sophomore centerfielder Elliott, who has been brilliant this season. Elliott Hayward is batting .467 with two doubles, three triples, 15 RBI and an unbelievable 29 stolen bases. In one recent game against Kearny, the younger Hayward collected four hits, including a double and a triple, and had five RBI in the Friars' 14-3 victory.
"We can run," Hayward said. "Even when someone gets thrown out, we run again. That's our mindset. We're going to run. We have over 100 stolen bases as a team this year."
There's only one downside of having such a young team with an uncertain future. The vultures have started to hover about. Other schools have been contacting the Friar players and their parents, trying to woo them to the respective schools for September.
Frankly, the "recruiting" – that's a dirty word in the eyes of the NJSIAA, because as you may know from their perspective, no one recruits – of the Friar players while they're still playing this spring is a little sickening.
There have been reports of the local remaining Parochial schools already reaching out to contact the kids. Can't it wait until after the season? The Friars don't need that kind of distraction going on as they pursue goals of winning the Hudson County and NJSIAA Non-Public B state titles.
"Believe me, it's not a distraction," Hayward said. "I won't let it be a distraction."
But Hayward is bothered by the relentless pursuit of his extremely talented son, who two years from now will most certainly be selected in the Major League Baseball free agent amateur draft, but now has to worry about the last two years of his high school career with St. Anthony shutting its doors next month.
"It bothers me a little bit," Hayward said. "I told Elliott already that he gets to pick the school he wants to go to this time. He didn't have a choice the first time. We'll see what happens."
Hayward knows what the next couple of weeks bring.
"We want to win both [the county and the state]," Hayward said. "I want to be able to give Coach Hurley one last trophy. It's what we're playing for. I want to make history. I feel like we're coming around. The last four or five games, we've been playing very well."
As for what transpires next year, Hayward can't think that far.
"I might have to go out on disability," Hayward said. "So this will be it as a coach. I will still get the chance to see my son play. I love watching him play. I want to enjoy watching him the next two years. I want to see all my kids grow up."
Unfortunately, they will have to be spread out in different schools across the map of New Jersey, maybe even further. That's why the next three weeks or so will be extremely special for Ron Hayward and the Friars. They're not playing for just a championship. They're fighting for a permanent legacy. That's a lot for these young kids to handle as they come of age together one final time.
It's been a battle as well physically for Hayward, who suffers from kidney disease and has to withstand hours of dialysis daily on a machine that he's fortunate enough to hook up to himself on a nightly basis.
Yeah, real fortunate. Hayward is on the donor list to receive a kidney in case a match is found, but the rigors of the daily grind have taken their toll on Hayward, who is still a young man at 36 years old.
"God gets me through what I have to get through," Hayward said. "I've battled through all that stuff and I'm still here."
Jim Hague can be reached via e-mail at OGSMAR@aol.com. You can also read Jim's blog at www.jimhaguesports.blogspot.com