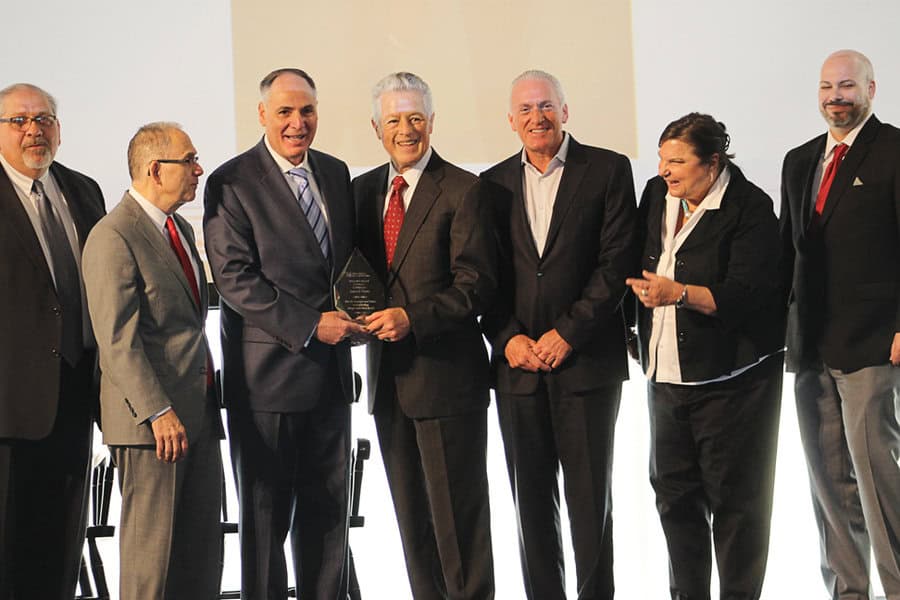 Drug tests may have a place in law enforcement, but for most practical purposes, their effectiveness is limited at best. That was one of the problems raised at a seminar on June 7 that brought together leaders in various fields dealing with the spread of illicit drugs.
The Partnership for a Drug-Free New Jersey also used the opportunity to recognize former Gov. James J. Florio by presenting him with the Drugs Don't Work in NJ! Founder's Award, for his work in establishing programs to deal with countering the use of illicit drugs.
The 20th Annual Legal Issues of a Drug-Free Workplace Statewide Seminar was held at Saint Peter's University, designed to bring local officials and medical providers up to date with current strategies for dealing with the spread of addiction to pain killers and the use of other drugs.
Marijuana was once considered one of the leading gateway drugs that eventually led to the use of more serious drugs such as heroin. But today the marketplace is filled with legal as well as illegal drugs, supplements, and other items often ingested to get high that serve the same purposes.
The internet, said Nima Majlesi, director of Medical Toxicology at Staten Island University Hospital, allows people access to these items in a way never realized before. Many of these gateway drugs are not detectable by standard drug tests. These tests are often even ineffective on detecting traditional drugs after a few days. While they serve sometimes as a deterrent, for some people, savvier drug users know how to get around them, he said.
The seminar, which included Majlesi and Dr. William J. Holubek on substance use and abuse in the work place, also brought together a panel of local experts moderated by Angelo M. Valente, executive director of the Partnership for a Drug Free America.
The panel included Eugene J. Cornaccia, Ph.D from St. Peter's University, Paula Nevoso, from CarePoint Health and Foundation, Daniel A. Altilio, president and CPO of United Way of Hudson County and Bret Marin, director of Behavior Health Services for CarePoint Health and Horizon Health.
A huge gap in detecting drugs
The seminar not only outlined the huge problems facing law enforcement, medical professionals and even employers face in dealing with the spread of drugs, but also some practical solutions for dealing with these issues.
Drugs are so prolific, Majlesi said, that some are even below the FDA radar and not listed as drugs at all. Some are drugs approved for one use, and misused as a means of getting high.
"Drug tests do not give real time information and this is a real time threat." – Nima Majlesi
Code words for different kinds of highs might include "a businessman's lunch," meaning a short-life drug that allows someone to get high and then a short time later get back to work. Many drugs have provocative names such as "spice" or "K-2."
The traditional urine test employed by many workplaces often misses many of these drugs if the user has used the drugs more than a day before. He said there are also a lot of false positives, making the test unreliable since sometimes even cold medicines might register as an illegal drug.
"The best way to detect these things is to have someone with clinical skills on hand to observe the symptoms," he said, noting that is often doesn't matter what the drug is, but the fact that the person is high on something.
"Drug tests do not give real time information and this is a real time threat," he said.
These tests, he said, don't work well, take too long to get back results and do not provide doctors and others with the information they need.
As raised by medical professionals elsewhere in the country, prescribing opioids is a problem.
"There is a variety of drugs for dealing with pain," he said. "But not all pain needs opioids."
There are also other strategies for dealing with pain, such as exercise, and cognitive treatment. Medical professionals need to more closely study the cause of a pain and developed different strategies for dealing with it.
"Unlike other medical conditions, it is not easily to determine the level of pain," he said.
Holubek said one way to control the spread of prescribed opioids is to put a limit on the prescription itself. Instead of long term prescriptions, doctors need to limit these to three days, and then review the need for them.
Last year, New Jersey implemented one of the nation's toughest regulations of prescription opioids.
The law limits initial opioid prescriptions for acute pain to a five-day supply, though it allows doctors to renew it for another 25 days if a patient remains in pain. But as a measure of the stricter checks and balances, the new rules call for doctors to have a consultation with a patient about a request for a prescription renewal to ensure it is really needed.
"I actually think five days is too long," Holubek said.
The national guidelines for prescribers limits initial prescriptions to a seven-day supply.
Epidemic opioid addiction has led to hundreds of overdose deaths in New Jersey, and thousands nationwide.
The new law, Holubek said, would also prevent these drugs from lingering in a parent's medicine chest where they might fall into the hands of teens.
In response to a question from the audience about people who go to more than one doctor to obtain multiple prescriptions, Holubek said the state has set up an online prescription drug system that doctors need to check to determine if this is going on.
Fighting addiction with knowledge
"Knowledge is power. This conference raises the awareness on issues of creating and maintaining a drug-free workplace," said university President Eugene J. Cornacchia.
The event also was co-sponsored by CarePoint Foundation, CarePoint Health, Mack-Cali, Horizon Health and the United Way of Hudson County.
"CarePoint Foundation is proud to partner with the great work that the Partnership for a Drug-Free New Jersey is doing in raising awareness of the importance of a drug-free work environment," said foundation President Paula A. Nevoso.
The event drew professionals from various fields, who were informed by expert doctors and attorneys on topics that included the impact of prescription drug abuse in the workplace, medical and legalized marijuana, drug testing protocols, trends in drug use and new case law.
"We are proud to co-sponsor this important gathering to help address the epidemic of opioid addiction we face in New Jersey," said Dr. Nizar Kifaieh, chief medical officer of CarePoint Health. 
Mary Bishop, vice president of Operations for Horizon Health said, "We all have vital work to do in the substance abuse treatment field and must continue to address the growing drug abuse epidemic in New Jersey and around the country."
Statistics show that 70 percent of drug abusers are employed and, in many cases, found jobs in companies with no drug policy. Substance abuse in the workplace can lead to higher absenteeism, more accidents, higher health care costs, more theft, workplace violence, decreased productivity and lower profits to a business owner's bottom line.
"Substance abuse can have catastrophic effects on an individual, as well as family, friends and colleagues, making it imperative for our community to work together to strengthen drug prevention efforts and promote healthy and vibrant businesses and neighborhoods across our state," said Ilene Jablonski, senior vice president of Marketing at Mack-Cali.
Founded in 1992, Drugs Don't Work in NJ! merged with the Partnership for a Drug Free New Jersey in 1999. More than 3,500 New Jersey businesses have taken part in the initiative, including many non-profit organizations.
"It's very important for non-profits to realize that they are employers," said Daniel A. Altilio, president of the United Way of Hudson County. "This conference provides important information on handling difficult situations with employees that are using drugs."
Florio honored
Although Gov. Christopher Christie has received a lot of attention recently for his efforts at fighting the spread of opioid addition, Gov. Jim Florio was among one of the first in the nation to recognize the need to establish protocols for dealing the national epidemic.
 "Governor Florio has played a crucial role in helping companies in New Jersey establish drug-free workplace policies that provide supervisory training, drug testing procedures and, when necessary, ensuring that employers and employees know what to do and where to go for treatment of substance abuse disorders," said Angelo Valente, executive director of the Partnership for a Drug-Free New Jersey.
Florio, who served as New Jersey's governor from 1990 to 1994, was praised for his foresight and vision in establishing Drugs Don't Work in NJ! to help New Jersey businesses be compassionate and competitive.
"The program raised the level of awareness of people to the significance of this problem of drugs in the workplace," Florio said. "In this country, we don't really get things done until we get people engaged and informed about the problem."
Al Sullivan may be reached at asullivan@hudsonreporter.com