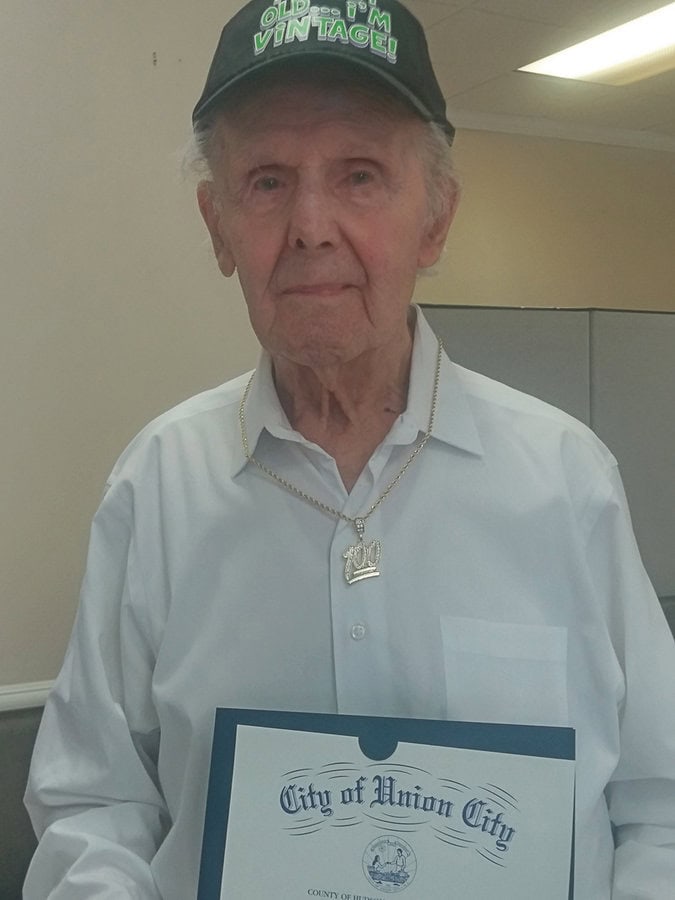 Weehawken resident, 100, talks about his life
A former Union City superintendent of public works who turned 100 years old this month says he made up his mind to live long in order to compensate for the early demise of his brother.
The residents of Weehawken's Housing Authority senior citizens' housing at 525 Gregory Ave. celebrated his birthday earlier this month.
Peter Manchesani rose in the ranks from truck driver for the Union City Public Works, to become its superintendent. He worked for the department for 40 years before retiring in 1974.
On hand to celebrate the milestone were his son, daughter, son-in-law, and great granddaughter, along with many of the residents of 525 Gregory Ave. Union City's Commissioner of Senior Citizen's Affairs, Celin J. Valdivia presented him with a printed testimonial on behalf of Union City Mayor Brian P. Stack.
The son of Italian immigrants, Manchesani was born Aug. 1, 1917, the year the U.S. entered World War I, noted Weehawken Mayor Richard F. Turner, who was on hand to mark the occasion.
Manchesani's parents owned Manchesani's Central Fruit Market on 25th Street and Central Avenue in Union City, and the family lived in an apartment upstairs. Every day, young Manchesani would help his father purchase fresh produce for the family market.
Manchesani was the youngest of three children: He had a brother, Patrick and a sister, Louise. "I'm the baby," he said. "I made up my mind I had to make 100 because I lost my brother when he was 48 years old," he said. "I lost a good brother."
"He's always been in really good health," Dominic Marchesani, of Clifton, said of his father."He lives a very healthy life. He didn't drink; he didn't smoke; he always was very physical; and he worked out a lot."
Indeed, Marchesani was the picture of youth at his birthday party, walking in on his own, and sporting a hat that read, I'm not old: I'm vintage.
Manchesani was married for 65 years to dressmaker Grace Carmel Capaldo,, and, in addition to his son, Dominic, has a daughter, Diana Both children were on hand to celebrate the centennial. He has four grandchildren. Xena, 13, one of his seven great grandchildren, presented him with a gold and diamond necklace emblazoned with the number "100."
Manchesani, who moved to Weehawken in 2007, is often found in the mornings in the lobby at 525 Gregory Ave., greeting visitors with small talk and a smile.
Flamenco music and dance to close Summer Concerts on the Hudson 2017
An evening of music and dance with Pedro Cortes' Flamenco Soul will climax this season's Summer Concerts on the Hudson, co-sponsored by The Hudson Reporter.
Pedro Cortes was credited by The New Yorker for helping to keep Flamenco alive in New York City. He comes from a family of Spanish Gypsy guitarists and began his studies with his father and the legendary Flamenco guitarist Sabicas. He has had works premiered with the Teatro Albeniz in Madrid and the Carlota Santana Spanish Dance Company at the Joyce Theater in New York. Cortes was commissioned by the Coen Brothers to compose music for their film "Paris Je T'Aime."
The concert will take place on Wednesday, Aug. 23 at 7 p.m. at Lincoln Harbor Park, located just north of the Chart House restaurant on the west bank of the Hudson River in Weehawken. Free parking is available at the Weehawken Recreational Park and also in the parking deck behind 1000 Harbor Boulevard. Please use 1600 Harbor Boulevard for GPS directions.
The summer long series of open air concerts free of charge are presented by The Hudson Riverfront Performing Arts Center, Inc. (HRPAC), a New Jersey not-for-profit. The concerts are family friendly. Limited seating is available; however, audience members are asked to bring a lawn chair or blanket, if possible, and encouraged to picnic on the lawn. A rain date, if needed, will be scheduled for the following night.
For more information please check the HRPAC website, www.hrpac.org, or call the concert info line at (201) 716-4540.