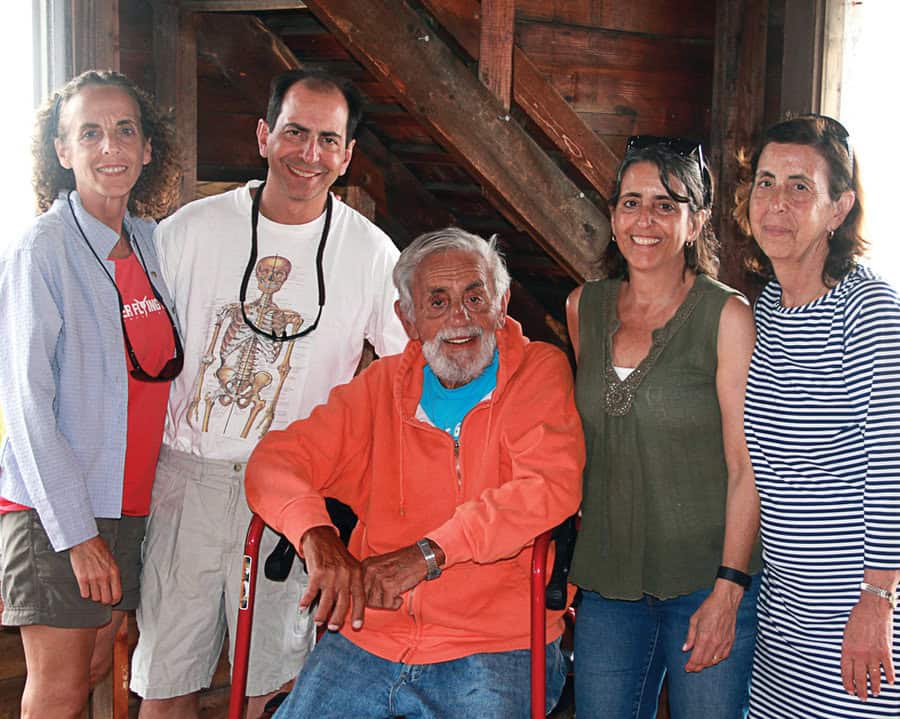 Leslie Rubman, a resident of Hoboken since the 1980s, is on a mission to help her younger brother Marc Rubman find a kidney donor.
"We are trying everything to try and help him find a donor," she said. She has posted flyers around town, contacted newspapers, and her family has created a website which she posts on social media frequently to help get the word out.
Marc Rubman has a condition called Polycystic Kidney Disease (PKD). It is a genetic disorder that affects over 600,000 Americans and millions of people around the world.
It causes uncontrolled growths of cysts in the kidney, eventually leading to kidney failure.
Their mother, now deceased, was the first to be diagnosed with PKD and received a successful transplant, as did one of their two sisters. The other sister is now in preliminary stages of kidney failure due to the disease and has a potential donor who is going through testing.
Leslie is the only one of the four siblings that does not have this disorder, but she can't be a donor.
"Ten years ago, when my oldest sister needed a kidney, we always assumed I would be her donor," she said last week. "But I started going through the testing and I was told my kidney function isn't very good. That was a traumatic event for me. I always figured that since I didn't get the disease, at least I could help, and then I couldn't. It was horrible."
_____________
"He was given the gift of life and then just had it taken back. It was horrible." –Leslie Rubman
____________
Second time's the charm
In 2015, a former nurse that Marc had worked with in Morristown learned he needed a kidney via Facebook and donated hers.
During a nine-hour procedure they removed his kidney, which was "10 times the size it was supposed to be." Unfortunately, his new kidney only lasted 9 months, as it was infected by a virus and had to be removed.
The first transplant makes it more difficult to find a match for a second one, as the transplant elevated his antibody levels, sensitizing his immune system. Because of this, Marc is only a match for about 2 percent of the population.
"It was devastating," said Leslie. "My brother had surgery in Baltimore to receive his new kidney and we were so elated. It was such a high, and then when he started getting biopsies and it showed the viral load it was a tremendous loss. Almost worse then getting diagnosed all those years back. He was given the gift of life and then just had it taken back."
"I found it harder to ask the second time than the first time for a kidney donor," said Marc. "The first time was straight forward. I sent story out on Facebook and friends already had said they would volunteer to be tested. Now because I am sensitized, it's much more difficult."
This means he is much more sensitive because his body has developed antibodies to foreign tissue. Thus, his immune system may be more likely to attack a transplanted organ.
Marc currently works part time 25 to 40 hours a week at his medical practice seeing orthopedic patients. Three times a week for at least four hours in the afternoon, he undergoes dialysis treatments.
"Monday, Wednesday, Friday, I am captive, so to speak," said Marc. "For four to five hours I am getting dialysis. I can email or take phone calls, but I can't go anywhere. I am tied to a machine literally…Dialysis as a way to live is really terrible."
Marc lives in Morristown with his wife and two children. He said before, they used to travel, but now they stick close to home and rely on friends and family to help out.
Marc mentioned that a stranger could someday save his life.
Leslie said that his insurance will cover all the donor's medical expenses and that her family is willing to help pay for travel expenses.
"Even if you can't donate, you can get the word out to someone who might," she said.
To learn more about Marc Rubman's journey and how to donate, go to www.marcsnewkidney.com.
Marilyn Baer can be reached at marilynb@hudsonreporter.com.