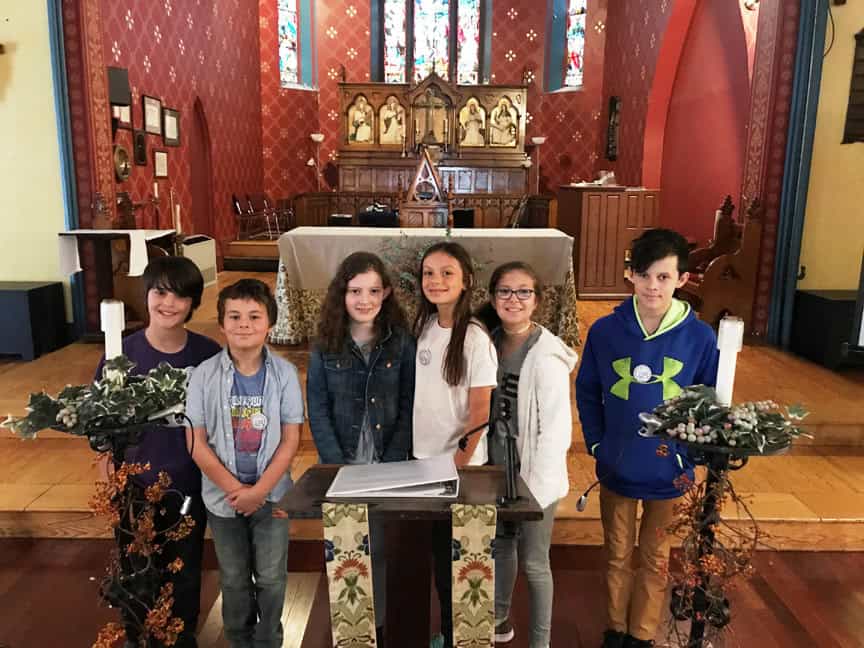 Halloween parade will be Tuesday, Oct. 31
The annual Ragamuffin Parade and Costume Contest will be held on Tuesday, Oct. 31. To participate in the parade, meet on Washington Street between Thirteenth Street and Fourteenth Street at 3:15 p.m. The parade will begin at 3:30 p.m.
The parade features local live music, floats, lots of great costumes and more. Everyone is invited to dress up and wear their Halloween best.
A costume contest will begin at 4 p.m. after the parade at the Little League Field, located at Fifth Street and River Terrace. Prizes will be awarded in five age categories. Ron Albanese, AKA Polka Dot, will emcee the competition.
Due to the parade, Washington Street will be closed and NJ Transit buses will be detoured.
Giattino refutes Zimmer's claim about her climate change stance
Some residents received a letter in their mailboxes on Thursday from Mayor Dawn Zimmer — who has backed Councilman Ravi Bhalla to succeed her in the Nov. 7 mayoral election — in which she blasts one of Bhalla's opponents, Councilwoman Jen Giattino, claiming that "Jen, like many of her fellow elected Republicans, does not accept that climate change is a real issue requiring urgent government action."
Giattino refuted this on Friday.
When asked directly whether she believes climate change is an urgent issue, Giattino said, "Of course I believe it's urgent. I experienced [Hurricane] Sandy personally. That's why I compost and do everything I can to limit my carbon footprint."
She also noted, "I have worked with Mayor Zimmer for six years. We have worked together to address the impact of Hurricane Sandy and climate change, and she gets all the credit in the world. As mayor, I will follow that work through to completion."
Bhalla has made an issue of the fact that Giattino is a registered Republican. He has pledged to fight the policies of Donald Trump. Giattino said she voted for Gary Johnson last year.
In her letter, in which Zimmer reminds residents of her support for Bhalla, she says she doesn't believe Giattino will complete Rebuild by Design and that she didn't support the Southwest Park and thus may not complete its expansion. She said, "Jen told me that property owners in the 6th Ward had paid extra to live near a park , and should not have to help pay for what she called 'a pocket park' in the Southwest."
Giattino responded, "I'm not going to get into a he said/she said over what was supposedly said three years ago. What I will point out is two years ago, after these supposed comments, she worked her butt off to get me reelected, for which I am very grateful."
As for Rebuild by Design, the federal project to install flood barriers in Hoboken, Giattino issued a press release on Thursday in which she said, "I was council president when Hoboken was awarded the Rebuild By Design project and along with the full support of my council colleagues I worked side by side with Mayor Zimmer to advocate for this project. This is a big step in the process of making Hoboken resilient and sustainable. I know that we will work together regardless of the differences we sometimes have to get this done for all the residents of Hoboken."
Climate change is something the Trump administration has taken issue with; in fact, years ago, Trump referred to global warming as a "hoax." Nevertheless, government scientists on federal websites state that the earth's average temperature has risen for each decade of the last hundred years. And while some scientists disagree about whether climate change has caused recent devastating storms, they agree (including on NASA's website) that manmade emissions will cause more intense storms over the next 100 years if no one combats the problem.
Zimmer has said climate change is a big concern of hers, and rumors suggest she may become head of the state DEP if Phil Murphy is elected governor on Nov. 7.
The letter sent out by Zimmer reflects a deep schism among her followers.
Giattino, who has supported most of Zimmer's initiatives over six years, has lately taken to criticizing aspects of Zimmer's administration, including blaming her for streetlights that are out.
Zimmer publicly endorsed Bhalla to succeed her in a surprise press conference in June. Giattino's supporters, who did not know in advance about the conference, urged Giattino to run.
For more detailed profiles of Bhalla and Giattino, see last week's paper and previous issues or go to hudsonreporter.com.
Giattino undecided on which gubernatorial candidate to vote for
Hoboken mayoral candidate and current City Council President Jen Giattino, a registered Republican, said last weekend during a mayoral debate hosted by Hudson County View that she is "undecided" on who she intends to vote for in the upcoming gubernatorial race. "Regardless of who's governor, Republican or Democrat, I will work with anyone," she said.
The stance may seem surprising, as one of the two gubernatorial candidates, Republican Lt. Governor Kim Guadagno, was accused by Giattino's former ally, Mayor Dawn Zimmer, of allegedly threatening to withhold Hurricane Sandy relief funds for Hoboken in a 2014 controversy that made national news.
Guadagno faces Democrat Phil Murphy in the Nov. 7 governor's race.
In 2014, Zimmer alleged that Guadagno, on a visit to Hoboken, implied that the city's Hurricane Sandy relief might be contingent on Zimmer making it easier for the Rockefeller Group to expedite a development project in northern Hoboken. The law firm representing the developer was founded by David Samson, whom Christie had named chairman of Port Authority of New York and New Jersey in 2010.
During the time, Zimmer wrote in her diary that Christie and others were apparently cut from the same "corrupt cloth" that she'd been fighting in Hoboken.
In May of 2015, federal prosecutors issued a letter stating Christie's administration was cleared of any wrongdoing in relation to Zimmer's allegations.
As a registered Republican, Giattino is a rarity among officials in this heavily Democratic town. Earlier this summer, she declined to respond when asked if she had voted for Donald Trump in the presidential election. Then she later said she had voted for Gary Johnson.
She has argued that party politics aren't important in a non-partisan Hoboken election. One of her main opponents in the race, Democrat and Councilman Ravi Bhalla, has made a point of saying he will stand up to Trump if elected mayor. When asked last month, Giattino has said that she will stand up to Trump if it turns out his policies negatively affect Hoboken residents.
Mayor Zimmer has been vocal in saying she believes the Trump administration's existing policies about climate change and immigration could negatively affect the area's residents.
Giattino has been getting statewide Republican support for her candidacy, including donations from Gov. Chris Christie's brother Todd Christie, who gave a total of $2,000 to Team Giattino, according to ELEC reports.
When asked about this on Wednesday, Giattino said that she has known Todd Christie and his wife since working at the New York Stock Exchange. "I have probably known him 25 years, long before his brother was probably in politics," said Giattino. "He donated to me last time as well." (During her last run, she was endorsed by Zimmer. Zimmer also had been close with Christie politically until the 2014 issue.)
Giattino's lack of an endorsement in the governor's race has led some to believe she is concerned about alienating Hoboken voters from either party just before the heated local election, in which six candidates are running for mayor.
Giattino said this is not the case, but rather, she will have to work with whoever becomes the next governor, particularly on programs for the needy.
"Mayor Zimmer is a very smart woman," she said. "Four years ago, she didn't endorse [a gubernatorial candidate] so she wouldn't risk alienating the next governor. I will follow her lead. But what I will add to that is that there are some programs in Hoboken that I am concerned about their funding, and I will make my decision based on them. Like Hoboken Family Planning and the homeless shelter. My personal decision, I will base on that."
When asked if Giattino believed Zimmer's account of the conversation with Guadagno that became the subject of controversy, she said, "'I am not going to weigh in. I've never had a conversation with the mayor about it. The only thing I know is what everyone else knows." She said she first heard about it on the news.
The other mayoral candidates stated for whom they would vote, during the debate. Councilmen Ravi Bhalla and Michael DeFusco, Freeholder Anthony Romano, and activist Ronald Bautista said they will vote for Phil Murphy and business owner Karen Nason said she will vote for Guadagno.
Hoboken's Studio Art Tour will be Nov. 5
Over 100 local artists will be featured in this year's Artists' Studio Tour on Nov. 5, hosted by the city's Department of Cultural Affairs and organized by Geri Fallo. See our insert in this weekend's paper.
The free, self-guided walking tour features local artists' studios, galleries, and group exhibitions ranging from sculptures to photographs to paintings.
Anyone wishing to go can simply download a map of tour locations via the city's website or pick one up at City Hall, 94 Washington St.
Steven's receives $15M from foundation
The Stevens Institute of Technology in Hoboken, New Jersey, has announced a $15 million endowment gift from the A. James and Alice B. Clark Foundation in support of engineering scholarships.
The largest endowed scholarship gift in the school's history will support the A. James Clark Scholars Program and provide financial support and enhanced learning opportunities for exceptional undergraduates from underrepresented backgrounds, including first-generation college students.
Students will be selected annually based on financial need, academic achievement, and community involvement. The first group of up to 10 Clark Scholars will enroll in the fall of 2018.
Menendez calls for investigation into reversal of EPA chemical safety standards
Following a report by the New York Times which exposed the Trump administration's efforts to revise the way the federal government evaluates the health and environmental risks of hazardous chemicals to prioritize the wishes of industry over health and safety, U.S. Sen. Bob Menendez has called on the EPA Inspector General Arthur A. Elkins, Jr. to immediately investigate political interference and scientific suppression in EPA's Office of Chemical Safety and Pollution Prevention.
"I am writing to request that the Environmental Protection Agency's (EPA) Office of the Inspector General initiate an investigation into a recent New York Times report detailing political interference, suppression of science, and prioritization of industry recommendations over public health in EPA's Office of Chemical Safety and Pollution Prevention, and throughout the agency at large," Senator Menendez's letter said.
He asked for an investigation into the alleged suppression of science relating to the public health impacts of toxic and dangerous chemicals; the use of "administratively determined" hiring practices, and the extent to which these practices are used to circumvent EPA's ethics or conflict of interest standards; and deference to industry requests, rather than scientific and technical analysis, in the context of the agency's rulemaking process.
"EPA's chemical safety work is essential to protecting human health in a society where interaction with chemicals is both pervasive and unavoidable," Menendez said. "The public has the right to know whether EPA employees are working on their behalf, or the behalf of industries the agency purports to regulate."