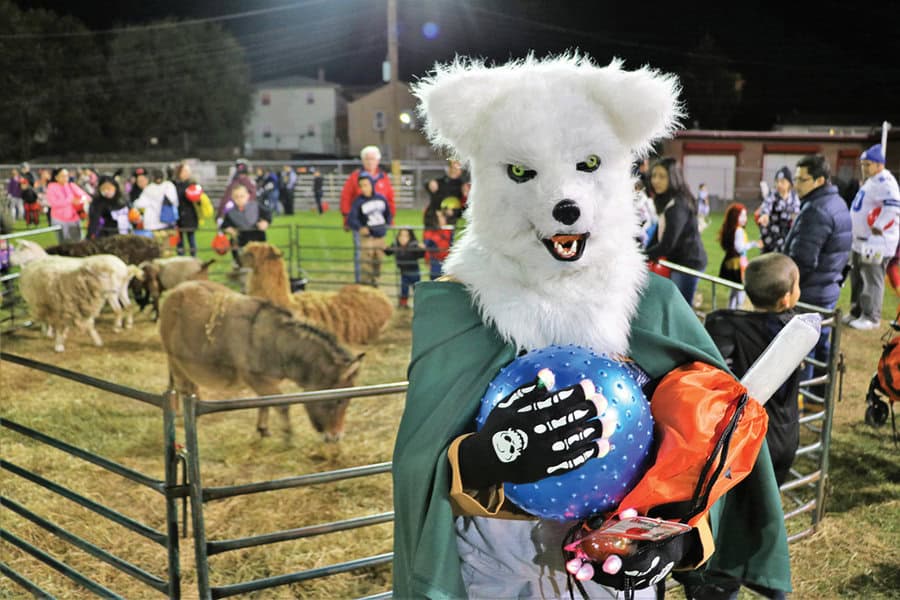 Here are some of the upcoming Halloween events in town
North Bergen's hugely popular "Trunk or Treat" event returns to the Recreation Center from 1 to 3 p.m. on Saturday, Oct. 28. Kids are invited to come in costume and collect treats from vehicles decorated in full Halloween splendor. There will also be a pumpkin patch and games with prizes. About two dozen vehicles have already signed up, with more to come. A prize will be awarded for best trunk. Register your vehicle to attend by calling (201) 392-0229.
The Kennedy Branch Library will host an evening of Halloween Fun & Fright including a frightfully fun haunted house and a family friendly magic show on Tuesday, Oct. 31 at 4:30 p.m. at 2123 Kennedy Blvd., North Bergen. For more information please call (201)869-4715 or visit www.nbpl.org.
Then Mayor Nicholas Sacco and Parks and Public Property Commissioner Hugo Cabrera present the annual North Bergen Recreation Halloween Parade at 6 p.m. on Tuesday, Oct. 31. The parade kicks off at the Recreation Center, 6300 Meadowview Ave., and will be followed by an evening of great Halloween fun including a petting zoo, pony rides, train rides, pumpkin picking, and photo opportunities. Boys and girls ages infant through 9 years old are invited to put on costumes and join the party. Goodie bags will be given out.
Library to hold Job Fair on Nov. 1
The North Bergen Free Public Library will host a community job fair from 1 to 4 p.m. on Wednesday, Nov. 1. There will be a large array of vendors onsite at the main library, 8411 Bergenline Ave.
This event is sponsored by the library, New Jersey Career Connections, the New Jersey Department of Labor and Workforce Development, and the NJ State Library. For more information email Monica Colaneri at northbergencareers@gmail.com.
Hudson Bike Share announces expansion to North Bergen, other towns
The Hudson Bike Share program is officially expanding to five cities in Hudson County, according to a recent press release. The parent company, P3 Global Management, also plans to make good on a promise from two years ago to have docking stations in towns besides Hoboken, where users can park their bikes.
The program will add 260 new bikes and 35 new stations through Guttenberg, North Bergen, Weehawken, Bayonne, and West New York.
The company is growing from its original 250 bikes and 29 stations in Hoboken, to now 560 bikes and 65 plus stations across six cities, the release says.
"We are extremely excited to start the expansion of our bike share program in Hudson County," said Carlos Pujol, CEO of P3 Global Management.
"A New Jersey program, conceived to serve the needs of local Hudson County residents, has logged over 300,000 rides since its inception in 2015. We're excited to provide this service for the people of Hudson County, and appreciate their support. We look forward to bringing additional bikes and stations in the year ahead."
"We are excited to help increase mobility and connectivity for the residents of West New York," said West New York Mayor Felix Roque in the release.
Some locals criticized Mayor Dawn Zimmer's decision to go with Hudson Bike Share in 2015 instead of CitiBikes. Jersey City and Manhattan use the latter, which meant users in Hoboken could only ride the bikes within that city and not in nearby cities. On its website, Hudson Bike Share pledged to have a few parking stations in other towns, but never made good.
The system has also had some technical problems in Hoboken, including users punching a code into a bike to rent it, only to eventually get an error message saying the bike isn't working.
When asked about this for a recent Hoboken Reporter article, the company said they were working on the problems.
There are plans to expand the program even further in 2018, according to the release.
Thomas M. Venino recognized on Wall of Honor at Hackensack Meridian Health Palisades Medical Center
Hackensack Meridian Health Palisades Medical Center has posthumously honored Thomas M. Venino, Sr., Esq., during a special Wall of Honor dedication ceremony in the hospital's main lobby.
Members of the Venino family, board members and team members all gathered together to pay tribute to Venino, described as as a well-loved and respected member of the Palisades family.
"Mr. Venino will now be perpetually memorialized as a member of the Wall of Honor for his extraordinary efforts in advancing the mission of Palisades Medical Center and his many contributions to foster exceptional medical care for all members of the community," said Anthony J. Passannante Jr., M.D., FACC, acting president of Hackensack Meridian Health Palisades Medical Center.
On Sept. 10, 1978, Venino and a group of committed volunteers from the North Hudson-South Bergen community helped fulfill a longstanding dream. What had once been North Hudson Hospital was relocated to a new home on the North Bergen waterfront – the site of the new Palisades Medical Center.
"Mr. Venino and the other founders did everything that needed to be done to ensure that the hospital's doors were open to serve our community," said Dr. Passannante. "He was instrumental in galvanizing public support, purchasing the land and providing input on needed services and programs."
In the decades to follow, Tom and his late wife, Joan, served in many volunteer leadership roles for Palisades Medical Center and the Foundation – Tom as a member of the Board of Governors, serving as Chairman from 1978-81, and Joan as an officer and dedicated member of the Hospital Auxiliary. The Venino family's dedicated service continues today as their son Thomas M. Venino, Jr., Esq., is a current member of the hospital's Board of Governors.
Venino, a long-time resident of Weehawken, was an attorney and community leader. Generations of the Venino family are well-known for managing Venino & Venino, Esqs, a North Bergen law firm which was established in 1913. In addition to his volunteer efforts and philanthropic support of Palisades Medical Center, Mr. Venino also supported countless non-profit and charitable organizations in our area.
Watch out for PSE&G scams
Public Service Electric and Gas Co. (PSE&G) urges customers to be alert to payment scams. In the most common scam, phony callers lie and say there is an unpaid balance and demand immediate payment with a prepaid card. Recently the utility has received reports that scammers are using fake caller ID information to trick customers into thinking they are speaking with PSE&G.
The only way to protect yourself against scams is to be cautious.
"Just because the caller ID says it's PSE&G, doesn't mean it's PSE&G," said Greg Dunlap, PSE&G vice president of customer operations. "When in doubt, hang up and call the number listed on your bill or the PSE&G website."
While PSE&G accepts credit cards, prepaid cards, and money transfers to pay bills, they never demand a specific type of payment or threaten immediate service termination. Before terminating service, PSE&G alerts customers in a number of ways: messages on their bill, letters, and phone calls.
Report all scam attempts by calling your utility and local police department and file a complaint with the FTC at www.ftc.gov/complaint.
Menendez calls for investigation into reversal of EPA chemical safety standards
Following a report by the New York Times that exposed the Trump administration's efforts to revise the way the federal government evaluates the health and environmental risks of hazardous chemicals, U.S. Sen. Bob Menendez has called on the EPA Inspector General Arthur A. Elkins Jr. to immediately investigate alleged political interference in EPA's Office of Chemical Safety and Pollution Prevention.
"I am writing to request that the Environmental Protection Agency's (EPA) Office of the Inspector General initiate an investigation into a recent New York Times report detailing political interference, suppression of science, and prioritization of industry recommendations over public health in EPA's Office of Chemical Safety and Pollution Prevention, and throughout the agency at large," Sen. Menendez's letter said.
He asked for an investigation into the suppression of science relating to the public health impacts of toxic and dangerous chemicals; the use of "administratively determined" hiring practices, and the extent to which these practices are used to circumvent EPA's ethics or conflict of interest standards; and deference to industry requests, rather than scientific and technical analysis, in the context of the agency's rulemaking process.