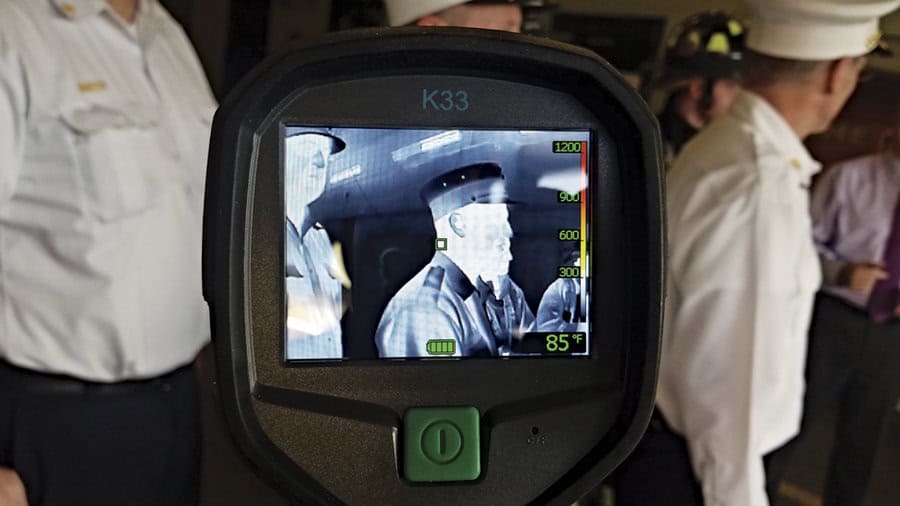 Bravery got a boost earlier this month when the Bayonne Fire Department announced that every firefighter entering burning buildings will now be equipped with a handheld infrared camera.
The cameras make infrared radiation visible, enabling firefighters to see through darkness, smoke, and any heat permeable surface.
"We believe that we are the first municipal fire department of this size to deploy these cameras for every firefighter," said Bayonne Fire Chief Keith Weaver. "We think it will establish the benchmark here in the state."
The department used to having only nine cameras, enough for one member of each fire company. Now, it has 36. The cameras come in two sizes, with the higher-ranking firefighters handling the larger cameras, and rank-and-file handling the smaller ones.
"Now in a house fire, every firefighter can see," Weaver said."You used to have two eyes and now you have six. It improves their productivity. It decreases the time they can rescue and save a trapped victim, and improves their ability to check and see any exits out of the building in case of an emergency."
The department has been using the technology since the 1990s, when a handheld camera cost upwards of $20,000. According to the Bureau of Labor and Statistics, the Consumer Price Index for electronics declined around 100 percent since 1997. Now, infrared cameras go for between $1,000 to $3,000. The department's new cameras cost$40,000 altogether, which would have bought only two in the 1990s.
Out of the darkness
In the past, firefighters would have to stay together when only one had the camera. "Now we can split up. Two guys go this way and two guys go that way," said Captain Eric Lebright."If the only camera failed, members [of a fire company] would be in jeopardy."
The department said that older cameras will still be used by fire truck drivers or if another camera malfunctions.
Said Mayor Davis, "When we realized how affordable this was, and we had some extra funds in the budget, we had to do it. I want every firefighter to be able to go back to their families."
"It's a small price to pay for the safety of our firefighters and the community at large," Weaver said. "There is no doubt that employment of these cameras will save lives."
Rory Pasquariello can be reached at roryp@hudsonreporter.com.