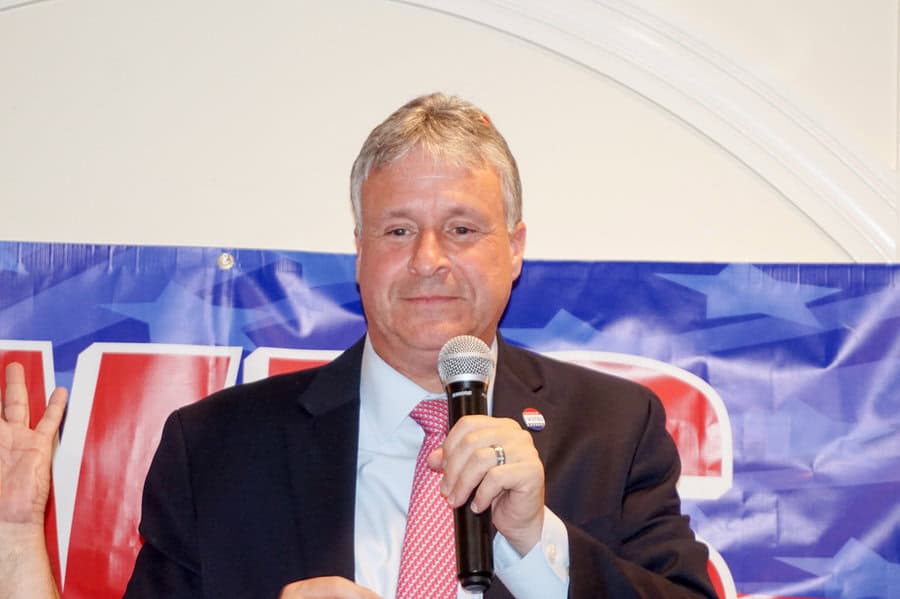 Mayor James Davis has emerged from a contentious municipal election to be the mayor of Bayonne until 2022 along with a slate of council candidates who faced steep competition from their ward neighbors. He won about 57 percent of the roughly 12,000 votes counted as of press time Tuesday night, beating Jason O'Donnell and Mitchell Brown.
Voters cast their ballots based on a wide range of issues, including development, taxes, parking, clean streets, public transit, business growth, and water infrastructure. Davis's campaign message touted residential and commercial development and park improvements.
Davis supporters broke into cheers at little after 8:30 p.m., when Davis claimed victory from Villa Maria on Broadway, where his campaign was tabulating votes.
"This is to the people who have been behind me all the way," said Davis, thanking family and friends. "Let me just say that this is probably one of the best feelings I've ever had and thank you to every one in this room."
After his victory speech, he gave a bouquet of flowers to his wife and mother. "Hey, let's have some fun," he said to the crowd.
_____________
"Let me just say that this is probably one of the best feelings I've ever had." — Mayor James Davis
____________
Council members set to work for their wards
Bayonne residents also voted for five City Council members – one for each of the three wards and two at-large candidates.
Incumbent First Ward Councilman Tommy Cotter won the 1st Ward council race with about 64 percent of the vote. He will continue to represent residents living south of 17th Street and 16th Street Park, including the Bergen Point neighborhood.
Incumbent 2nd Ward Councilman Sal Gullace won the 2nd Ward council race against Kevin Kuhl narrowly with roughly 51 percent of the vote. Gullace will continue to represent midtown residents living between 17th and 34th Streets.
"This is great. I'm just glad it's over," said Gullace. "We're bringing the town back together and building it up. I want to thank my family and everyone who supported me."
Incumbent Third Ward Councilman Gary La Pelusa won with over half the vote in the three-way Third Ward council race against Air Force veteran Matt Klimansky and Zoning Board Chairman Mark Urban. La Pelusa will continue representing uptown residents living north of 34th Street. La Pelusa more than doubled the number of votes of the second closest vote-getter – Klimansky, who had 1,000 votes.
"I'm very excited to have won and regain confidence of uptown people in the Third Ward," said La Pelusa, who was also victorious in a three-way council race in 2006 – his first for council. "I won outright in that one, too," he said.
Incumbent at-large council people, Sharon Ashe-Nadrowski and Juan Perez, also walked away victors. Perez won with 28 percent of the vote and Ashe-Nadrowski garnered 31 percent. At-large council people are tasked with representing all Bayonne residents on the council.
"I feel ecstatic, overwhelmed. I'm so happy," Perez said. "This is a great moment. I feel that people gave me another chance. We're going to continue in the right direction."
The Bayonne Community News will continue to follow the mayor and council. Pick up our print editions and visit hudsonreporter.com for ongoing coverage.
Rory Pasquariello can be reached at roryp@hudsonreporter.com.