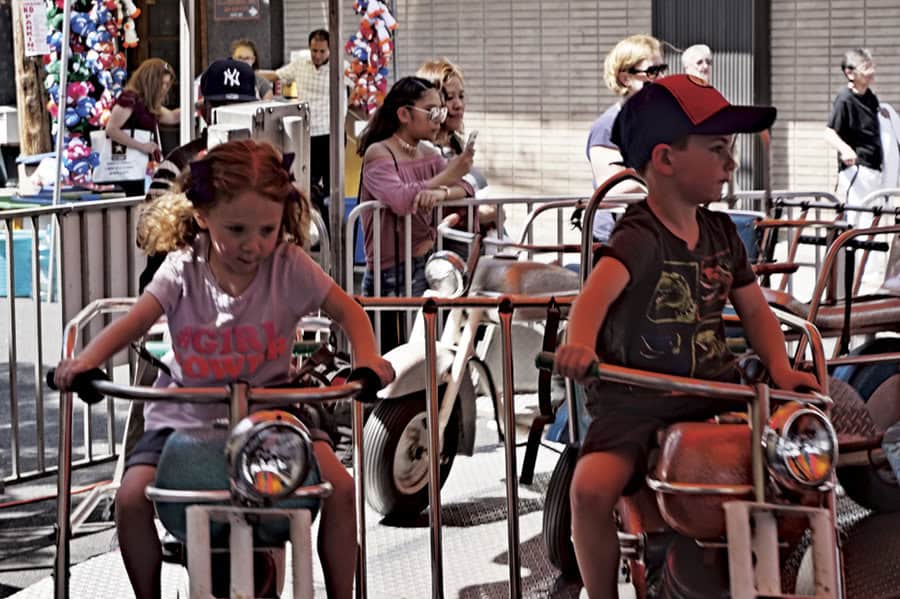 The old Hometown Fair started in 1991 and took up a mile-long strip of Broadway. The event was then moved to Hudson County Park for two years starting in 2001 and was renamed "Reflections of Bayonne" after businesses took issue with the event shutting down so much of the city's commercial corridor. Now the fair is back again in its fourth consecutive year since going defunct in the 1990s, and it's growing every year.
The Hometown Fair will be on Broadway, from 21st Street to 25th Street, and along 23rd Street to Del Monte Drive to the west and to Church Lane to the east and run for two days: Saturday, June 9 from 11 a.m. to 8 p.m. to Sunday, June 10 from noon to 5 p.m. Food, games, amusement rides, local business vendors, and musical entertainment are planned throughout.
A 55-foot ferris wheel; free inflatable rides sponsored by the Bayonne Urban Enterprise Zone; priced mechanical rides; a beer garden hosted by Vic Tavern; a skateboard demonstration hosted by Classic Skate Shop; live art installations; and an appearance by Captain Bayonne will all be a part of the fair this year. The music main stage will be at 23rd Street near Church Lane, and a second community stage will be on 23rd Street and Del Monte Drive.
"I'm really excited we have something different to offer this year," said Carissa Golomb, President of the Hometown Fair Association and owner of Reese's Hair Pieces on Broadway. Golomb is most excited about the beer garden that will be much larger than last year and the layout of the fair that will take up less space on Broadway and spill onto side streets, which is meant to "give a nice flow for everyone to walk through."
"We're hoping that we can make it a little bit larger every year," she said. Aside from the beer garden, the fair added a magician to the community stage, one more live art installation than last year; two artists will paint sheetrock to be donated to the Bayonne Economic Opportunity Foundation. There will also be a misting station. "That will be pretty cool, literally," she said.
_____________
"We're hoping that we can make it a little bit larger every year." Carissa Golomb
____________
Fun and funds
Local community organizations and nonprofits will also be in attendance to raise awareness and money. A basketball challenge to see who can make the most consecutive free throws will benefit Bayonne Friends of the Handicapped. It will run on both days. Nonprofits will also be using a dunk tank, where people can donate money in exchange for throwing a ball at a target that, when hit, drops a person into a tank of water. Organizations interested in using the game for fundraising can contact the Bayonne Urban Enterprise Zone at (201) 858-6357.
New performers and vendors are added every year. This year, one of the more spectacular additions will coincide with the nationally televised X-Games: a skate demonstration courtesy of Class Skate Shop, which will set up rails and obstacles on which local skaters will perform tricks.
"If a kid wants to come up and learn, we're more than happy to help kids learn," said local skater and Classic Skate Shop worker Adrian Perez. "Even if people watching don't know anything about skateboarding, they're going to walk by, and they'll break their necks just looking."
Performance schedule
Performing on Saturday at the main stage will be Vinne Ferrone (11:30 a.m. to 12:30 p.m.); Strange Days (1 to 2 p.m.); the Paul Addie Band (2:30 to 3:30 p.m.); the Blue Dawg Band (4 to 5 p.m.); the Joe Taino Band (5:30 to 6:30 p.m.); and Jaded Past (7 to 8 p.m.).
Performing on Saturday at the community stage: Princesses (11:30 a.m. to 12:30 p.m.); Artist Avenue (1 to 2 p.m.); Superheroes (2:30 to 3:30 p.m.); Party of Five (4 to 5 p.m.); Beeman and Bannon (5:30 to 6:30 p.m.); and Greg Aulden (7 to 8 p.m.).
Performing on Sunday at the main stage: Treble Band (noon to 12:45 p.m.); Streetlife Serenade (1:15 to 2 p.m.); Soul Shine (2:30 to 3:15 p.m.); and Bryan Beninghove (3:45 to 4:45 p.m.).
The following performers will entertain on Sunday at the community stage: Princesses (noon to 1 p.m.); Mr. Magico Show (1:30 to 2:30 p.m.); Jillian Torres (3 to 4 p.m.); and Rich Casella (4 to 5 p.m.).
Rory Pasquariello can be reached at roryp@hudsonreporter.com.