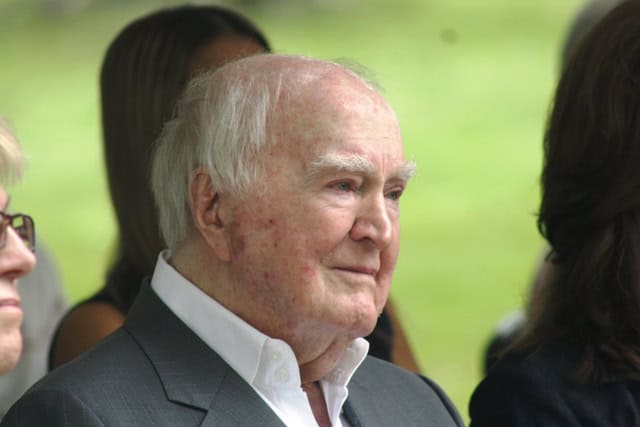 Former County Freeholder Neil Carroll, a onetime political giant in Bayonne, Hudson County, and the state of New Jersey, received a call from an even bigger political giant — former Rep. Cornelius Gallagher — on Oct. 15.
"He had just been admitted into the hospital, and he wanted to tell me goodbye," Carroll said.
Sometimes called "those two Neils," Carroll and Gallagher were the best of friends, and both served as a political mentor to a much younger Buddy Demellier, a local political consultant. The three of them would become extremely close and wield significant political power for several generations.
Gallagher died in Florida on Oct. 17 at 97. Although he had lived in Florida for many years, New Jersey, in particular Bayonne, remained his home in his heart.
"We were more than brothers," said the 91-year-old Neil Carroll. "We did everything together since we were kids. He was a great, great guy."
Gallagher thought as much and returned to Hudson County in May, 2016 to pay tribute to Carroll when Hudson County governor honored him for his accomplishments.
Demellier died within two weeks of that ceremony, and the loss of Gallagher too has left a hole in Carroll's heart.
"This was a tremendous man, someone who is bigger than history," he said.
From shoeshine boy to presidential advisor
Cornelius Gallagher was a self-made man in every sense of the word, going from a shoeshine boy during his youth on the streets of Bayonne to become the former U.S. congressman who represented Hudson County for nearly 15 years, and a man who was personal friends with and often consulted by President John F. Kennedy.
When interviewed by The Hudson Reporter in late 2008, Gallagher was full of stories that included the time during the Cuban Missile Crisis in 1962 when President John F. Kennedy greeted him by asking, "How's Bayonne?"
Gallagher, a member of the House of Representatives from 1959 to 1973, was often taken into the confidence of Kennedy and later, even more so, President Lyndon B. Johnson.
Gallagher was the subject of a recently published book called "The Privacy War – One Congressman, J. Edgar Hoover and the Fight for the Fourth Amendment."
Gallagher served as the ranking Democrat on the House Foreign Affairs Committee, and was widely recognized as an expert on the Far East. He was once even considered as a vice presidential candidate.
In many ways, Gallagher is one of the great Bayonne success stories, whose life frequently came into contact with historic events.
Gallagher, who grew up and attended local schools, commanded a rifle company under legendary General George S. Patton in World War II.
After returning home, he graduated from John Marshall College and became a faculty member of Rutgers University, prior to passing his bar exam in 1949 to become a lawyer. He later served as director of the Broadway National Bank and began his political career with a run for Hudson County Freeholder in 1953.
He was recruited as a Democratic committee person in one of the few Republican districts in Bayonne. He moved his way up through the ward structure and became an early advocate for John F. Kennedy in 1956, and eventually became of the key figures in the Kennedy and Johnson administrations.
"I was very close to President Johnson," Gallagher recalled in the 2008 Reporter interview.
During his long political career, Gallagher served as delegate to three Democratic National Conventions, and his legislation led to the establishment of the Peace Corps, the Arms Control Agency, the funding of the United Nations, and played an instrumental role in some of the major events in foreign policy that included the Vietnam War.
A privacy advocate
But Gallagher eventually became a champion of privacy and he went toe to toe with one of the most powerful and most terrifying members of American law enforcement, FBI Director J. Edgar Hoover.
"I didn't intend to get involved with privacy issues," he said.
He was in his office when a woman came in complaining about the information government wanted to know about her daughter, who wanted to get a low-level government job. The more he looked into it, the more horror-struck he became.
"This had a significant impact on me," Gallagher said. "We were in the middle of a revolution in new technology, and we weren't doing anything to safeguard people's privacy."
With new technology and anti-terrorism as an excuse, federal law enforcement is "out of control," he said.
"There is no accountability," he said. "You have a military secret government with over a 1,000 bases and a massive military expenditures. They run rogue raids and conduct wars of their own. Competing with them is the CIA, who has its own organization."