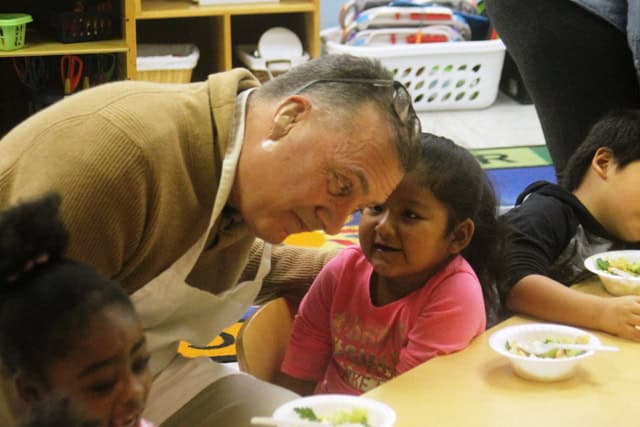 Secaucus Mayor Michael Gonnelli has worn a number of hats during his over 40 years in municipal government – volunteer fire chief, Secaucus superintendent of public works, councilman, commissioner at the New Jersey Meadowlands Authority, and starting in 2009, mayor.
But his skills as a master gardener are the least well-known.
Before he was hired by the town of Secaucus as DPW chief in 1986, Gonnelli worked as a gardener, and after he began his employment with the town, he ran a number of greenhouses in Secaucus.
The mayor hadn't intended to spend Thanksgiving week with the kids at the Nurturing Place day care program on Jersey City's York Street on Nov. 20 — a project for needy and homeless kids age 4 and under. Gonnelli had simply wanted to donate some clothing to the school.
"I'm on a list from a group in New York that distributes clothing," he said.
He contacted them so that he could help distribute high-quality and name brand items to charity groups in Hudson and Bergen counties.
Then Rene Safarova-Gonzalez, who's also involved in volunteer projects with York Street, recognized that Gonnelli could help in another way.
Safarova-Gonzalez is the founder of Bambino Chef, a Jersey City based-business that teaches kids how to cook. She also helped coordinate the distribution of the donated clothing.
Safarova-Gonzalez's cooking business allows kids to experience making a variety of items such as cupcakes, brownies, quesadillas, salads, sushi, fajitas, falafel, and Mexican cake with pumpkin seeds. It helps kids gain self confidence, learn to communicate with each other, and learn basic concepts of math and science as they cook.
While Chef Bambino is a for-profit business, Gonzalez is involved in providing services to needy families – sometimes organizing events in which kids  make sandwiches for the homeless.
On Nov. 20, she held a class at York Street to teach kids at the Nurturing Place how to make salads, in advance of Thanksgiving. She wanted to include Gonnelli in the event.
Giving Gonnelli credit
Gonnelli was involved in volunteer work, charities, education, and the environment long before he became mayor.
On Thursday, in preparation for Thanksgiving at the Nurturing Place, Gonnelli helped kids prepare part of their own feast, slicing cucumbers, stripping leaves off parsley, squeezing lemons, adding feta cheese and oil, and stirring.
Gonnelli was patient with the young helpers, showing them how to perform each task.
"I love York Street and try to help them here whenever I can," Gonnelli said after the meal, when he distributed coloring books to the kids as a gift.
The kids at York Street
York Street runs four interrelated programs including St. Mary's Residence for single, poor working women; St. Joseph's Home for women and children; the Nurturing Place for day care, and Kenmare High School. The project is located in three buildings, two on York Street and one around the corner on Washington Street.
Nurturing Place provides day care to kids ranging from two months to four years old. They come from places throughout northern New Jersey, in particular Jersey City and Bayonne.
"Our children come from families in all walks of life, from Newark, West Orange, Bayonne, and Hudson County," said Victoria Hayes, director of education, noting that community contributions like those from Gonnelli help keep the facility operating.
The young helpers included Ramir, Koe, Jayden, Palmoa, Rylee, and Ma'Kiya.
They were engaged in making art while waiting for Gonnelli to arrive. Their works hinted at their focus and their desires — with Allie painting a cat, Sam, a dragon, and Trinity, a home.
A man of many hats
Gonnelli, a resident of Secaucus for most of his life, went through the Secaucus school system, spent two years at Lincoln Technical school, and entered the Department of Public Works at age 17. He later attended Cook College at Rutgers University, where he received certifications in Public Works Management, road specialist, recycling, urban forestry, park maintenance, and athletic field construction.
Over the years, he's served as a member of the Secaucus Planning Board, shade tree committee, and president of the Babe Ruth League, and has coached boys' baseball, girls' softball, and ice hockey teams.
He is responsible for the town's first Christmas tree lighting ceremony, the fishing derby, and continuing the town's Halloween ragamuffin parade.
To comment on this story on-line, go to our website, www.hudsonreporter.com.Al Sullivan may be reached at asullivan@hudsonreporter.com