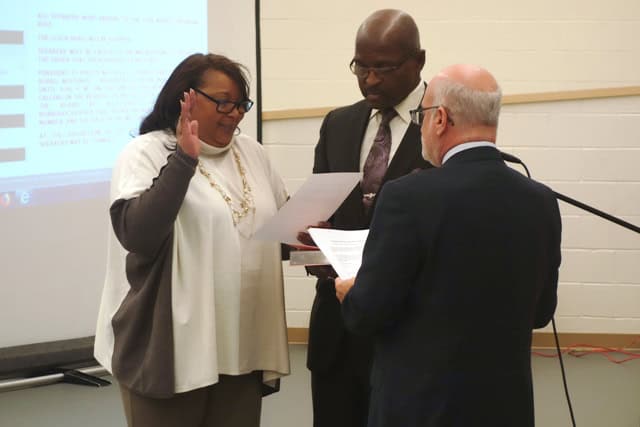 Three men charged with allegedly hindering an investigation into a NJCU campus shooting
Three men have been charged with allegedly hindering an investigation into a shooting that took place at New Jersey City University on Feb. 23.
The shooting led to a change of school policy, barring visitors from all three school dorms.
Tijahie M. Jacobus, 22, who allegedly shot himself in the foot by accident, has been charged with hindering the investigation, said Kimberly Wallace-Scalcione, spokesperson for the Jersey City Police Department.
Ariel Fernandez, 22, was also charged with allegedly hindering the investigation.
Keyshawn Alexander, 22, was charged with allegedly hindering and allegedly tampering with evidence.
Wallace-Scalcione said the shooting took place in a residence hall on NJCU's West Campus Village.
News reports claim that Jacobus allegedly said he had been the victim of an armed robbery. But police and school officials say that he most likely accidentally shot himself.
Suspect in Jersey City murder arrested in Boston
Victor Lopez, 52, of Jersey City, was arrested on Feb. 28 by the Boston Police Department in connection with a murder in Jersey City.
On Feb. 26, after an investigation by the Hudson County Prosecutor's Office Homicide Unit and the Jersey City Police Department, a warrant was issued for the arrest of Lopez.
Lopez, who has been charged with murder and other related weapons charges, had been sought in connection with the murder of Brandon Magwood in late February in Jersey City.
NAMI offers family-to-family educational program
The National Alliance on Mental Illness chapter in Hudson County will offer free classes for families and caregivers of adults living with a mental illness beginning March 20. The program consists of twelve 2-½ hour classes that focus on schizophrenia, bipolar disorder, clinical depression, panic disorder, and obsessive-compulsive disorder (OCD).
The course will be given by family members of individuals with a mental illness, trained by NAMI as educators of the Family-to-Family Program. Many family members describe this experience as life changing. Thousands of families have gained information, understanding, and support through these programs.
The classes on Wednesdays begin March 20 and finish on June 5. Classes are from 6:30 to 9 p.m. at Christ Hospital, 176 Palisade Ave., Jersey City. There is free parking at the hospital parking facility. Light snacks will be available.
The program and materials are free but registration is required. To register, contact Martha Silva at 201-861-0614 or email namihudson@msn.com.
Hudson County CASA is seeking volunteers
Court Appointed Special Advocate (CASA) volunteer and help foster children find safe and permanent homes. The next information session will be held at Little City Books, 100 Bloomfield St., Hoboken, on Wednesday, March 20 at 7 p.m.
CASA is a nonprofit organization committed to advocating for the best interests of abused and neglected children. CASA works through trained community volunteers to ensure that needed services and assistance are made available to children while helping to move them toward safe and permanent homes.
CASA volunteers are everyday people who make a direct impact in foster children's lives. They are trusted, dedicated adults who seek to improve children's well-being. CASA volunteers get to know their assigned child and his or her circumstances and provide valuable information to the court. Judges rely on the volunteers' recommendations to make the best decisions about the children's futures.
New Jersey Devils join Jersey City Library Foundation for fundraising outing
The Jersey City Free Public Library Foundation invites the community to support the Library while rooting for the home team at a New Jersey Devils game on Tuesday, March 19 at 7 p.m.
When the New Jersey Devils take on the Washington Capitals this month at the Prudential Center in Newark, the fans will be cheering, not just for the home team, but also for the Jersey City Free Public Library. The Library Foundation is hosting a Night with the New Jersey Devils outing to catch the game and support the library.
The New Jersey Devils extended a group rate discount to all those wishing to attend the game; a portion of all tickets purchased via the Library Foundation's special link (http://fevo.me/jclibrary) will be donated to the foundation. One lucky ticket holder in the foundation's group will win a photo in the penalty box before the game; the foundation encourages attendees to post to social media using the hashtag #JCFPLDevils to be entered into the raffle.
Those wishing to purchase tickets may do so at http://fevo.me/jclibrary; questions may be directed to JCFPL Public Information Officer Shane Smith, ssmith@jclibrary.org, 201-547-4579.
Jersey City to pay tribute to women of distinction
Throughout the month of March, Jersey City will celebrate Women's History Month with a series of special events reflecting the interests and accomplishments of women. This year's goal is to engage young women through citywide activities to become positively motivated people with a purpose.
Women's History Month was established in an effort to shine a spotlight on women's contributions to society.  Jersey City will follow the theme of the National Women's History Alliance "Visionary Women: Champions of Peace and Nonviolence."
"I encourage everyone to commemorate Women's History Month by taking the time to learn more about the vital roles women of all ages and ethnicities have played in our history, especially here in Jersey City," said Mayor Steven M. Fulop.
Fulop and Councilwoman At Large Joyce Watterman have assembled an executive steering committee to coordinate the events, which will focus on performing and graphic arts, health and wellness, entrepreneurship, and education.  This year's efforts also look to raise funds to support local women-based organizations and programs.
"It is important that we deepen our understanding of women's contributions so we can all continue to make the important strides toward success," said Watterman. "And this year, I'm especially enthusiastic to host the annual closing ceremony reception with an outstanding guest speaker, Lieutenant Governor Sheila Oliver."
The next event will be held on Wednesday, March 20, at 5:30 p.m. at  the Hudson County Community College, STEM building, 263 Academy St. Women in Business Panel & Networking Event will provide an opportunity to meet with women business owners, leaders, and entrepreneurs in multiple industries. Tickets available at https://jcwomeninbusinessnetworking.eventbrite.com
On Thursday, April 4, at 6 p.m. at the  Liberty House Restaurant Women's History Month Closing Cocktail Reception will take place with guest speaker, Lt. Governor Sheila Oliver. Attendees can view artwork on display by students of Jersey City Public Schools. Wine, beer, and hors d'oeuvres included. Sponsorships are available. Contact Kia Deadwyler, Aide to Councilwoman-At-Large Joyce Watterman, 201-547-5108.
Tickets available at https://jcwomenshistorymonthclosingreception2019.eventbrite.com
HCCC holds Sixth Annual  Girls in Technology Symposium
Hudson County Community College (HCCC) Division of Continuing Education and Workforce Development is soliciting companies and individuals to sponsor students' attendance at the college's upcoming "Girls in Technology" Symposium.
The sixth annual STEM (Science, Technology, Engineering and Mathematics) event will take place at HCCC on Thursday, March 28 from 9 a.m. to 2:30 p.m. Educators and women who work in STEM-related fields will interact with about 200 students from Hudson County middle schools and high schools, providing information on STEM studies and careers. The agenda includes round-table discussions, demonstrations, student presentations, and a variety of hands-on activities.
In addition to the students, almost 100 school administrators, faculty, educational partners, and staff participate in the event.
"For centuries women played important roles in what we now refer to as STEM fields, but they were not always acknowledged or appropriately recognized," said HCCC President Dr. Chris Reber, noting that STEM jobs were once viewed as men's jobs
Sponsorship opportunities range from $75 (breakfast, lunch and all materials for the day's activities for one student) to $3,000 (breakfast, lunch and all materials for the day's activities for 40 students). Sponsors will be acknowledged in the program and all marketing materials.
Complete details on sponsorships may be obtained by contacting Lori Margolin, Dean of Continuing Education and Workforce Development, at 201-360-4242 or emailing LMargolin@hccc.edu.