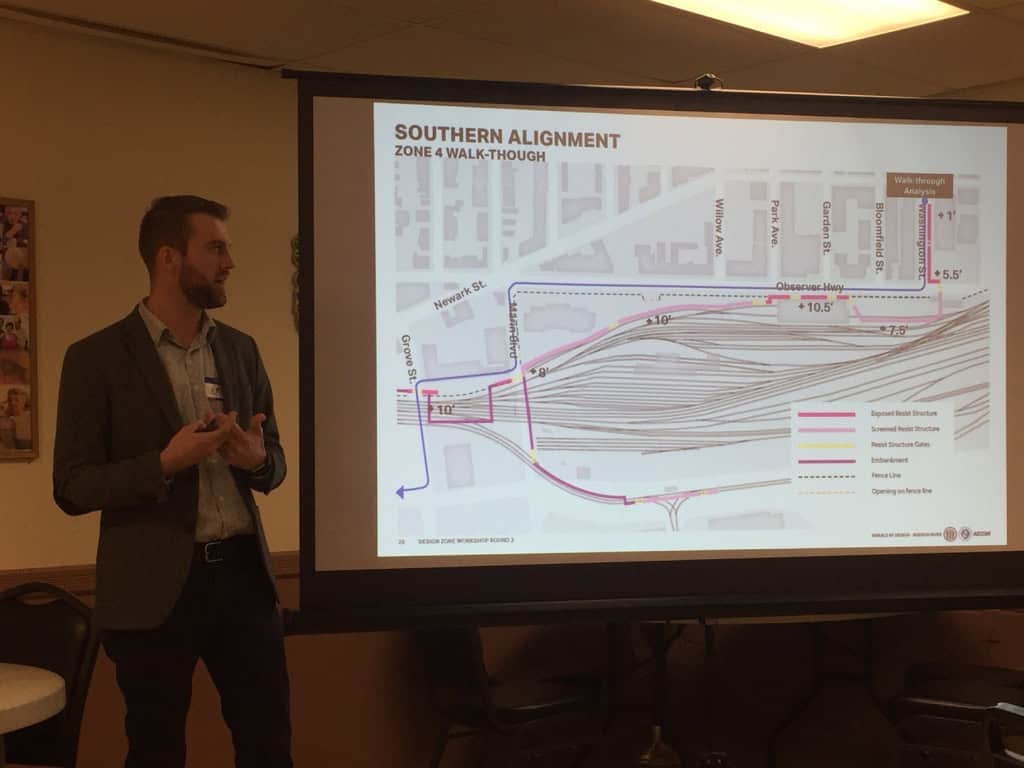 Over 50 residents gathered for the latest Rebuild by Design project community meeting to learn what kind of barrier can be built to protect the southern portion of the city from storm surge flooding.
The $230 million federally-funded project calls for construction of flood-resistant structures in northern Hoboken near Weehawken Cove, and near NJ Transit's rail yards in southern Hoboken. The designs call for a mixture flood walls and soft landscaping such as berms and levees.
Other, non-functional features would include murals, signage, planters, and more.
The project is divided into five zones, two of which affect Weehawken and Jersey City. Last week's community meeting on Tuesday, March 12 focused on a portion of the southern alignment in Design Zone 4 and what it could look like.
The structure
The resist barrier will be composed of several technical components, including three types of deployable gates: roller gates, swing gates, and stop log gates. An "I" resist structure will be built for parts of the barrier below six feet high and a "T" resist structure for parts of the barrier above that height to provide more support.
The southern barrier would begin on the east side of Washington Street at Newark Street in front of the CVS pharmacy, in roughly the center of the sidewalk, and extend south toward  Observer Highway. The barrier would begin at about grade level before climbing to about six feet tall near the intersection of Washington Street and Observer Highway.
A stop log gate, similar in appearance to giant watertight Lincoln Logs, will be part of the barrier in front of the former Barnes & Noble building and would be closed if a storm surge strikes.
At Washington and Observer, a rolling gate would be deployed to block the street during a storm surge. The barrier would cross over onto NJ Transit property behind the NJ Transit pump house and extend west out of public view. It would then reemerge on Observer Highway at about 11 feet tall in front of the NJ Transit engine house, identifiable by its mural depicting the word "Relationships" with a peace sign.
From there the barrier would continue west along the southern portion of the Observer Highway bike lane in front of the engine house before once again turning onto NJ Transit property, where it will continue toward Marin Boulevard before connecting to Design Zone Five.
A gateway to the city
Eric Olsen of AECOM, an engineering firm working on the project, said design features were based on several factors, including pedestrian needs, technical components of the resist structure, and public input gathered through earlier workshops and an online survey.
He presented several design features for the barrier, which would be in public view along Washington Street and in front of the engine house on Observer Highway.
The structure could be wrapped in four types of material, including a wooden texture, weathered metal, and stone or aggregate texture.
The potential Washington Street design elements included signage and seating near Newark Street, as well as skateboard and climbing deterrents. Near the middle of the Washington Street structure, the design team said they could implement gate storage for the stop log gate as well as opportunities to lean as the height would now be approximately 3 feet tall.
Near the Observer Highway intersection when the barrier is about 6 feet tall they could implant planters and wayfinding signage to depict the area as a gateway to the city.
In front of the engine house on Observer Highway, the options presented included an industrial-themed concrete design, graphic murals, changeable panels which could depict city events or motifs, and extended corrugated metal panels which could depict two separate images depending on if you are traveling east or west.
According to the project team, two more community meetings on the project design will take place in May and in July or August once the design of the barrier is finalized.
Construction is scheduled to begin in 2020.
For updates on this and other stories check www.hudsonreporter.com and follow us on Twitter @hudson_reporter. Marilyn Baer can be reached at Marilynb@hudsonreporter.com.