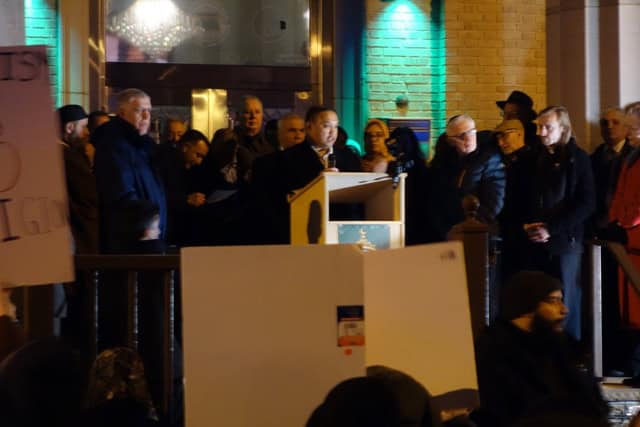 Over a hundred people gathered in front of the North Hudson Islamic Educational Center in Union City four days following a shooting that left 50 people dead in New Zealand.
Hosted at the center on Cottage Place on March 18, religious leaders from different faiths and public officials spoke about their reaction to the tragedy and the need for the community to come together.
"Preying on places of worship where people go to seek peace and solace is especially heinous and cowardly," said State Senator and Union City Mayor Brian Stack. "It is, however, in times of adversity and sadness that we come together as a community of acceptance, support and love. We stand together as one community, regardless of faith, to offer our thoughts and prayers to the victims in New Zealand and to reaffirm that this community will not tolerate hate and bias."
The group of dignitaries gathered on the steps of the center in an effort to show support for the local community, at a place that has become one of the hubs for the Muslim community in North Hudson.
Police cars blocked off the normally quiet street in an extra measure of security. Since the shooting on March 15, Union City Police Chief Nichelle Luster has had officers assigned to monitor the area.
The gathering attempted to convey a sense of hope even in the midst of great turmoil, but could not ignore the fact that terrorism lurks even in places where people pray.
"Once again, it seems that white supremacy has reared its ugly head claiming 49 innocent lives in New Zealand," said Rep. Albio Sires. "Places of worship should be a refuge, a place of peace, not a place of horror. We must stand against the hate that has become too prevalent and taken far too many lives. I am united with the people of New Zealand in condemning and rejecting the hate that led to this act of terrorism. My prayers are with the survivors, the friends and families of the victims, New Zealand, and the Muslim community."
The center
North Hudson Islamic Educational Center has been under heavy watch by local police since the shooting, and according to Police Chief Luster, the department will continue to have offers in the area.
Members of the center spoke to the crowd about healing and watchfulness as people lit candles in memory of those lives lost on the far side of the world.
While many of those in the crowd were members of the center, many local residents also attended, watching with bowed heads as officials spoke.
Standing shoulder to shoulder, members of the crowd listened in silence, or held up signs of support for their community and condemnation for the acts that struck down innocent people.
"Terrorism has no religion," one sign said.
"This is the second or third time that I've attended events like this," said Weehawken Mayor Richard Turner. "We have to make certain that this doesn't divide us. There are people from every faith here, and officials from every level of government. We must not let actions like this keep us from coming together."
Turner said it is important for all parts of the community to remain united against those who would seek to cause divisions in the community.
While leaders of the center were very prominent on the steps, they were joined by religious leaders and elected officials from throughout Hudson County including North Bergen Mayor Nicholas Sacco, Weehawken Mayor Richard Turner, The Rev. Elaine Thomas, rector at All Saints Church in Hoboken, Jersey City Council President Rolando Lavarro, and others.
Rev. Thomas said that the community needs to stand against hate.
Lavarro condemned what he called a horrendous crime.
"We in Jersey City stand with you," he told the crowd.  "This is a time when we all need to stand together."
The center, established in 1992 to represent and serve the interests of the Muslim Community in the area.  In its mission statement, the center "seeks to raise public awareness of understanding of Islam, encourage dialogue, and empower American Muslims. NHIEC aspires to be a bridge between peoples and cultures to promote religious understanding, values of tolerance, kindness, compassion and build coalitions that advocate mutual understanding."
New Jersey has the second largest percentage of Muslims in the nation, and Hudson County is home to the majority of these.
Jersey City also has a large population of Muslims, who Lavarro as a councilman represents. Muslims constitute 4.2 percent those surveyed as religious. The growing Muslim population in Jersey City includes a significant Latino contingent, as well as Americans from Pakistan, Bangladesh, and Arab countries.
Stack has been an outspoken critic of federal immigration policies and in 2017 declared Union City. This came at the same time as Jersey City Mayor Steven Fulop signed an executive order also declaring Jersey City a sanctuary city.
The assailant
Brenton Tarrant, 28, of Australia, has been charged with murder for allegedly killing people in two mosques in Christchurch, New Zealand.
Tarrant apparently posted a manifesto and made numerous comments on his white nationalist beliefs, suggesting that he allegedly sought to incite violence, retaliation and further divide people.
New Zealand has since established a ban on the ownership of assault weapons like those used in the attack.
For updates on this and other stories check hudsonreporter.com and follow us on Twitter @hudson_reporter. Al Sullivan can be reached at asullivan@hudsonreporter.com