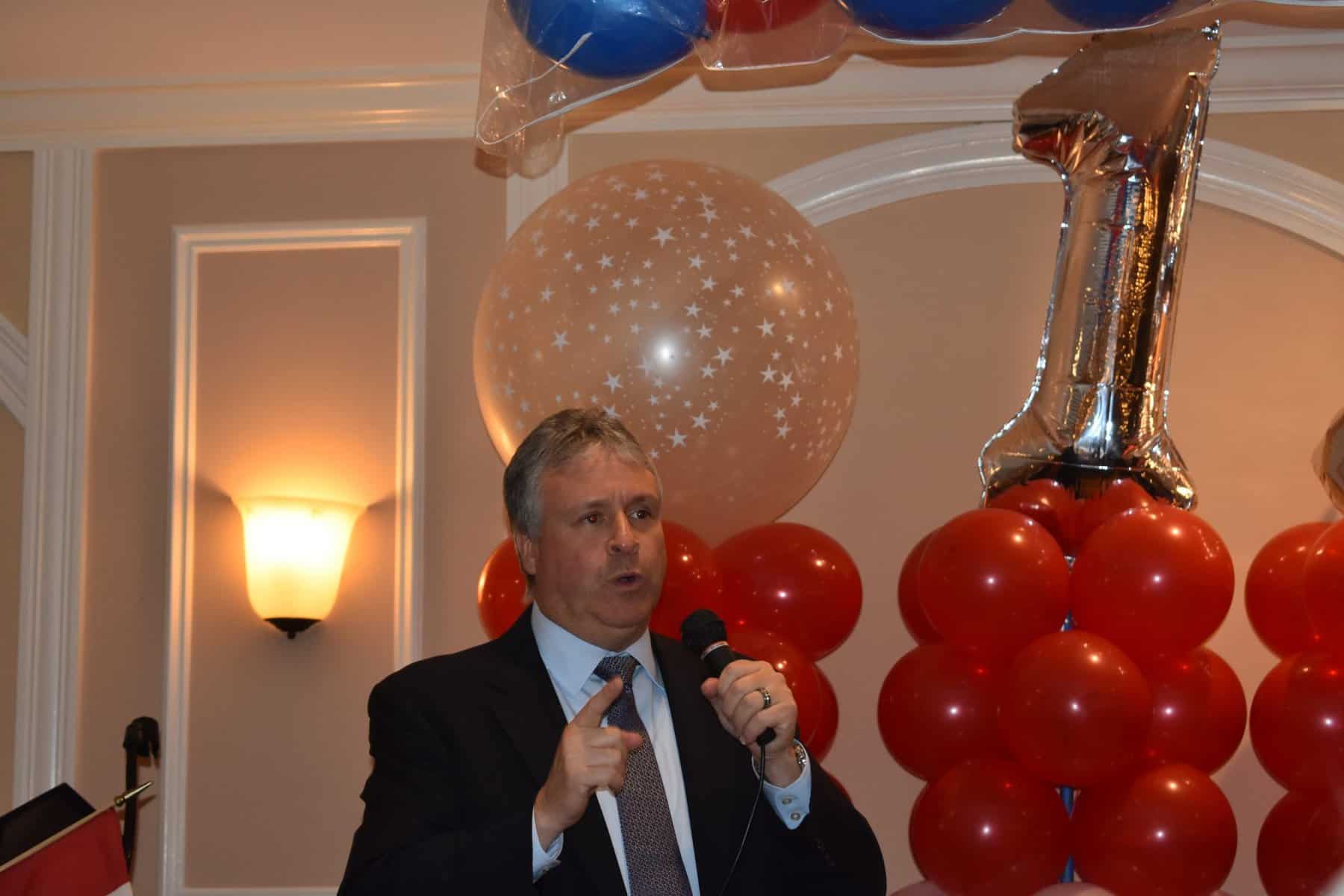 In his fifth State of the City address, delivered on April 15 at Villa Maria on Broadway, Bayonne Mayor James Davis reiterated a familiar message of a resilient city on the rise, both figuratively and literally with taller buildings and rejuvenated parks. This year's speech was less animated than last year's, when Davis was in the heat of an election that he went on to win by a wide margin.
"With one full term behind us, myself and my council teammates look back with pride with what has been accomplished and look forward with optimism with what will continue to be accomplished," Davis said. He continued, "residents don't want to be told. They want to be shown." He touted new residential buildings in the city center and on the former Military Ocean Terminal that "finally now we can feel and touch." He also noted a reduced structural deficit, a new Costco, a proposed ferry, and, eventually, a new school.
"A city cannot move forward without its finances in order," he said, referencing the $25 million deficit at the time of his election. It has since been cut to $18 million. In last year's address, he set the goal of cutting that deficit to $8 million by the end of his second term. "We will continue to keep the city on the path to fiscal responsibility and solvency," Davis said.
Critics denounce abatements 
The Davis administration has been criticized for its embrace of economic development policies that lure developers with tax abatements because they siphon resources from the school district by allowing the developer to make payments directly to the city instead of property taxes that fund the school district. Rents are rising, along with property values, property tax rates, and water rates.
The policies have, however, resulted in new residential buildings that one day will pay property taxes and expand the property tax base. Meanwhile, the school district has been receiving more state funding since Phil Murphy became New Jersey's governor, offsetting funds lost through Davis's economic development policies. The New Jersey Department of Education has allocated enough Pre-K funds to cover every child in Bayonne.
The new school
The mayor listed his accomplishments and delivered a message of hope for Bayonne's future. But tucked into the boilerplate was a crucial plan to "to reorganize our current school districts, explore establishing middle schools, and implement a capital plan for the construction of new schools."
A new school has been an inevitability for Bayonne for a long time. Holding the city back has been stagnant population growth, low capital reserves for such a project, a global economic recession, and a lack of land with infrastructure to support a new school. Now that the population is increasing, capital has been flowing, new infrastructure installed on the former Military Ocean Terminal, and a governor who prioritizes public education, a new school is more viable than ever.
Davis did not say where a new school would go, only that plans are in the works. Considering the most available land is on the former Military Ocean Terminal, which finally has infrastructure to support new buildings, that seems a likely location.
Cures, not band aids
"We need to develop this comprehensive plan for the betterment of our education system for our current and future children," Davis said. "We need to develop this plan in a manner that ensures that effects on the Bayonne taxpayer are minimized. We must stop throwing good money after bad by putting band aids on old schools and invest in our future by building new, efficient, and modern schools that will serve our future generations."
"Our city has gone through numerous changes over the last 150 years," said Davis, in a nod to the city's ongoing celebration of its 150th anniversary. "It is my belief, however, that this current change is the most important and profound one yet. The dire financial social circumstances Bayonne faced just a few years ago caused Bayonne to stumble and fall. But this is Bayonne. We are Bayonne. Home of the "Game of Thrones" and the real Rocky Balboa."
For updates on this and other stories check hudsonreporter.com and follow us on Twitter @hudson_reporter. Rory Pasquariello can be reached at roryp@hudsonreporter.com.