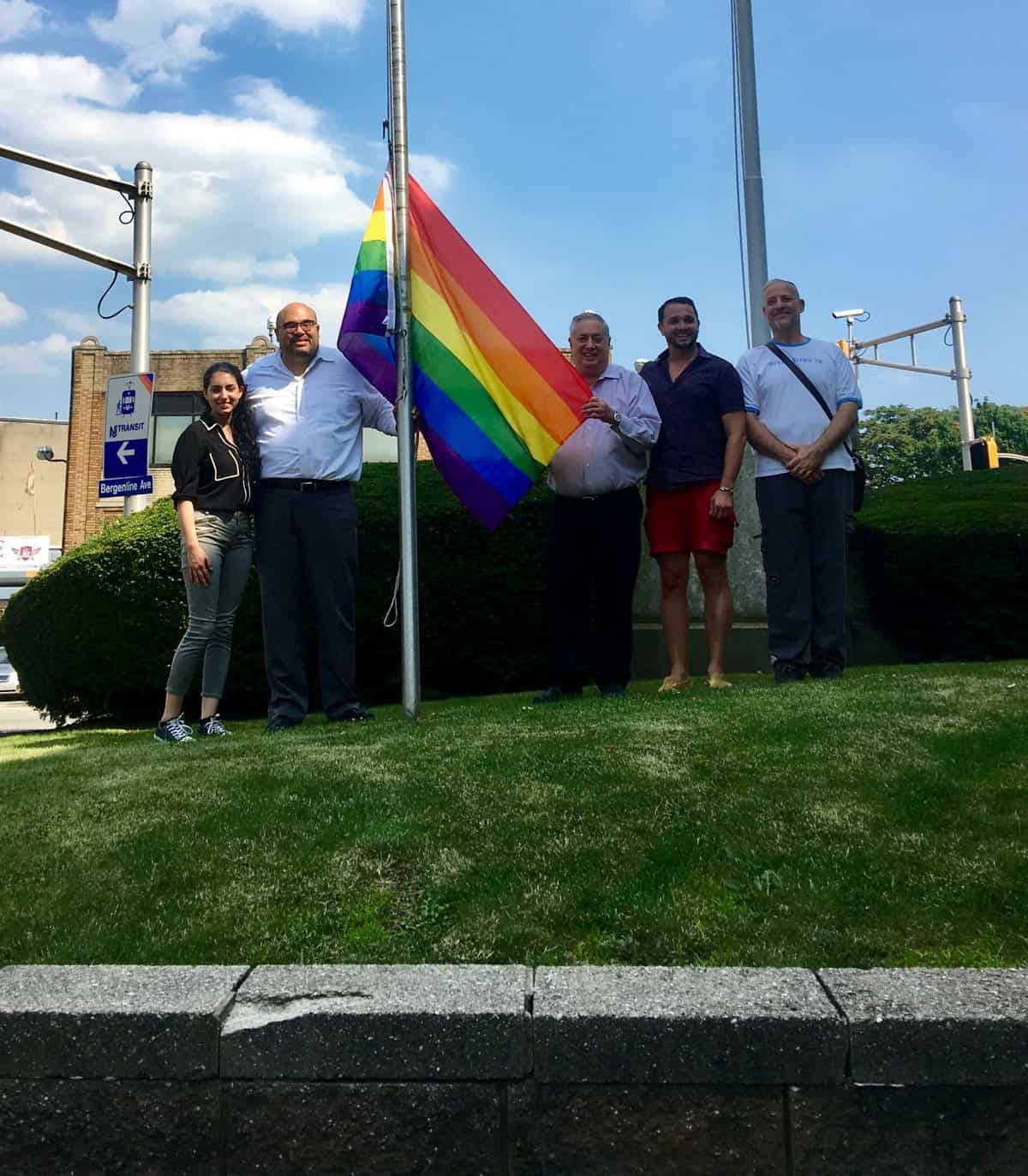 Joining Bayonne, Jersey City, Hoboken, Union City, and West New York, along with scores of other New Jersey towns, North Bergen officials raised the rainbow flag affirming the township's recognition of this year's Pride month.
Along with West New York, this was the township's first year participating in the tradition.
"Today's ceremony is more than just a flag being raised, it recognizes the contributions of the LGBTQ community and the struggles faced in the fight for equality," Mayor Nicholas Sacco said. "Hate and intolerance have no place in North Bergen, and our residents should know that they will not be discriminated against for loving whomever they love."
North Bergen officials were joined by Hoboken Councilman Mike DeFusco, who heads the Hudson County Democratic Organizations LGBTQ Caucus, and Massimo Mascoli, a member of that caucus.
"I am proud to have raised the Pride Flag in North Bergen alongside Mayor Sacco to continue promoting love and equality in our communities," DeFusco said. "We've made incredible progress in Hoboken to build a city that is accepting of everyone. Mayor Sacco has always been a true friend for equality, and I look forward to working together to continue the conversations that make Hudson County more inclusive and welcoming to everyone."
The flag was raised on the 50th anniversary of riots at the Stonewall Inn in New York City, a series of police-involved conflicts that are largely seen as the catalyst for the gay liberation movement. In those days, homosexuality was classified as a psychological disorder in the Diagnostic and Statistical Manual of Mental Disorders (DSM-IV). It was illegal and usually punishable by imprisonment in 49 states.
Towns remain divided
In some areas of New Jersey, town and city officials spent the past few months weighing whether or not to represent Pride Month by flying the Pride flag on municipal property. Officials who opted to fly the flag got backlash from some local groups.
In Rutherford and Wyckoff, hundreds of people signed petitions and appeared at government functions to oppose a rainbow flag displayed in front of municipal headquarters in those Bergen County municipalities.
In Hudson County, flying the flag in front of city halls halls didn't get much public push back.
Other towns called off their Pride flag-raising ceremonies, responding to claims that raising one flag could set a free-speech precedent for other groups pushing to raise flags for other causes. Still, each municipality reached its own conclusion to fly the Pride flag, without outside influence. No New Jersey courts have ruled in favor of groups who oppose Pride flags on public property.
"North Bergen has always been a welcoming place for people from many different cultures and backgrounds, and the LGBTQ community is no exception," Marenco said. "Raising the Pride Flag sends a message that everyone is valued here in our community, and I am proud to have been part of this historic event."
For updates on this and more stories check hudsonreporter.com or follow us on Twitter @hudson_reporter. Mike Montemarano can be reached at mikem@hudsonreporter.com.