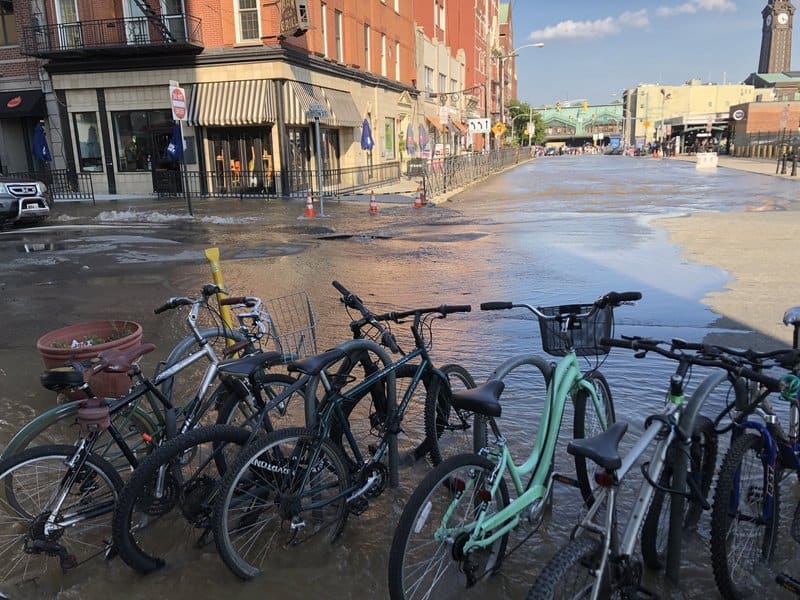 Hoboken's new contract with SUEZ Water, which includes a new public water utility managed by the city, took effect on July 1.
Under this 15-year contract, announced last April, the city will receive $33 million in revenue to make system-wide infrastructure upgrades through 2034, with an average of $2.2 million in water investments per year.
This $2.2 million is more than six times the amount of the previous contract, which provided only $350,000 per year in upgrades and repairs.
At one time, the city had a public water utility, but in order to close a budget gap in 1994 without raising taxes, the city sold the right to make money off the water system to United Water (now SUEZ.) The 30-year agreement was made in exchange for payments totaling $13.2 million for budgets through 2001.
Breaking bad 
Hoboken has long been plagued by water main breaks flooding city streets. Pressure fluctuations, vibrations, and seasonal changes in temperature which can cause the cast-iron pipes to become brittle with age, often cause these breaks.
Last summer, there were more than 17 water main breaks throughout Hoboken in a two-month period.
Under the new contract, revenue from bulk water consumption is placed in the public water utility, with the majority of the revenue invested in water infrastructure upgrades.
Suez will continue to maintain and operate the water system for a fee, as well as be paid for any repairs or capital upgrades.
Under the terms of the new contract, at least 18 percent of the city's water mains will be upgraded by 2034. The old contract upgraded only five percent of the system, from 1994 to 2017.
Leak-proof
Of the $2.2 million in water investments per year, $1.5 million will be allocated for proactive upgrades and new water mains, compared to the previous contractual requirement of only $350,000 in repairs by SUEZ.
The new agreement also includes $2 million in smart leak detection technology which will use real-time data to identify leaks and monitor water consumption.
According to the city, there will be no change in the process of customer service or bill payments for Hoboken ratepayers.
"Today is a historic day for the City of Hoboken," said Mayor Ravi Bhalla. "We are finally able to make multi-million dollar investments into our aging water main system that have been badly needed for many years. Hoboken will now upgrade our most vulnerable water mains and focus on proactive upgrades, instead of just responding to water main breaks. We wouldn't be in this position if it were not for the hard work from our city staff and negotiations with SUEZ, and I thank everyone who made today possible."
The City Council's Infrastructure Subcommittee, which is chaired by 2nd Ward Councilwoman Tiffanie Fisher, worked with the city administration to negotiate the contract.
"The additional $33 million available to make necessary upgrades to our water system is the direct result of my infrastructure subcommittee working collaboratively with the city for the past two years," said Fisher. "Our new contract with SUEZ is an incredible achievement because the additional revenues the City of Hoboken receives under this contract equates to less of a burden on city taxpayers to address these critical repairs. This is a true testament of what we can accomplish when we put politics aside and work together to put Hoboken's best interests first."
General Manager/Vice-President for SUEZ New Jersey Operations Chris Riat said SUEZ is proud of the 25-year partnership with the city and looks forward to working with the city to improve its water system over the next 15 years.
"The mayor, City Council, and SUEZ are all focused on building a sustainable water system that will serve residents for generations to come," he said.
For updates on this and other stories keep checking www.hudsonreporter.com and follow us on Twitter @hudson_reporter. Marilyn Baer can be reached at Marilynb@hudsonreporter.com.