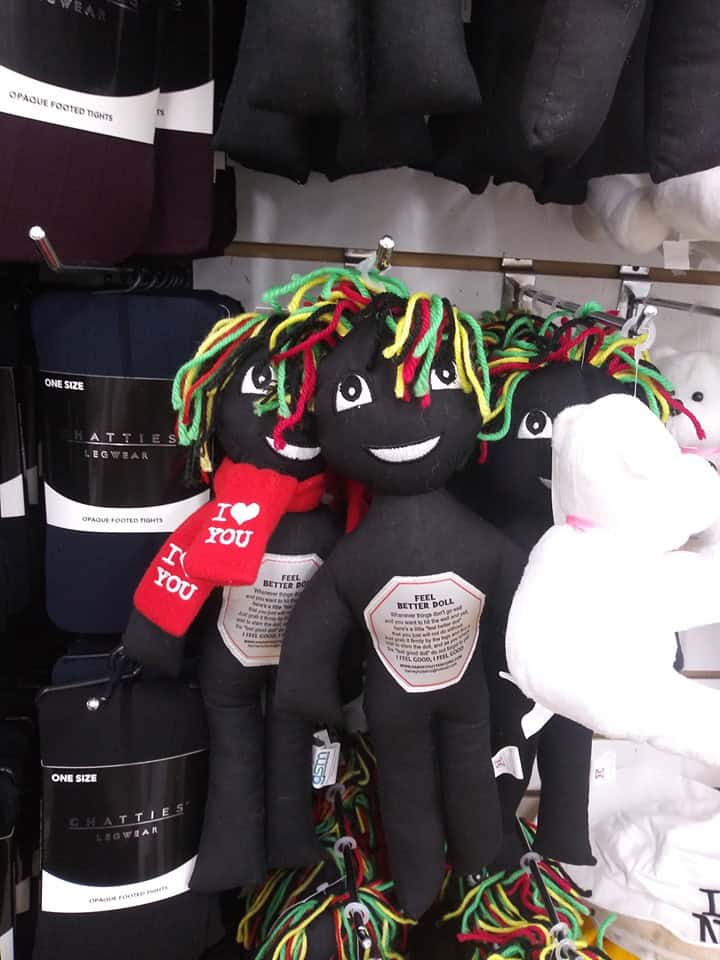 Assemblywoman Angela McKnight, whose district includes all of Bayonne and a southern portion of Jersey City, visited One Dollar Zone in Bayonne where she found a display featuring "Feel Better Dolls."
The rag dolls were made of black cloth with multi-colored yarn braids, and were ostensibly made to be abused. They were the latest in a rash of racist symbols that have come to light across the city.
The Jim Crow era was marked by widespread racist imagery, derogatory caricatures, and violent depictions of black people that could be seen in advertisements, film, theatrical performances, and memorabilia. The dolls at the dollar store were similar to Jim Crow era products that were commonplace in the United States well into the 20th Century.
McKnight, who visited the store to see the dolls firsthand, said that they symbolized the abuse of black children.
Text on the dolls read, "Whenever things don't go well and you want to hit the wall and yell, here's a little 'feel better doll' that you just will not do without. Just grab it firmly by the legs and find a wall to slam the doll, and as you whack the 'feel good doll,' do not forget to yell I FEEL GOOD, I FEEL GOOD."
The dolls were produced by Harvey Hutter and Company, Inc. whose website and email address appear to be defunct.
The dolls are 'sick'
"When I heard about this doll on social media, I knew I had to do something immediately," McKnight said. "This doll is offensive and disturbing on so many levels. It is clearly made in an inappropriate representation of a black person and instructs people to 'slam' and 'whack' her."
McKnight said that the dolls were "sick" and marketed to children a depiction of a black child being beaten for pleasure.
"Racism has no place in this world, and I will not tolerate it, especially not in this district," McKnight said. "When I saw the doll in person, I cringed and was truly disheartened by the thought of a black child being beaten by another child or an adult for pure pleasure. To have a product depict or teach children that it is OK to hit another child, regardless of race, in order to feel good is sick. Dolls should be a symbol of love, care, and affection."
McKnight said that she spoke to the general manager of the dollar store, who removed the dolls from the shelves before McKnight left.
"Aside from the shock of seeing such an insensitive product being sold in our community, I am grateful for the people that saw it and said something immediately," Bayonne Mayor Jimmy Davis said. "I also want to thank Assemblywoman McKnight for her quick response and assistance. We will not tolerate any symbol of hate and division within our community."
One Dollar Zone operates several stores in the northeastern United States. The president of the company told media outlets that more than 1,000 "Feel Better Dolls" were removed from locations in Bayonne and two other New Jersey communities.
Spreading hate
Racist symbols have been seen throughout Bayonne lately. In April, a noose was found hanging in Dennis P. Collins Park, and was investigated by the Bayonne Police Department.
After a few weeks in which reports of the noose circulated across New Jersey media outlets, NAACP Bayonne Branch President Clarence Hilliard called out officials who hadn't yet acknowledged the direct connection between a noose hanging in a public place and the practice of lynching, which throughout American history has been used specifically against black Americans over centuries.
In a June 19 letter to The Hudson Reporter, Hilliard said he was dismayed by the official silence surrounding the obvious history connected to the Collins Park incident.
"What is different about this incident in Bayonne is that nothing has been said by any of our elected officials condemning this behavior. No public statement, no press release, nothing from anyone," Hilliard said, noting that he and another NAACP member met with city officials to talk.
"We were told that the reason for the noose may be someone was training a dog or someone planned to commit suicide and changed their mind," Hilliard said. "Why does it have to be something other than just what it is— a noose that was hung in a public place. We explained to them how we, as African-Americans, view this issue and the murderous and hateful history of a noose being hung in a public space."
Reprieve for worst responders?
On July 4, Mayor Jimmy Davis wrote a letter to The Hudson Reporter following his meeting with Hilliard and another NAACP member. He said that he regretted not speaking out about it sooner.
"The police informed me of the incident that same day, and they investigated it. At the time, I made no statement about the incident. I was out of town and in vacation mode. It is clear now that I should have made a statement immediately. I regret not having done so," Davis said.
He wrote that he believed the noose could have been a symbol of racist hatred, but maintained that it could also have been there for other reasons. He said that there have been a few recent incidents in downtown Bayonne involving suicide by hanging. He was told by law enforcement officials that there was insufficient evidence to consider the noose a hate crime.
"There was no specific wording with it, and there was no specific evidence that it was intended to send a message to a particular person or group," Davis wrote. "That being said, the connotations of a noose as a symbol are always negative. A noose is a disturbing image anywhere it is found."
"For the sake of peace and justice, I urge everyone to refrain from doing anything that could be interpreted as a sign of hatred in our community. We need to respect and accept each other now and always. We all need to work together to make our city a better place," Davis concluded.
Neo-Nazi vandalism in our own backyard
On July 17, three teenagers were arrested and charged with spray painting swastikas at three locations in separate incidents in Bayonne.
All the teens who allegedly spray-painted the Nazi symbol on public property were from Bayonne. Eighteen-year-old Jeremy Marion, 19-year-old Seth Lupianez, and one underage suspect were arrested and charged with criminal mischief, bias intimidation, and conspiracy.
Each of the graffiti tags included the words "Atomwaffen Division." The Atomwaffen Division is a southern U.S.-based neo-Nazi terrorist network that has since expanded to several countries in North America and Europe.
The teens who were arrested allegedly spray painted the swastikas over a waste basket in Dennis P. Collins Park, at the 45th Street Light Rail platform, over the "Faces of Bayonne" portraits on 8th Street. The "Faces of Bayonne" portraits were specifically designed to showcase and celebrate the town's diversity.
Mayor Jimmy Davis responded soon after the arrests were made.
"The Bayonne Police Department asked me to hold off on making public comments about the recent episode of vandalism with swastikas, in order to avoid jeopardizing their investigation," Davis said. "As a former police captain, I understand the importance of letting an investigation come to a successful conclusion before making announcements about it."
The mayor thanked the Bayonne Police Department and the New Jersey Transit Police for their "patient and successful investigation. Thousands of Bayonne residents fought against Nazi Germany during World War II. Our community rejects swastikas, nooses, and all other hateful symbols and everything that they represent."
For updates on this and more stories check hudsonreporter.com or follow us on Twitter @hudson_reporter. Mike Montemarano can be reached at mikem@hudsonreporter.com.