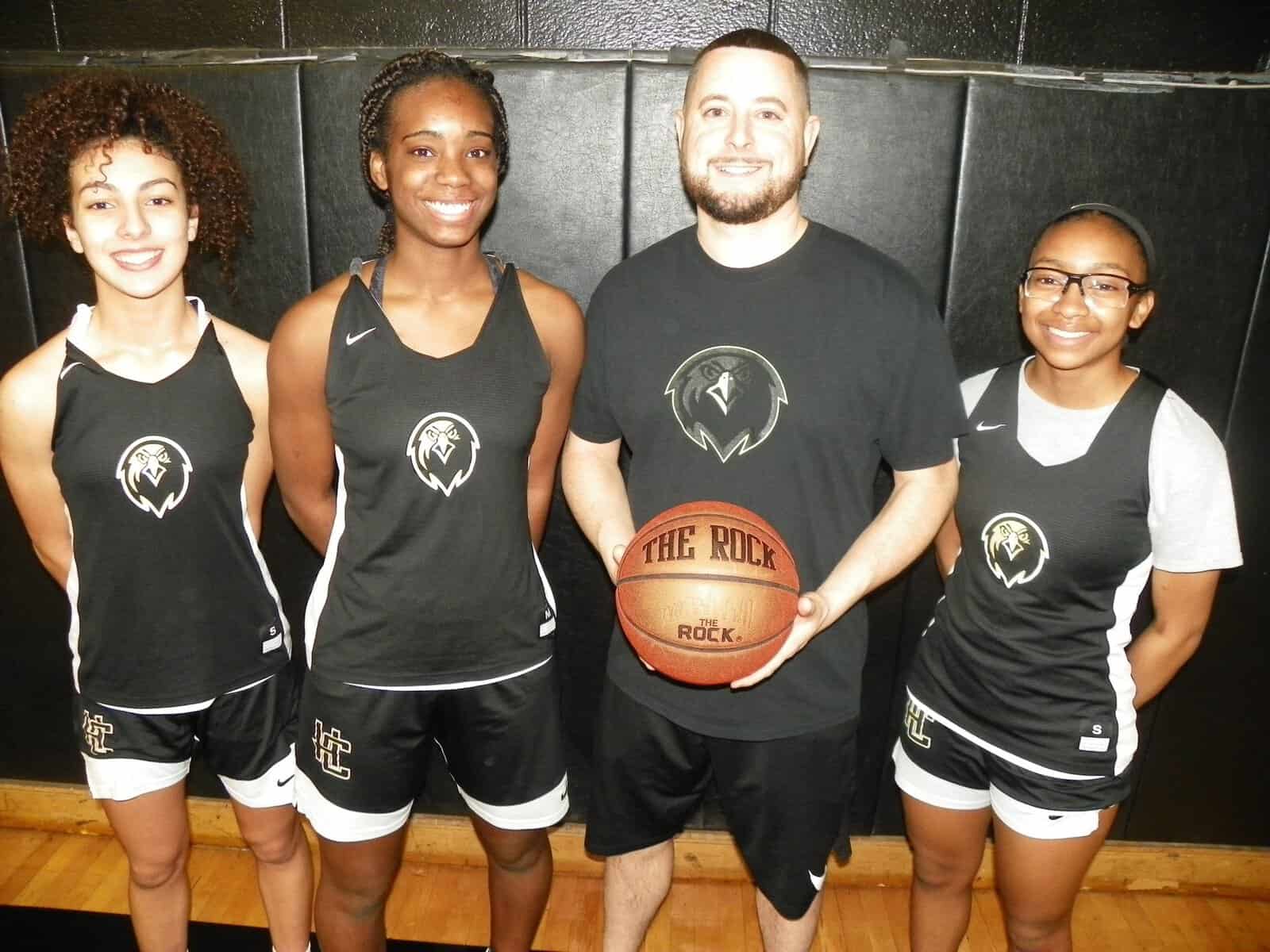 After leading his team to the first-ever girls' basketball championship in the school's history, capturing the Hudson County Tournament last year, Hudson Catholic head girls' basketball coach Pete Vincent knows full well that the top spot will be tougher to claim a second time around.
"The bulls' eye is bigger, but the prize is also bigger," said Vincent, who begins his seventh season with the Hawks. "Before, it was nice to just get recognition. Now, everyone is saying that they want to beat Hudson Catholic. They point to us on the schedule. We're now a milestone game for so many teams. It's still a little weird to me, because I don't feel that way, but I guess the pendulum has swung. If teams want to beat us, then we're going to work even harder. Now we're the target for everyone. If teams beat us, it will make their season."
But Vincent believes it's up to the opponents to try to knock the champs off their perch.
"The goal is to be more diligent than ever," said Vincent, the 2018-19 Hudson Reporter Coach of the Year. "It makes things different for us, but it presents a new challenge. I think some things are better this year. Our basketball IQ is better. Our chemistry is better. These girls understand each other's roles. There are no egos on this team. They all enjoy each other and enjoy playing basketball together. The practices are easy. We're moving along faster than I thought we would."
However, before the season even starts, Vincent is dealing with three crippling knee injuries to key players that will set the Hawks back a little.
Sophomore forward Soraya Ortiz, sophomore guard Demaris Andrews and freshman Kelyse Bullock all suffered torn anterior cruciate ligaments to their knees and are lost for the season.
"We've had our fair share of injuries before, but nothing like this," Vincent said. "Soraya was our best defender. Losing Andrews hurts. Bullock was a key freshman. But it gives others a chance to prove themselves. We have to play smarter to stay on the floor longer."
One way that Vincent has helped the undermanned Hawks is to change the start of home games.
"Instead of being at night, we're starting at 4:30 p.m.," Vincent said. "This way, we can get the girls home in a timely fashion. They can get their rest and be ready faster."
Leading the returnees is junior point guard Zanai Jones, who earned Hudson Reporter First Team All-Area honors a year ago. The 5-foot-6 Jones averaged 17 points and seven assists per game last season and is already receiving major college scholarship offers.
"For her, it started in the summer," Vincent said. "She was part of the Books 'N Basketball program that played all over the place. She was part of the Adidas Gauntlet tournament in California, spending seven days in Los Angeles in July with 60 of the top players in the country. So she played at a very high level and came back a lot stronger. She worked with the personal trainer Bobby Whyte to get bigger, stronger and faster. Her goal this season is to average 20 points per game. It's a big motivation for her. She's the captain. I think she's ready to come into her own."
Senior Anasia Staton returns as well. It only feels like the 6-foot Staton has been at Hudson Catholic for like 10 years.
"She's the backbone of the team," Vincent said. "She's like everyone's big sister. Everyone on the team follows her lead. Whenever she says something, they all follow."
Staton has been a part of seven different championships at Hudson Catholic, whether it was volleyball, basketball, softball and track and field.
"That's pretty amazing," said Vincent, who is hoping that Staton wins title No. 8 during her career at McGinley Square. "It speaks volumes to who she is. She's the best 3-point shooter on the team."
Senior Salma Eddahiri returns at small forward. The 5-foot-8 Eddahiri is an excellent defensive player who will see a lot of the minutes that were last year reserved for Ortiz.
"She's probably our best on-the-ball defender," Vincent said. "She's bigger and stronger. She is also more confident. She's a leader on the court. She's the kind of kid who puts in twice as much effort as anyone. She's a tough competitor. She wants to be the best player she can be."
Junior Adiana Pacheco is going to play a big role for the Hawks and she stands 6-foot-1, so she's literally a big player.
"She's drawn a lot of [NCAA] Division I interest," Vincent said. "She's our most improved player. She's really developed a great mid-range game, but she can also shoot the 3-point shot. She's going to score in a lot of different ways. She has a good energy and a high motor."
Sophomore Kayla Beckford is a 5-foot-9 guard.
"She's already received offers," Vincent said. "She's the back-up point guard to Zanai. She can handle the ball well and drives to the basket well. She can also finish with either hand. She's also a good deep shooter. I don't know of another school in the state that gets better guard play than we have."
Meghan Gentile is a 5-foot-8 freshman guard. She's the daughter of former St. Peter's College star Patty Marchese Gentile, who was on two Peahen teams that won MAAC titles and went to the NCAA Tournament. Gentile will play a major role right away with the Hawks.
"She handles the ball well," Vincent said of Gentile, whose father, Gary, is a vice-principal at Ferris High School. "She's a good decision maker and has good one-on-one moves to get past people."
Sophomore Natalia Goss is a 5-foot-4 guard.
"She's a good defensive player and a stopper," Vincent said. "She's a good transition player."
Junior Erin Holloway is a 6-foot forward/center who is a transfer from Nazareth High School in New York. Holloway is eligible to play right away.
"She can play either the four [power forward] or the five [center]," Vincent said. "She can shoot the ball."
The Hawks open the season against Union City and then will play in the Mount St. Dominic Christmas Tournament with state powers Montclair Immaculate, Rutgers Prep and Pope John of Sparta.
They will also play Lehman Prep of New York in a special tournament at Marist on Dec. 21.
"I'm 100 percent confident in our ability to defend our championship," Vincent said. "We want to be playing at High Tech in Secaucus [the site of the Hudson County Tournament finale in February]. We're confident in our ability in the state sectional [NJSIAA Non-Public B North] as well."
Count on the Hawks to be there come February and March…
The Marist girls' Christmas tournament is once again named the Bill DeFazio Memorial Christmas Classic, in honor of the man who organized and developed that tourney. DeFazio, the long-time girls' basketball coach at both St. Anthony and later Marist, died nine years ago of pancreatic cancer. The court at Marist is named after him. He is so sorely missed…
Hudson Reporter Pre-Season Boys' High School Basketball Top Five: 1. Hudson Catholic. 2. Union City. 3. St. Peter's Prep. 4. Marist. 5. Snyder…
Hudson Reporter Pre-Season Girls' High School Basketball Top Five: 1. Hudson Catholic. 2. Secaucus. 3. Lincoln. 4. Marist. 5. St. Dominic Academy. – Jim Hague
Jim Hague can be reached via e-mail at OGSMAR@aol.com