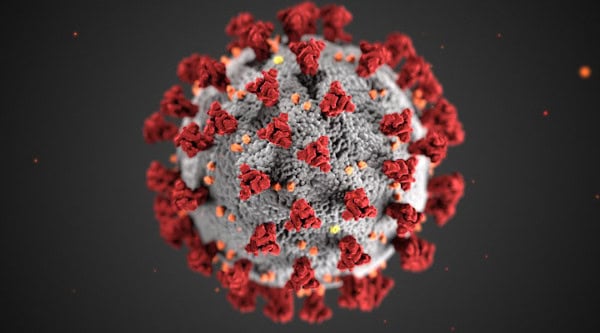 (Updated Friday March 13 at 10:52 a.m.)
The West New York resident who tested positive for COVID-19 is recovering positively and the local Health Department has remained in frequent contact with the individual throughout the process, according to Mayor Gabriel Rodriguez.
Following the diagnosis, the Health Department initiated a full interview and investigation with the patient as per the appropriate protocol guidelines provided by the state to determine the individual's timeline and assess the level of exposure to the community.
According to Mayor Rodriguez, his contact with the community was concluded to be extremely limited. However, that's all the information that is being released to the public at this time.
"In order to comply with federal and state privacy laws, no other personal information about the patient can be disclosed at this time, however it is important to note that the risk to the community remains low," Rodriguez stated.
Mayor Rodriguez confirmed that a resident of the town tested positive for the virus on March 8. There are currently 29 presumptive cases of COVID-19 in New Jersey.
Earlier that day, Gov. Phil Murphy announced two more presumptive cases of COVID-19 in the state, one of them involving the man from West New York.
"We now have two more presumptive positive cases of COVID19," Murphy said in a statement. One individual, a male in his 30s, is hospitalized at Hackensack University Medical Center. The other individual, a male in his 70s, is hospitalized at St. Joseph's Hospital in Paterson."
Rodriguez confirmed that the man hospitalized at Hackensack University Medical Center is a resident of West New York.
Not much is known about the West New York COVID-19 patient. Rodriguez has not released any additional information regarding the man.
"The patient is a 32-year-old male, and he is currently receiving treatment at Hackensack University Medical Center," Rodriguez said. "In order to protect the patient's privacy we are not releasing any other information at this time."
Rodriguez said that the man does not have children who could have been exposed to the virus.
"It's important to note that the individual does not have any children who are students in the West New York school district, and we have communicated that fact to the Board of Education," Rodriguez said.
As a result of the presumptive positive test, an investigation was launched into the West New York man and anyone he may have come in contact with. Depending on his interactions, there may be more cases of COVID-19 discovered in the town in the future.
"Upon learning of the diagnosis I directed our Health Department to immediately undertake a Public Health Action Plan, including a full investigation of the individual's timeline to assess the risk to public health," Rodriguez said.
Rodriguez echoed the Centers for Disease Control and Prevention, noting that the best defense against COVID-19 is washing your hands.
"At this time we are urging residents to continue exercising common sense measures like frequently washing your hands and avoiding contact with others if you feel sick," Rodriguez said. "We are working closely with our local health department and state officials and will provide additional updates as more information becomes available."
March 12 update
In a March 12 update, Mayor Rodriguez announced that the risk to the community continues to remain low at this time.
The Town Administration in conjunction with the local Health Director, the state of New Jersey Department of Health, and the federal Centers for Disease Control continues to take proactive precautionary measures to ensure the health and safety of the community and all its residents.
"Our team is working diligently around the clock with our public health authorities to ensure the health and safety of all our residents," said Mayor Rodriguez. "We want the residents to know that this is a top priority for the municipality and want to urge them to continue using common sense measures to ensure our community remains safe."
Per the CDC, residents are advised to seek advice via telephone from a healthcare provider if you have symptoms of cough, fever, and or shortness of breath or have traveled to or from an area with ongoing community level transmission of COVID-19 to determine whether a medical evaluation is needed.
Only a medical professional can send a patient for testing and make a determination as to the diagnosis of an individual, according to Mayor Rodriguez.
"The Town continues to urge residents to continue exercising common sense measures – wash your hands frequently, avoid putting your hands in your mouth and eyes, avoid contact with others if you feel sick, and maintain a clean environment through frequent disinfecting of common and frequently used areas with appropriate cleansing products," Mayor Rodriguez explained.
In addition to these promoting these sanitary practices, the township is postponing or cancelling large public gatherings.
Out of an abundance of caution, the Town of West New York has decided the postponement of all Municipal Public Programming. This includes all Senior Citizens programming, all Cultural Affairs events and programming, all Recreation activities and programming, and all Library activities and programming.
The postponement excludes certain Senior Citizens programming including Nutrition CenterDaily Supermarket Runs/Medical Appointments as needed.
COVID-19 facts
According to the CDC, the novel coronavirus, officially known as COVID-19, has been identified as the cause of an outbreak of respiratory illness.
A coronavirus is a type of common virus that can infect the respiratory tract and spread much like cold viruses, according to the novel coronavirus fact sheet. The new type of coronavirus that emerged in Wuhan, China in December of 2019 is infecting people for the first time, which means people do not have any immunity to it.
It is not clear if the New Jersey patient has traveled to mainland China or any other nations recently affected by COVID-19.
According to the NJ Department Of Health, the virus is thought to spread mainly from person-to-person, between people who are in close contact with one another.
The virus is also thought to spread via respiratory droplets produced when an infected person coughs or sneezes that can land in the mouths or noses of people who are nearby or possibly be inhaled into the lungs.
The NJ DOH notes that people could contract COVID-19 by touching a surface or object that has the virus on it and then touching their own mouth, nose, or possibly their eyes, but this is not thought to be the main way the virus spreads.
For confirmed novel coronavirus infections, reports range from people with few to no symptoms to people being severely ill and dying. Symptoms can include fever, cough, and shortness of breath.
The CDC believes at this time that symptoms of the novel coronavirus may appear in as few as two days or as long as 14 days after exposure.
Recently, the CDC released an update calling the novel coronavirus a "serious public health threat," recommending"disruptive" preventive measures to curtail the spread of the virus, including school dismissals and social distancing at work or in other settings. Examples include the cancellation of mass gatherings and remote-meeting options in workplaces.
For more information or for any questions, residents are encouraged to call the state's COVID-19 Information Hotline at 1-800-222-1222 or the West New York Health Department at 201-295-5070.
For updates on this and other stories, check www.hudsonreporter.com and follow us on Twitter @hudson_reporter. Daniel Israel can be reached at disrael@hudsonreporter.com.