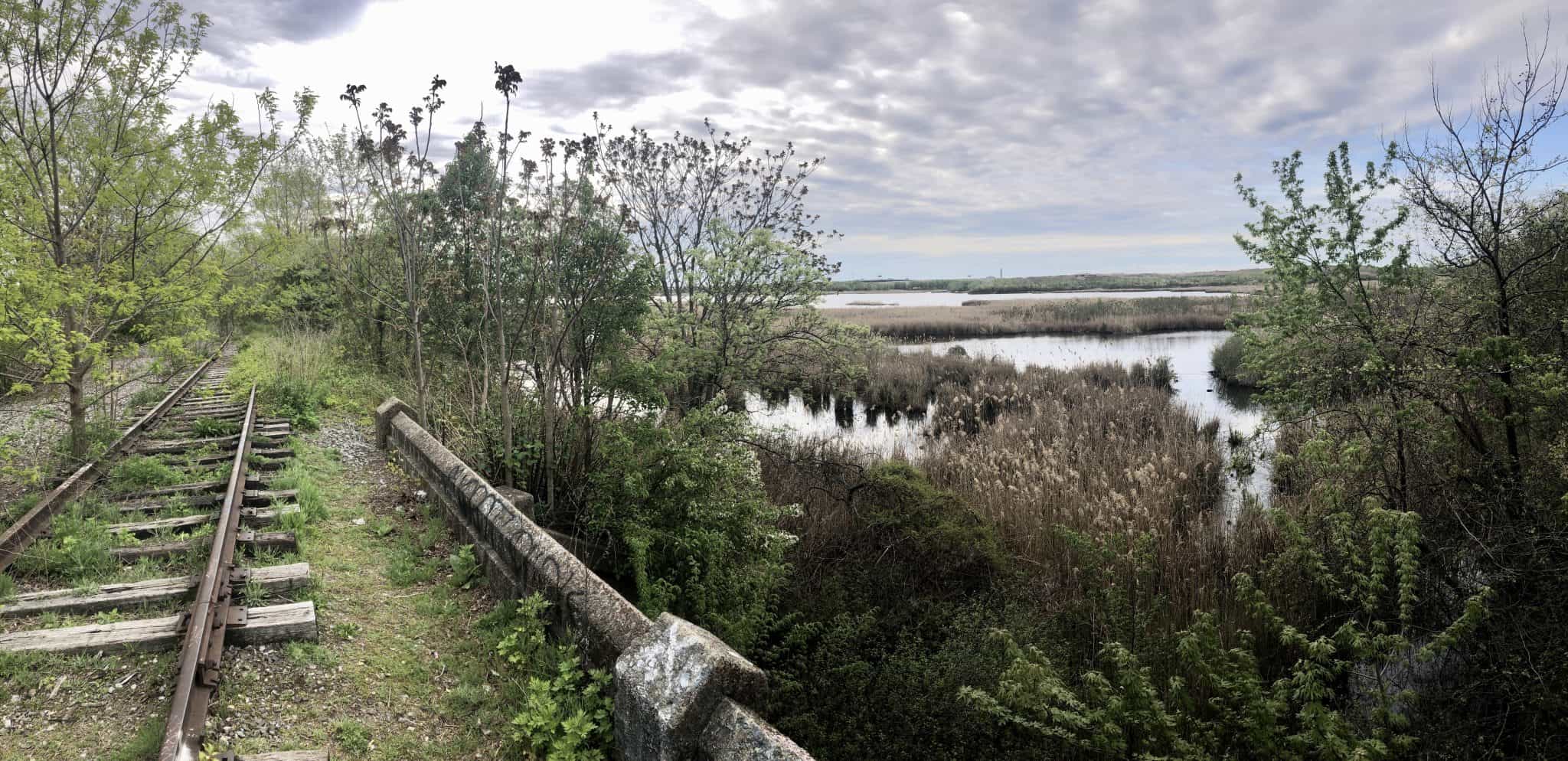 A New York-based nonprofit is working toward creating a nearly nine-mile linear park that would connect Essex and Hudson Counties running from Jersey City to Montclair.
On July 30, the Open Space Institute (OSI) announced it has reached a preliminary purchase and sale agreement with Norfolk Southern Railway Company for its property of abandoned rail lines, setting the stage for future recreation opportunities for walkers, bikers, birders, and other nature lovers while improving transportation options for area residents.
"After nearly two years of working directly with Norfolk Southern, we are very proud to announce this agreement," said President and CEO of the Open Space Institute Kim Elliman "This agreement represents a once in a generation opportunity to acquire property that can become a working green space for the people of these communities. We look forward to the active input of regional leaders and their constituents to create a unique community resource that will best serve the residents of Hudson and Essex Counties."
A multi-city vision
The Essex-Hudson Greenway Project would convert 8.6 miles of the former Boonton Branch owned by Norfolk Southern Railway Company into a public green space stretching through Montclair, Glen Ridge, Bloomfield, Belleville, Newark, Kearny, Secaucus, and Jersey City.
According to the railway company, there has been no freight rail use of this line by customers since 1999.
Spanning an average of 100 feet or more in width throughout its route, an Essex-Hudson Greenway would provide residents across the area with much needed open space.
"This linear park has been a working project for our organization since 2014, and we offer our thanks to the many partners over the years who have all helped make this announcement and substantial step possible," said Executive Director of the New Jersey Bike & Walk Coalition Debra Kagan. "While this is only the first step of many, we are excited to continue working with the Open Space Institute, our supporters, and the communities to ensure that this project becomes a fully functional greenway for those along its route."
Residents along the property have been campaigning for a linear park that would serve as a "shared-use path" for walking, biking, running, rolling, or relaxing. Groups including the Bloomfield Open Space Trust Fund, the Friends of the Ice & Iron Trail, and groups in North Newark, Jersey City, and Hoboken have long advocated for the greenway.
According to the East Coast Greenway Alliance, which advocates for the 3,000-mile-long East Coast Greenway composed of walking and biking trails from Maine to Florida, the Essex-Hudson Greenway would help fill a "major gap" in New Jersey which already has 100 miles of the East Coast Greenway and is 56 percent complete.
According to OSI, the project will support job growth in the community, eventually leading to hundreds of planning and construction jobs.
The project also offers the potential to support new and existing businesses throughout the linear park, as well as community improvements such as internet access, stormwater solutions, and emergency response.
The Essex-Hudson Greenway offers a range of other environmental, transportation, and health benefits, as the public turns to local access to green space.
"The Essex-Hudson Greenway is an important environmental and economic asset and is a true treasure," said President of the September 11th National Memorial Trail Alliance Thomas Baxter. "The project is a game-changer for the region and a significant piece of the September 11th National Memorial Trail. We are very pleased to be partnering in this project that has both local and national significance."
Many more steps to go
Norfolk Southern Railway Company, based in Atlanta, GA, recently initiated the process of filing for formal federal approval to sell the property.
A long-held vision of all the communities along the route, the agreement marks an important initial step in the creation of the linear park.
However, many steps lie ahead, including securing federal approval, environmental and engineering reviews, and financing.
Looking ahead, community engagement and outreach will be key as the project progresses, according to OSI.
The New Jersey Bike & Walk Coalition and the September 11th National Memorial Trail Alliance are key partners and major advocates in growing support for the greenway.
Further, the Open Space Institute's efforts to create the Essex-Hudson Greenway is supported by the Thomas L. Kempner Jr. Foundation.
For updates on this and other stories check www.hudsonreporter.com and follow us on Twitter @hudson_reporter. Marilyn Baer can be reached at Marilynb@hudsonreporter.com.