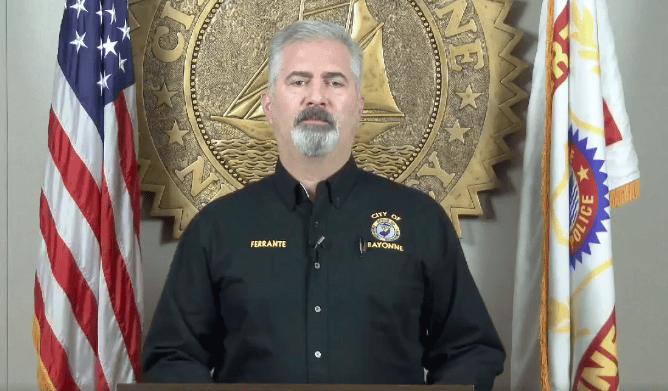 The Bayonne Housing Authority (BHA) will begin vaccinating residents of its seniors buildings starting this week.
The vaccine is here
In the weekly COVID-19 update on Dec. 30, Office of Emergency Management (OEM) Coordinator Junior Ferrante, speaking on behalf of Mayor James Davis, gave more details about the city's vaccine distribution.
Bayonne has fared well throughout the pandemic due to the work of the city's COVID-19 Task Force and the cooperation of residents.
Though the city is seeing a resurgence in the virus, Ferrante said there is good news in that the Moderna vaccine is in Bayonne. Frontline healthcare workers at Bayonne Medical Center received their first doses on Dec. 22.
The city is following the state Department of Health guidelines for vaccine distribution and will vaccinate the general public immediately following state approval. Ferrante said that the general public will start being vaccinated around February or March.
According to Ferrante, the Moderna vaccine is 95 percent effective and very safe. He urged everyone to get vaccinated.
The pandemic by the numbers
Active virus cases are increasing again after decreasing on Dec. 17.
As of Dec. 30, there were 376 active cases, according to OEM. Another three residents have died: men ages 76, 77, and 88.
OEM said that 3,584 residents tested positive, regardless of where that test was given, as of Dec. 30.
Since the beginning of the pandemic, 92 Bayonne residents have died, and 3,116 have recovered.
COVID-19 hospitalizations at BMC have been fluctuating. However, most residents recover at home. There were 21 COVID-19 patients at BMC as of Dec. 30. OEM does not have data on Bayonne residents in hospitals other than BMC.
Residents are encouraged to use "COVID-sense" by wearing masks, social distancing, and practicing good hygiene.
Getting a COVID-19 test
Drive-thru testing is again available. Bayonne Medical Center has reinstated its drive-thru testing program.
Now patients with a prescription and an appointment can be tested inside their vehicles at the Emergency Room Driveway entrance. This testing takes place every day from 9:30 a.m. to 12 p.m. by appointment only.
A walk-in testing site is available at the Bayonne Community Museum at 229 Broadway. The site will be open from 2:30 to 6:30 p.m. on Jan. 19 and 20.
The free testing is provided by Fusion Diagnostic Laboratories to all Bayonne residents, who will need an email address to register online and receive results. Pre-register at https://fusion.labsvc.net/patientportal/. Masks are required at the site.
The RiteAid at 54th Street and Broadway offers free testing for all residents over 18 via drive-thru. Visit riteaid.com to register. Residents do not need to be symptomatic, nor do they need a prescription.
CityMD at 904 Bayonne Crossing Way offers COVID-19 tests for walk-ins only; call 551-497-5675 for more information.
Residents can get tested at Broadway Care Pharmacy at 516 Broadway, and Total Care Pharmacy at 596 Broadway. For more information, call 201-437-5100 for Broadway Care Pharmacy and 201-535-5080 for Total Care Pharmacy.
Testing is available from Dr. Ahab Gabriel at 449 Ave. C, and Hudson DNA and Testing at 150 Pulaski St. Call 201-374-1103 for Dr. Gabriel and 201-994-6594 for Hudson DNA and Testing.
CityMD and BMC are conducting antibody testing. Residents should call 2-1-1 for a list of testing sites throughout the state.
The Bayonne Health Department is immediately notified of positive results and contacts individuals to begin contact tracing. It advises residents who have recently taken a COVID-19 test to be sure to answer their phones for contact tracers and BHD staff.
For updates on this and other stories, check www.hudsonreporter.com and follow us on Twitter @hudson_reporter. Daniel Israel can be reached at disrael@hudsonreporter.com.