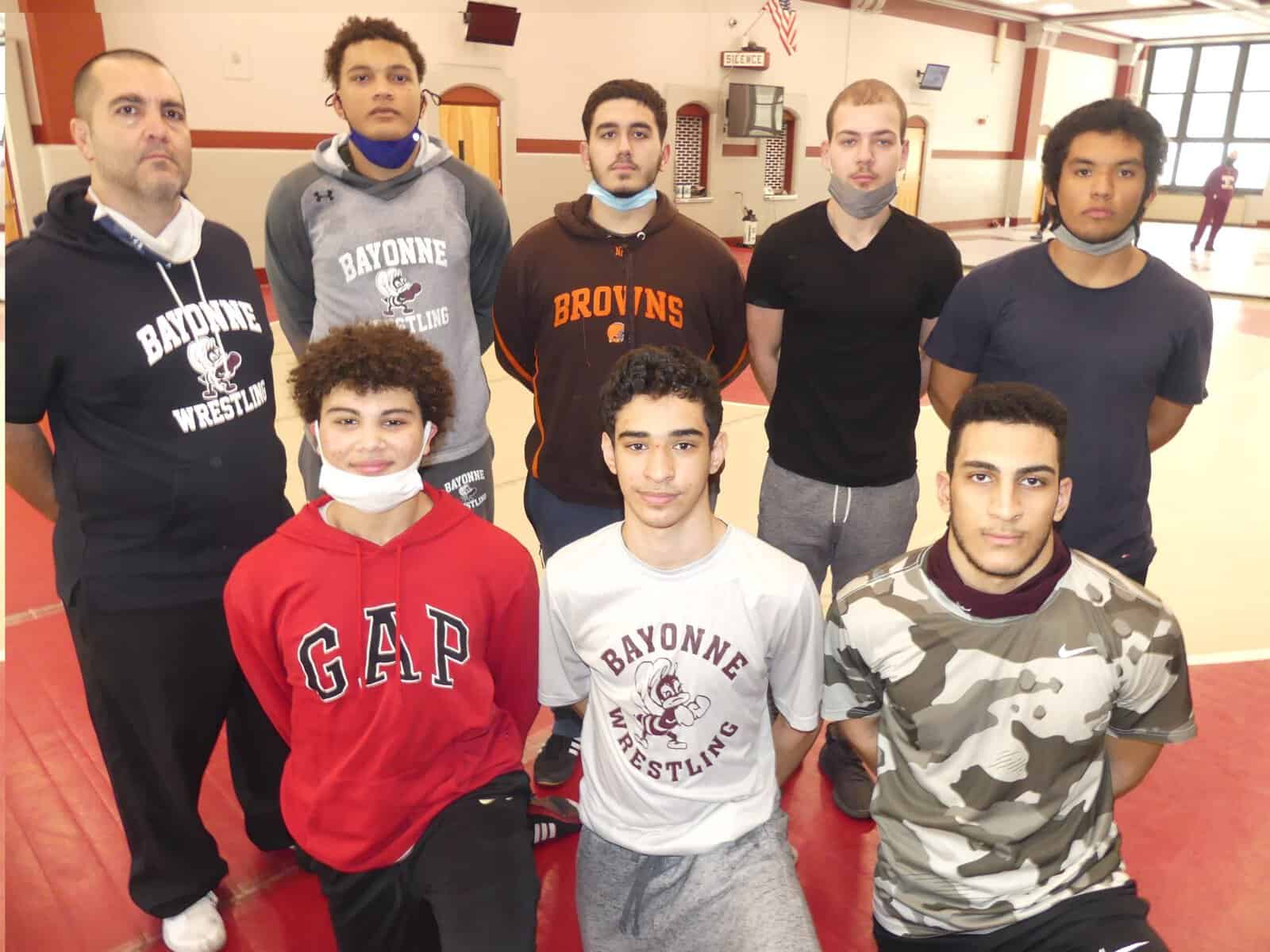 Jared Luciani has been around the sport of high school wrestling for a long time, especially the last five years as the head coach at Bayonne High School.
And it's safe to say that Luciani has never had to endure anything quite like the one the Bees began last week.
"A lot of the kids that are coming out are new to the sport," Luciani said. "In the past, I used to be able to recruit in the hallways, but not this year."
The COVID-19 crisis has seen to that, forcing an assortment of changes and alterations like proper cleaning of the mats and regular checks for the virus. But the biggest change is in the season itself, going from a winter sport in the past to a pre-spring sport for 2021.
The season will run from now until mid-April. There will only be 15 dual matches, but no tri-matches or quad matches. There will be no team playoffs, only league champions. Locally, the Hudson County Duals, which brought all of Hudson County's wrestling teams together, will not be held.
Also, there will be no district tournaments, only a region tournament that will be limited to the top 16 wrestlers in each weight class.
And for the first time in over 20 years, the NJSIAA state championships will not be held in Atlantic City, rather in Phillipsburg High School the weekend of April 24.
Amidst all the changes, Luciani is excited about his Bees.
"We had more than 30 kids come out this year," Luciani said. "We return eight starters back from last year. We have such a great wrestling culture now. I couldn't be happier. Kids don't want to leave practice. They're all having a blast and so am I. I know the kids missed wrestling and are excited to get back."
Luciani was impressed with the way his wrestlers came to the truncated training camp ready to get it going.
"They came back in great shape," Luciani said. "They all spent time in the weight room getting ready. We went from no one in our feeder system to having 35 kids. So it appears as if wrestling is getting contagious in Bayonne."
The kids are getting a better understanding about what it takes to be a high school wrestler.
"I think a lot of them didn't realize how intense wrestling is," Luciani said. "We have been getting kids from the martial arts world, from the ju jitsu world. And they enjoy watching wrestling. I think it's great that we're getting new kids that are interested. They love it and love being here. They have such great energy and it's fun to coach them."
Perhaps the top returnee is senior 220-pounder Keith Simon, who qualified last year to compete at the state championships in Atlantic City, the first Bayonne wrestler in a decade to make the journey to AC.
Simon was the District 11 champion last year and has been training on his own, going to wrestling camps and clinics. He has been training religiously with former Montclair State national champ Pete Gonzalez.
"We have high hopes for him," Luciani said. "We're hoping for him to get a medal at the state tournament. He's really at that level now."
The Bees' lineup features freshman newcomer Peter Halim at 106 pounds.
At 112 pounds, junior Bles-Son Daniel holds the position. Daniel won more than 20 matches last year as a sophomore.
At 120 pounds is senior Michael Nasheed, who is a four-year veteran of the program.
"This is a kid who was only 90 pounds as a freshman," Luciani said. "He's been working hard every year, so we expect him to be tough."
At 126 pounds is sophomore Joshua Riggs, who is getting his first taste of full-time varsity action.
Sophomore Abdelaziz Fezani won close to 20 matches last year as a freshman at 120 pounds. He moves up to 132 pounds this year.
"I expect him to be one of the top wrestlers in the area," Luciani said.
Sophomore Montovanny Carvajal is the 138-pounder who was not pinned in a single match last season.
Senior Brandon Torres is the team's 145-pounder.
"He is still learning the sport, but his work ethic is through the roof," Luciani said.
Elias Nid-Youssef is a 152-pound senior who missed all of last season due to a shoulder injury. But he's returned this year to reclaim his spot in the lineup.
Junior Mark Abdelmalak is the team's 160-pounder who worked very hard in the offseason.
"He transformed his entire body," Luciani said. "He went to train with several wrestling clubs. I am expecting big things from him."
Senior Jason Khella is a three-year member of the program who claims his spot at 170 pounds.
Senior Gerald Rovelo is an experienced wrestler who will be the Bees' 182-pounder this year.
"He's going to be a hammer," Luciani said of Rovelo. "He won 20 matches last year and was right there winning a medal at the districts."
Freshman Justin Perry has won the spot at 195 pounds. It's a brutal weight class for a freshman, but Perry is a product of the Bayonne Recreation program and has been training at Cordoba Training with former state champion David Cordoba of Kearny.
Simon is the team's 220-pounder and the heavyweight is senior Aaiz Umair, who has been working with the team for the last two years.
Needless to say, Luciani is just happy to have a season for the Bees to compete in.
And we'll have more profiles of the local wrestling teams next week. – Jim Hague
Jim Hague can be reached via e-mail at OGSMAR@aol.com