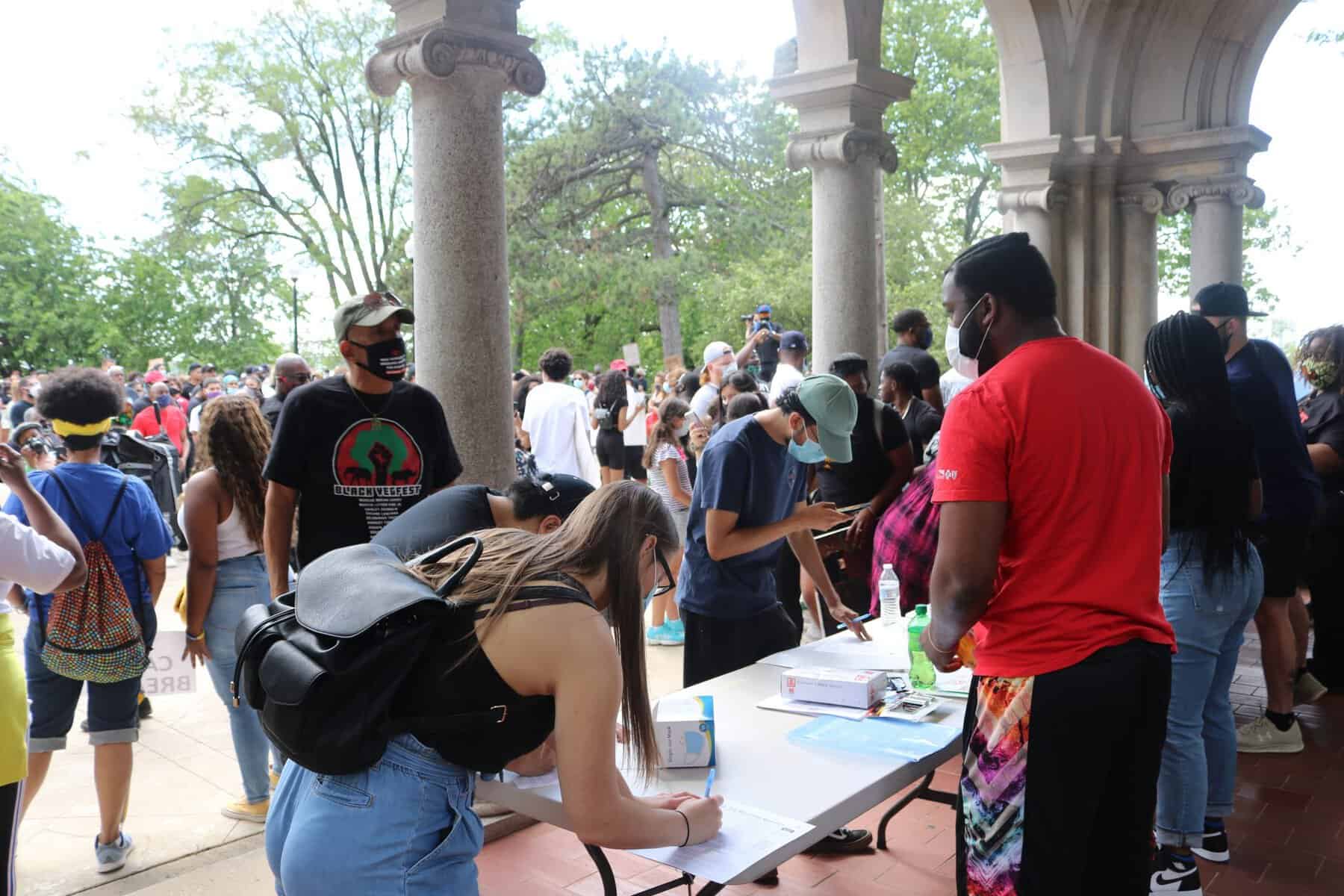 Ahead of the June primary and upcoming November general election, activist group Black in Bayonne has been encouraging people of color to get out and vote. 
Since its inception, Black in Bayonne has been focused on helping residents of color find their voices, especially through voting. At the Power in the Park peaceful protest in June of 2020, Black in Bayonne registered residents to vote. According to Black in Bayonne, approximately 100 residents registered that day. 
The organization has since been promoting voting resources and information on its platforms.
According to Black in Bayonne, "Only 8 percent of African Americans in the city use their right to vote. This must change." The group remains "apolitical and nonpartisan," encouraging everyone, especially people of color, to vote. 
Resources and information
"There's definitely a need for us to get out there and let our voices be heard," said Rashad Callaway, a cofounder of the group. "For a long time, we never had these rights, these chances for our voices to be heard." 
Callaway said that Black in Bayonne continues to provide resources and information to encourage people of color to vote in both the primary and upcoming November general election. 
"It's your right to have your voice be heard," Callaway said. "I feel more people should take it upon themselves to get out there and vote." 
Voting is important to put those in power who are "willing to push forward agendas to benefit the Black and Brown community in Bayonne," Callaway said. "But if we don't go out there and vote in the necessary people, we really don't have a leg to stand on."
Root of the problem?
Why is there a lack of turnout among people of color? Callaway said there wasn't one factor he could point to to explain the lack of voter turnout among people of color.
"There isn't enough education on it," Callaway said. "Maybe they are not educated on what voting means and what voting can do to continue to help Black and Brown communities. I would also say maybe fear, from the older people just not wanting to get out there for whatever the reason. Not saying they are wrong or right reasons, but seeing the history of things and things not changing for them, they might be discouraged to want to vote." 
Callaway said that some people may be discouraged by promises that were made in presidential and local elections that have yet to come to fruition. 
"People just 50 to 60 years ago didn't even have this opportunity," Callaway said. "Us having that opportunity alone just feels like we should get out there and exercise our rights." 
Turning things around
Callaway said he hopes that the lower number of voters of color changes in this election and hopes to see increased turnout in the June 8 primary election and the general election in November. 
He emphasized the need for allies: "They should speak up because without them, we're not going to be able to push forward. We're all in the same city, same state, same country. In order for any of this to go forward, we all have to come together some way, somehow."
And with any increased turnout of voters of colors, there may be more elected candidates of color. However, according to Callaway, turnout will only increase if promises are actually kept and change occurs to benefit the Black and Brown communities. 
"Yes, representation of more minorities in political fields and things of that nature can help a young child or young adult with their aspirations of becoming an assemblyman or assemblywoman, senator, congresswoman, or positions of that nature," Callaway said. "It could help in that aspect, but as far as just getting more people of color out to vote, I think it has to do with seeing actual change, seeing the laws that are being changed."
Representation and change
According to Callaway, representation only matters if change can be enacted. And actual change is what will drive voters of colors to the polls, he said.
"At the end of the day, it doesn't matter how many minorities you put in, because what's going to happen is that the system is still going to overcome those minorities or the allies who want to change the system," Callaway said. "Once we start seeing changes that do start with representation, that will help voter turnout." 
Overall, it's not about choosing a side, but helping people find their voice through voting, according to Callaway. He said people of color will vote for people who benefit their communities. 
"I truly believe that we are all supposed to be on this Earth to love one another and be there for one another," Callaway said. "But we still have a ton of work to do. Knowing that we've done a ton of work gives me more motivation to keep going. And that's not just Black in Bayonne, but other organizations and people stepping into their potential to see a better tomorrow." 
For updates on this and other stories, check www.hudsonreporter.com and follow us on Twitter @hudson_reporter. Daniel Israel can be reached at disrael@hudsonreporter.com.