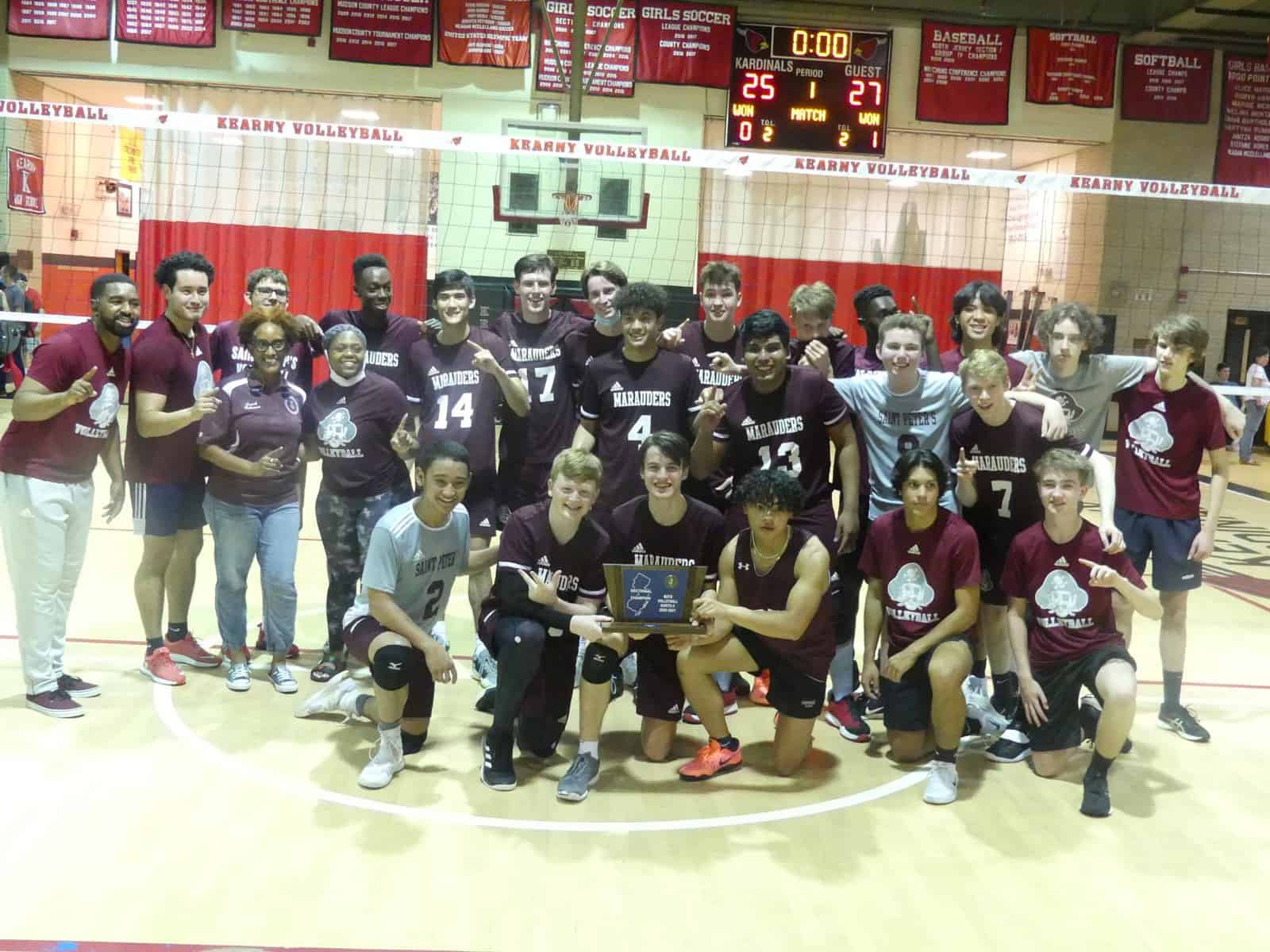 After having defeated Kearny in an epic three-game match for the Hudson County Tournament championship May 22, St. Peter's Prep senior Aidan Apito knew exactly what to look for in Wednesday's NJSIAA North Jersey Group 4 championship, the third time the two Hudson County volleyball titans faced each other this season.
"We knew we couldn't take them for granted," Apito said. "So we knew their game plan. We were able to adjust to any changes they made and we came away with the title."
The Marauders certainly did win, taking home the state sectional title to match their county crown. They managed to battle their local nemesis to the bone, winning in straight games, 26-24 in the opener and 27-25 in the nightcap.
The Marauders (18-7) scraped, clawed, battled for every single point. It was a match for the ages, filled with heat and intensity and heat. Did anyone mention heat? The gymnasium at Kearny High is not air conditioned, so it made the conditions beyond balmy.
But the Marauders were able to stay just one step ahead of the top-seeded Kardinals every step of the way. The Marauders were powerful at the net, scrambling to make diving saves, strategically trying to pick the Kardinals (18-3) apart.
"We walked in here confident," St. Peter's head coach Greg Steward said. "We knew who we had to stop. It was all about execution."
One of those performing the execution was junior outside hitter Joe Parise.
Before the COVID-19 pandemic that eliminated the 2020 season in its entirety, Parise was a libero, the thankless spot on the floor, the player who does all the dirty work and gets no glory.
"Being a libero was always my position," Parise said. "But I grew a little in the offseason, so I was ready for a new position."
Needless to say, Parise was overjoyed getting a shot to wear a regular jersey and do regular things.
"I was all set to become a contributor," Parise said. "This meant everything to me. I'm now comfortable with being on the outside."
Parise was a big reason why the Marauders got by the Kardinals and headed to the four-team tournament of champions this weekend.
"Joe Parise came up huge for us," Steward said. "He was a key to our attack, which I think was the main reason why we won."
The Marauders were the seventh seed in the sectional before the tourney began, but they knocked off the No. 2 seed Payne Tech of Newark in the quarterfinals, No. 3 seed Scotch Plains-Fanwood in the semifinals and then the top seed Kearny in the finals. That's the way to perform under pressure.
Here's another item: Scotch Plains was 24-0 before facing the Marauders. Any time you knock off an undefeated team in the semifinals, it's a gigantic slice of momentum in a sport that relies almost solely on momentum. If your team has even a slight emotional glimmer of hope, reel off a few points in a row, it could lead to a championship roll.
Well, the Marauders had momentum on their side, especially with the win two weeks ago.
Because after the Kearny win May 5, winning in straight games 25-23 and 25-20, things started to change with the Marauders.
"After they beat us the first time, it really changed our team discipline," Parise said. "We became a better team."
And they're playing their best volleyball at the right time, having won eight straight matches dating back to the first time they faced Kearny. Seven of those wins came in straight games. The only match to go the distance? The win over Kearny in the HCTCA finale.
"This is one of the best scrappy teams I've ever coached," Steward said. "They've been doing that all season. When their backs against the wall, they perform well under pressure."
The Marauders were trailing, 22-19, in the second game, but the Kardinals suffered an emotional setback when star player Santiago Perez went down with an apparent high ankle sprain. The Kards were not the same without Perez. With that, Marauder standouts Timothy Jimenez (23 assists, 11 service points) and Aiden Apito (eight kills, seven digs) took over.
Both Jimenez and Apito are seniors. The 2020 Prep team appeared to have all the necessary ingredients to be a powerhouse, but COVID-19 wiped out the entire slate.
"We did this with the Class of 2020 in our minds," said Apito, who will be headed to play volleyball at one of the area's top programs, namely Rutgers-Newark. "We were happy to honor them with this win. We've had a nice run, first giving Scotch Plains their first loss, and now beating Kearny again. For me, I've learned not to take teams for granted, not take anything for granted."
Steward is more than pleased, as his team heads to the state's Final Four. It's every team's dream, but not many achieve.
"One thing about this team is that they never give up until the referee blows his whistle," Steward said. "Even now, with the games getting tougher, these kids just get tougher."
Just two more to go…
The New Jersey Scholastic Baseball Coaches Association's annual All-Star Classic, will take place at Diamond Nation, the famed baseball facility in Flemington, Tuesday night beginning at 7:30 p.m. Three local standouts, namely Ernesto Polanco of Memorial, Kevin Villares of Union City and Jerome Banks of Ferris, have been selected to play for the Northeast All-Star squad. Hudson County usually has a stronger representation in the Classic, but Polanco is one of the best all-around players that Hudson County has ever produced, so that has to make up for something. At least Polanco's talents were not overlooked…
Hudson Catholic's softball team is the last local team still standing. The Hawks (20-2) were scheduled to face Immaculate Heart Academy Thursday afternoon in the NJSIAA Non-Public B sectional semifinals. The Hawks won their first state playoff game, defeating Oak Knoll in convincing fashion, but taking on IHA, a perennial powerhouse, might be a little too much for the Hawks to handle. Good things usually happen with Jordan Mendolla in the circle. Mendolla proved that in the Hudson County Tournament finale two weeks ago.
Here's a stat about the Hawks that just jumped clear out of the laptop last week. Julia Sanchez has 11 homers and 41 RBI. That's right. 11 dingers for Julia. That's an astounding total…
Another local softball standout is Memorial's Destiny Upia, who has quietly put up some amazing numbers. Upia is batting .556 with 40 hits in 72 at-bats. She has collected two hits or more in her last nine games. She had four hits and four runs scored against Lodi and three hits and three runs scored in each of the Tigers' games against Snyder and McNair Academic. One last thing about Upia: She had 56 stolen bases this season. That's in 21 games.
The good news for the Tigers and head coach Jorge Pardo? They won their last four games, so they have something big to build upon…
Both of those young ladies will be featured in The Hudson Reporter All-Area Baseball and Softball teams that will be announced next week…
Ferris' incredible baseball season, which includes the Ed "Faa" Ford Memorial High School Baseball Tournament championship, unfortunately came to an end last week with a heartbreaking 3-2 loss to perennial power Millburn in the NJSIAA North Jersey Section 2, Group III semifinals.
The Bulldogs won big state playoff games against Colonia and Cliffside Park to reach the semifinals. Congrats to head coach Josh Beteta and the Bulldogs for securing the No. 1 spot in the final Hudson Reporter High School Baseball Top Five. D'Angelo Ponce not only owns one of the best names in the county, but he's also one heckava player. He will be fun to watch play for the Bulldogs moving forward…
Hudson Reporter Final High School Baseball Top Five: 1. Ferris (18-5). 2. St. Peter's Prep (15-10). 3. Hudson Catholic (14-8). 4. Bayonne (14-11). 5. Union City (9-9)…
Hudson Reporter Final High School Softball Top Five: 1. Hudson Catholic (20-2). 2. Bayonne (15-9). 3. Weehawken (14-5). 4. Union City (10-9). 5. North Bergen (11-14). – Jim Hague

Jim Hague can be reached via e-mail at OGSMAR@aol.com