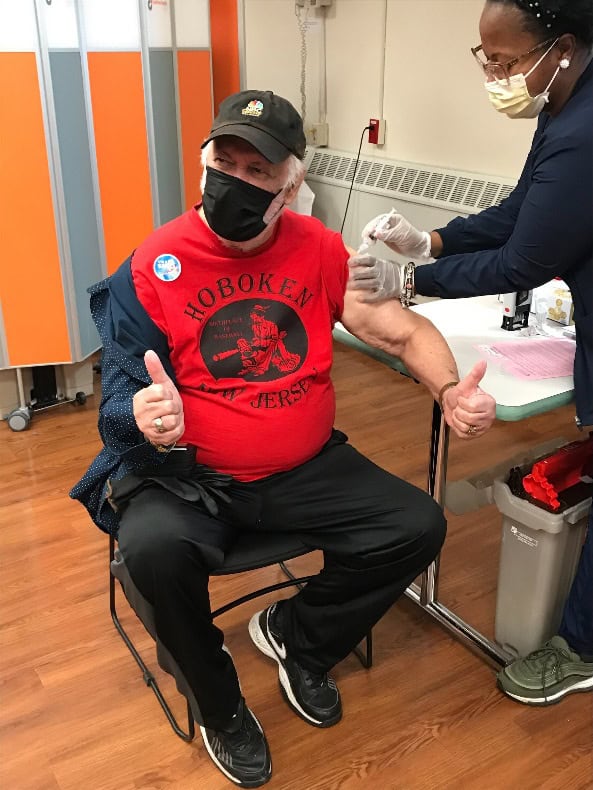 Jersey City and Hoboken both reported a record number of new COVID-19 infections as the holidays approached, reaching levels not seen since the pandemic surged in the spring of 2021.
In Jersey City, the city reported 369 new cases of COVID, the highest in the city since the pandemic began. The city was already seeing a surge in cases since late November, and by December 20 reached a seven day average of 182 new cases per day.
On November 20, the average was 32.
In Hoboken, a surge in the city has continued, with the highest peak reaching 66 cases on Dec. 16 and a seven day average of 30 cases as of Dec. 17. In the most recent data release from Dec. 11 to 17, the city said that a number of cases recorded from the past few days were those from several weeks ago due to reporting delays.
Amidst the surge in cases, hospitalization rates have increased in Hudson County, with the county having reported average of 39 patients hospitalized for COVID from Dec. 3 to 9. The rate has remained lower than it was last year, before vaccines were available, which at that time reported an average of 176 hospitalizations.
Jersey City officials report that 69 percent of its population fully vaccinated, while Hoboken has 70 percent.
On Thursday morning December 23 Jersey City Mayor Steven Fulop tweeted that although he was fully vaccinated he tested positive for COVID and began 10 days of isolation. He said he had no symptoms.
The recent surge has led to a number of measures in the county being taken to combat the spread of the virus.
In Hoboken, the city instituted a vaccine mandate for bar crawls last weekend for SantaCon, while Stevens' Institute of Technology is now requiring students and staff to get a booster shot before Mar. 31, 2022. In Jersey City, The School of Nimbus Dance cancelled last weekend's performances of the Jersey City Nutcracker.
The surge comes amidst concerns of the Omicron variant that has been detected in New Jersey. Early research suggests that variant is more transmittable, and that it doesn't appear to cause more severe illness than over variants, but more research is needed.
Initial research on the vaccines' effectiveness suggests that a third dose of either the Pfizer or Moderna vaccines offer more protection against the Omicron variant, though research also suggests that two doses of either vaccine still provide protection against severe illness.
For updates on this and other stories, check www.hudsonreporter.com and follow us on Twitter @hudson_reporter. Mark Koosau can be reached at mkoosau@hudsonreporter.com or his Twitter @snivyTsutarja.