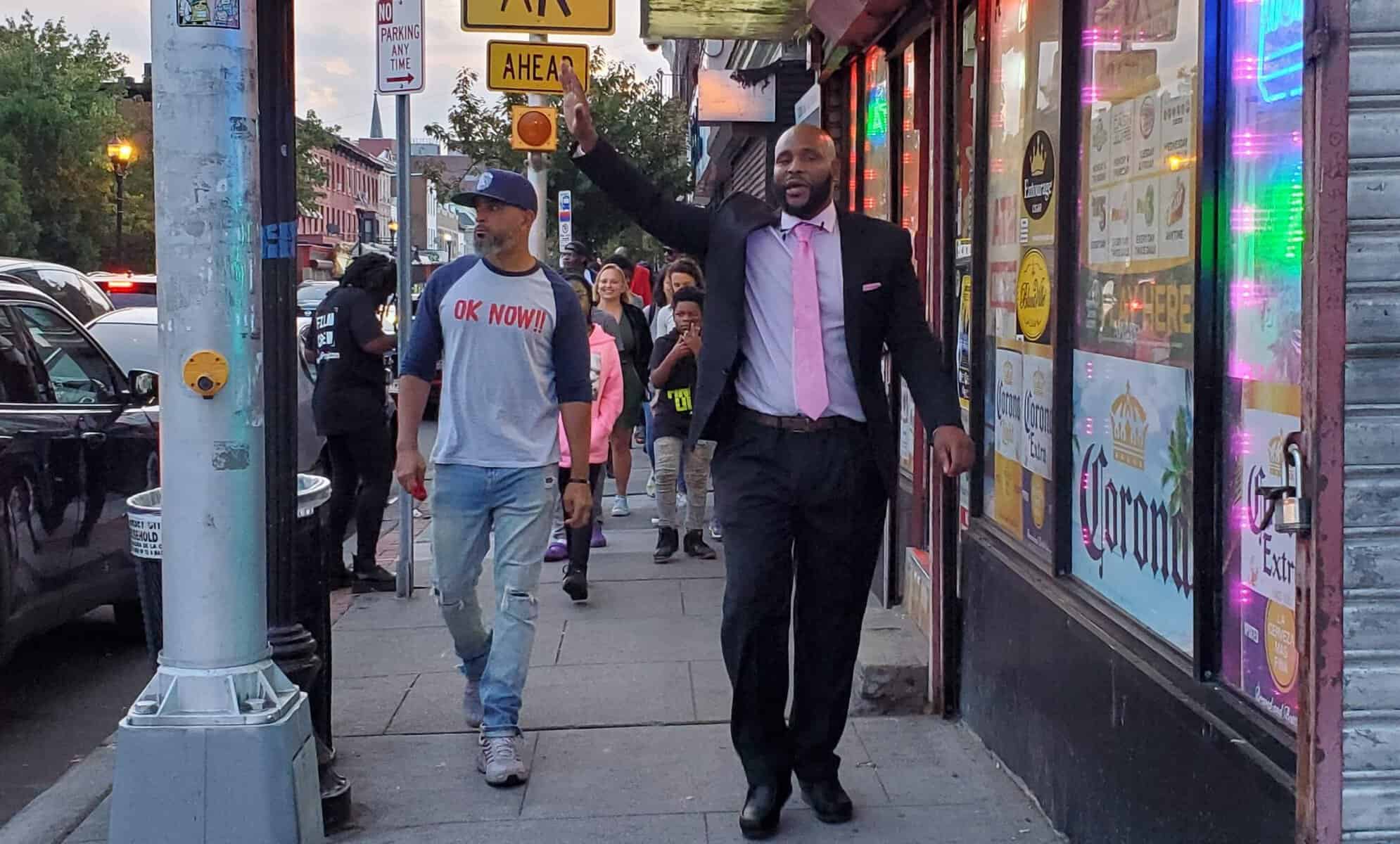 About a month after Election Day, Frank "Educational" Gilmore was still taking in what had just happened.
Before the results came in that day, while going to a number of polling sites, he went to one on Johnston Ave. when a woman pulled him to the side, telling him "Mr. Gilmore, you won."
"What do you mean?" Gilmore replied to her.
"I've never seen this many 18 and 19-year-olds come out to vote," he recalled her saying. "And I know they're only coming out to vote for one person, because you're the only one that indulges in that demographic."
When the results streamed in that night, the numbers showed that the educator and activist had successfully unseated a mayor-backed incumbent for the Jersey City Council.
"It's definitely a surreal feeling," said the councilman-elect in an interview at his Community Learning Center on Monticello Ave..
"It's because you don't hear stories like this, right?" said Gilmore "You don't hear stories like this, where someone can go through such challenging trials and tribulation during their adolescent years, and then subsequently be slated to be sworn in as an elected official."
Gilmore is referring to the struggles he faced during his youth, where a difficult environment led to him being arrested and incarcerated. But since then, he worked on bringing himself back up, going to college, opening the community center to help mentor the youth in the community, and working as a municipal worker, including with the Jersey City Recreation Department and the Department of Public Works.
For him and many others, it's a remarkable journey for one of the most well known community members in Jersey City. When he is sworn into office in 2021, Gilmore will be able to have a seat at the table in the heart of Hudson County.
Purpose before passion
Gilmore began his candidacy for the City Council to represent Ward F early this year, challenging incumbent Jermaine Robinson, who was appointed to the council in 2017 and won a full term later that year.
He had been asked many times before about running for office, but his response back then would be that he was running "from" office. "I felt like as an activist, I had unfinished business to do," he said.
But as he looked around, he said that he noticed the lack of attention that was paid to constituents and their voices being ignored.
"I'm of the opinion that in life, you have to always put your purpose before your passion," he said. "Although I have a passion of being a recreation coach, a life coach, a motivational speaker and a mentor, my purpose is to serve and lead the people. So I have to put my passion on hold to live out my purpose."
Gilmore ran on a platform of inclusionary housing and affordable home ownership programs, funding recreation, and public safety initiatives such as better relationships between police and residents and creating better pedestrian safety.
The Ward F race ultimately became a three-way race between incumbent Robinson, Gilmore, and Vernon Richardson, an aide to Mayor Fulop and the former chief of staff to the late Councilman Michael Yun.
Gilmore was considered the progressive in the City Council race, and had received backing from the Progressive Democrats of Hudson County.
Ron Bautista, the president of the Progressive Democrats, said that Gilmore's work on mentorship programs and the community was what led to them endorsing him.
"We would like to continue to see how he evolves in the City Council and, and how we can keep the dialogue open to make sure that he's pushing policies on affordable housing, community, and public safety," said Bautista.
"Be honest"
Things weren't so smooth throughout the campaign season. For one, Gilmore was up against a well-funded city establishment.
The candidate was then targeted of a number of negative attacks in the lead up to Election Day, including when anonymous attack flyers were distributed throughout the city that attempted to target his background.
Soon after, the Fulop slate had attempted to attack him regarding vaccination status, stemming from when Gilmore said during a campaign meet and greet that he wasn't vaccinated.
The Fulop slate attempted to slam him for spreading anti-vaccine messaging, with Robinson accusing Gilmore of "adopt[ing] the kind of anti-vaccine conspiracy theories that are prolonging the pandemic and killing people."
The day after that event, Gilmore got the first dose of the Moderna vaccine, and was fully vaccinated by the time of the interview with the Hudson Reporter.
When asked about his perspective from that, Gilmore noted how vaccine hesitancy is real, and that he had concerns over how it would affect people like him and the Black community, referencing the medical racism that minorities had suffered in the past such as the Tuskegee study.
The whole debacle led to the Jersey City Times asking all candidates in the municipal election to disclose their vaccination status. The Fulop slate did not disclose whether or not they'd had been.
In the end, Gilmore said that it's one's right to choose whether or not to disclose their vaccination status.
"I just want to show you the type of individual I am versus the type of individual other people tried to portray," he said. "I could essentially have lied about it. No one would have known. But then a couple years [later], it would have come out. But I said 'no, be honest, and use it as a learning experience.' So that's what we did."
"My redemption story"
Gilmore has talked in-depth about the difficulties he faced in his youth, and how he worked hard to bring himself to where he is today.
While he was growing up, his mother died when he was 12, he had moved around foster programs, and his brother had dealt drugs.
"When I was growing up, I really didn't have a space to vent," he told the Jersey Journal in 2018. "So that's what contributed to me going to the streets, because I didn't have nowhere I could vent and those were guys that would listen to me vent, on the corner."
With the work he put in and the help of others after those struggles, Gilmore went on to earn degrees at Hudson County Community College and Rutgers University. He then opened his community center to give mentoring to the youth, did work to give back to the community, and has advocated as an activist across the city.
He plans on taking on his upcoming job as a councilman as a full-time role, but his community center will continue, where they plan to expand to the building next door to create programs such as sewing and job readiness.
After all those years of struggles and success, mentoring and advocacy, Gilmore now has an opportunity to influence policy in City Hall.
"There are greater things that I'm inspired to do to help people become the best that they can be in this life," he said.
For updates on this and other stories, check www.hudsonreporter.com and follow us on Twitter @hudson_reporter. Mark Koosau can be reached at mkoosau@hudsonreporter.com or his Twitter @snivyTsutarja.