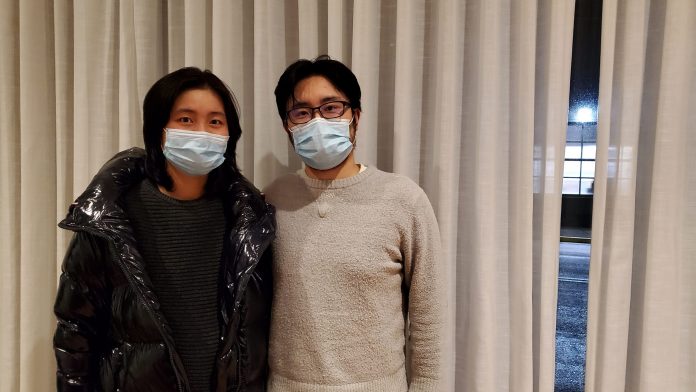 Nestled in the northeast part of downtown Jersey City is Newport, a massive mixed-use redevelopment neighborhood near the Hudson River. What was once only a few buildings had been morphed by the LeFrak Organization into high-rising residential and office buildings lined up with shops, restaurants, and the nearby Newport Centre mall.
The Newport community has grown since then. Most of the population is Asian American, along with Chinese and Indian Americans that work in finance and other occupations across the river in Manhattan. Residents there have their issues and concerns with the neighborhood, but they call it a good and convenient place to live right along the waterfront.
In recent weeks, however, many residents that live in the northern section of the neighborhood were taken back by the new ward map that was adopted by the city's Ward Commission and how it will affect them.
Tongtong Wu is one of those residents. A finance employee who works in Manhattan, she was one of the few from the neighborhood that spoke about her concerns with the map at the commission's Jan. 22 meeting. Speaking during a group interview back in Newport, she went more in-depth with her frustrations on the whole process and its outcome.
"We have a sister building in a different ward now," she said, referencing 1 Shore Lane and 20 Newport Parkway, two twin buildings known as the Shore Club that are connected together and have the same amenities such as a supermarket and roof tennis courts.
Under the map, the new boundaries split her address, 1 Shore Lane, off from the Downtown-based Ward E over to the Heights-based Ward D, while 20 Newport Parkway and the rest of Newport stays in Ward E.
"It doesn't really make sense, since we share the same parking lot and we are literally connected, right?" she continued. "So now you're telling us we are in two different communities."
It's one of the many consequences that are being felt across the city after the new map was approved, and the separated Newport residents are grappling with how their interests and issues will be reflected over the next decade.
Cut down the middle
The new ward map has been heavily criticized by many Jersey City residents over gerrymandering and being created without any transparency or public input. For the Newport residents, the biggest effect being felt is getting separated from downtown.
The boundaries take a slice of the old Ward E north of the roads leading to the Holland Tunnel and connect it to Ward D, disjointing a number of residential buildings in that part from the old ward.
For Newport, that meant a few buildings such as 75 Shore Lane were taken into Ward D, or in the case of the Shore Club, separated. The residents who were siphoned into their new ward were critical of being put into one that's geographically different from where they live.
"When I look at the map, it's like gerrymandering," said Yi Zhang, a software engineer and Wu's husband. "The [re]-districting is not by common sense – it's not compact, and I feel like the majority of our new ward is in the Heights, and we are somewhat marginalized."
Zhang had first heard about the map from fellow resident Jerry Huang, noting that it was the first time he heard about it. He felt that the process wasn't transparent and that there could've been a way to let every resident know about it.
Because of the differences between Newport and the Heights, some of the residents are concerned at how their specific issues, such as public safety, flooding, and others related to the waterfront, will be reflected in their new ward.
"That's a major reason I think the changes are random without a deep thought and a disregard of public input," said Huang, an IT consultant who lives in 75 Shore Lane. "We have a more common interest with the downtown people. Think about our issues – which issue is the same as the Heights people?"
One resident, who wished to remain anonymous, felt surprised, confused, and ultimately disappointed over the changes made, feeling that it turned out to be more of a political and math game.
"Why is this relevant to us? Because we are different buildings than a lot of other buildings," they said. "We live in apartments, which means in one apartment, there can be hundreds of people, while in other single families, there's only two to three people. So it seems that we are only joining a small part from the map to another ward, but actually a lot of people are moved from one location to the other location."
The big elephant in the room was how the Shore Club, which exists between two adjacent voting districts, got split between wards.
"It's horrifying the way it's been passed," said Kabita Thaper, who lives at 1 Shore Lane. "There is no transparency in this decision. What was it that forced them to split a building like that? What was the population number that they decided this on?"
"They just look at some numbers and they draw a line without really considering the real situation of the buildings," said Wu.
Looking ahead
Councilman Yousef Saleh, who represents Ward D, said that he would be upset by the new map if he was not an elected official.
"As an elected official, it's really not my place to choose who my constituents are going to be," he said in a phone interview. "I think that caused a lot of problems in the south [of the United States], when you look at politicians that draw lines based on communities that they want and don't want."
While he acknowledges that Newport is geographically different from the Heights, he says that both communities have similar needs and that he will give all constituents the same service.
"There's the sense of a tight knit community nonetheless," he said. " I think that the more that people from the Heights or downtown or Newport learn about each other, the more they'll realize there's a lot more similarities than differences."
Looking at the future, the Newport residents said that they would like more transparency and community input the next time the re-warding process happens, after the 2030 federal census, and in the meantime will be getting to know the Heights community and their new council member.
"We will try to work in a more transparent and more accessible way than what happened In this redistricting process," said Junyang Xin. "Hopefully we can we can bring some positive results for our Newport North community that has been affected."
For updates on this and other stories, check www.hudsonreporter.com and follow us on Twitter @hudson_reporter. Mark Koosau can be reached at mkoosau@hudsonreporter.com or his Twitter @snivyTsutarja.