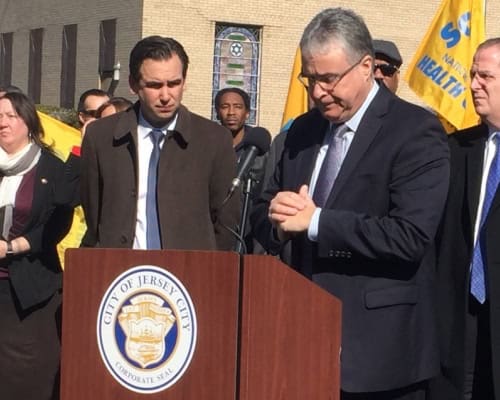 Jersey City Mayor Steven Fulop has officially endorsed Bayonne Mayor James Davis for re-election.
Fulop told the Hudson County View that he was on board Team Davis after an event in Bayonne in early March for the "Fund for Quality Leadership."
"I'm a supporter of Jimmy Davis," Fulop told HCV. "I'm going to continue to advocate for him and be involved where I can."
Fulop has previously backed Davis in 2014, when he was competing in a run off with then-mayor Mark Smith. Davis went on to win, securing his first term as Mayor just one year after Fulop was first elected mayor in 2013. Davis and Fulop also share a degree of separation through Davis' campaign manager John Minella, who is Fulop's Chief of Staff and a commissioner of the New Jersey Turnpike Authority.
"I think he's done a good job, been a good partner, and I think he's made significant improvements in Bayonne that are both visible from a social services standpoint and from a development standpoint," Fulop said. "Prior to today, a lot of the things happening there today weren't happening."
In the interview, Fulop went on to say that he would continue to advocate for Davis. He touted the work Davis has done in Bayonne.
"I'm hopeful that the people in Bayonne give him another opportunity," Fulop said. "I'm going to do my best to convey why I think, as my neighbor and partner, that he deserves that."
Fulop proud to endorse Davis
In a statement to the Bayonne Community News, Fulop added: "Mayor Jimmy Davis has been a great partner and I'm proud to endorse him. Just like we've done in Jersey City, Mayor Davis has used revenue from new development to fund important priorities like stabilizing property taxes and keeping neighborhoods safe, and he's shown his commitment to Bayonne by leading it through difficult crisis situations like COVID-19 and Hurricane Ida."
Davis campaign spokesman Phil Swibinski said: "Mayor Davis is proud of the strong relationships he has built with elected officials from throughout Hudson County, because those partnerships lead to better outcomes for Bayonne residents and help Mayor Davis keep property taxes stable, make sure neighborhoods stay safe and fund improvements to local parks and other programs. Mayor Davis thanks Mayor Fulop for his support and looks forward to continued collaboration in the best interests of both Bayonne and Jersey City residents."
In addition to Mayor Davis, City Council President Sharon Ashe-Nadrowski, former Bayonne Board of Education Trustee Michael Alonso, and Dr. Mitchell Brown are also running for mayor. On top of that 14 candidates have filed to run for the five city council seats.
The election will be held on May 10. However, if the council approves an ordinance to do so, there may be early voting on May 6, 7 and 8 during the weekend before the election.
For updates on this and other stories, check www.hudsonreporter.com and follow us on Twitter @hudson_reporter. Daniel Israel can be reached at disrael@hudsonreporter.com.