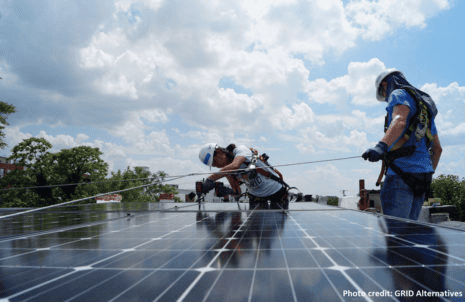 City of Hoboken and Housing Authority launch new Community Solar Program
The city of Hoboken and the Hoboken Housing Authority announced the launch of the Hoboken Community Solar Pilot Program. As part of the Climate Action plan, the program will provide discounted clean solar energy to the HHA and other low and moderate-income residents.
The program will also provide green job training for up to 25 HHA residents through a partnership with nonprofit Solar One through their Green Workforce Training Program, which is scheduled to begin on June 27.
For more information or to apply, go to www.hobokennj.gov/resources/community-solar.
West New York opens registration for Summer Action Day Camp
Registrations for the West New York Division of Recreation's 2022 Summer Action Day Camp are now being accepted. Available to West New Yorkers only, ages 6 to 13, free of charge. The deadline to register is Friday, June 24.
This six-week program will start on Tuesday, July 5 and end on Friday, August 12. The town will provide breakfast and lunch, multiple indoor and outdoor interactive activities and weekly pool trips. The program will take place at the WNY Middle School form 8:30 a.m. to 3:30 p.m.
A valid birth certificate or United States passport and two recently mailed proofs of WNY residency received within the past thirty days are required in order to register. Register at the Town Hall Recreation Office at 428 60th Street, Suite 7. Monday to Friday, from 9 a.m. to 5 p.m. Call 201-295–5120 for more info.
Hudson County Clerk's offers extended hours for May 7
The Hudson County Clerk's office will be offering extended hours on Saturday, May 7 from 9:00 a.m. to 1:00 p.m. at the Hudson County Plaza at 257 Cornelison Avenue, 4th Floor in Jersey City.
The Division of Elections will be open to accept vote-by-mail applications for the May 10 municipal elections, and the Division of Passports will be open to process passport applications by appointment only.
To schedule an appointment, call 201-369-3470, option #4.
Hudson County Community College names Entrance Atrium after Rep. Sires
Hudson County Community College commemorated the 10th anniversary of the North Hudson Campus by naming the Entrance Atrium in honor of Rep. Albio Sires "in appreciation for his public service and legendary support of HCCC."
Hudson Montessori School hosts 13th annual Social Studies Fair
Hudson Montessori School is hosting their 13th annual Social Studies Fair, based on the theme of the "Power of Nature". Student's families are invited to view the exhibits in the classrooms resembling museum galleries. The event will take place on May 7 from 9:00 a.m. to 1:00 p.m.
"The Nightingale" makes healthcare magazine
The recent North Bergen High School Art Gala contained many magnificent and imaginative pieces created by NB students. Among them was "The Nightingale," a stunning gown mounted at the front of the stage and prominently greeting visitors as they approached the exhibition.
Now a healthcare magazine has posted an extensive feature on The Nightingale, praising its concept, execution, and beauty. Why did an art piece wind up in a healthcare magazine? Because it is constructed largely of recycled "blue wrap," the material that surgical devices are wrapped in, sourced from the Hackensack University Medical Center. Blue wrap makes up a large percentage of medical waste, especially during the pandemic, and this was an ingenious way to put it to good use.
The Nightingale was created and submitted to a contest by Junk Kouture, an organization that encourages high school students to create and model couture made from 100% recycled materials. Also going into the construction of the gown were reams of discarded pool insulation, which was fashioned into angelic wings.
Two NBHS teachers coordinated the project, Fashion and Interior Design Teacher Marlene Sapoff and Sculpture Teacher and Art Director Steven Defendini, working with fashion students Christopher King, Myles Perez, Jazzlynn Vargas, and Josselyn Garcia.