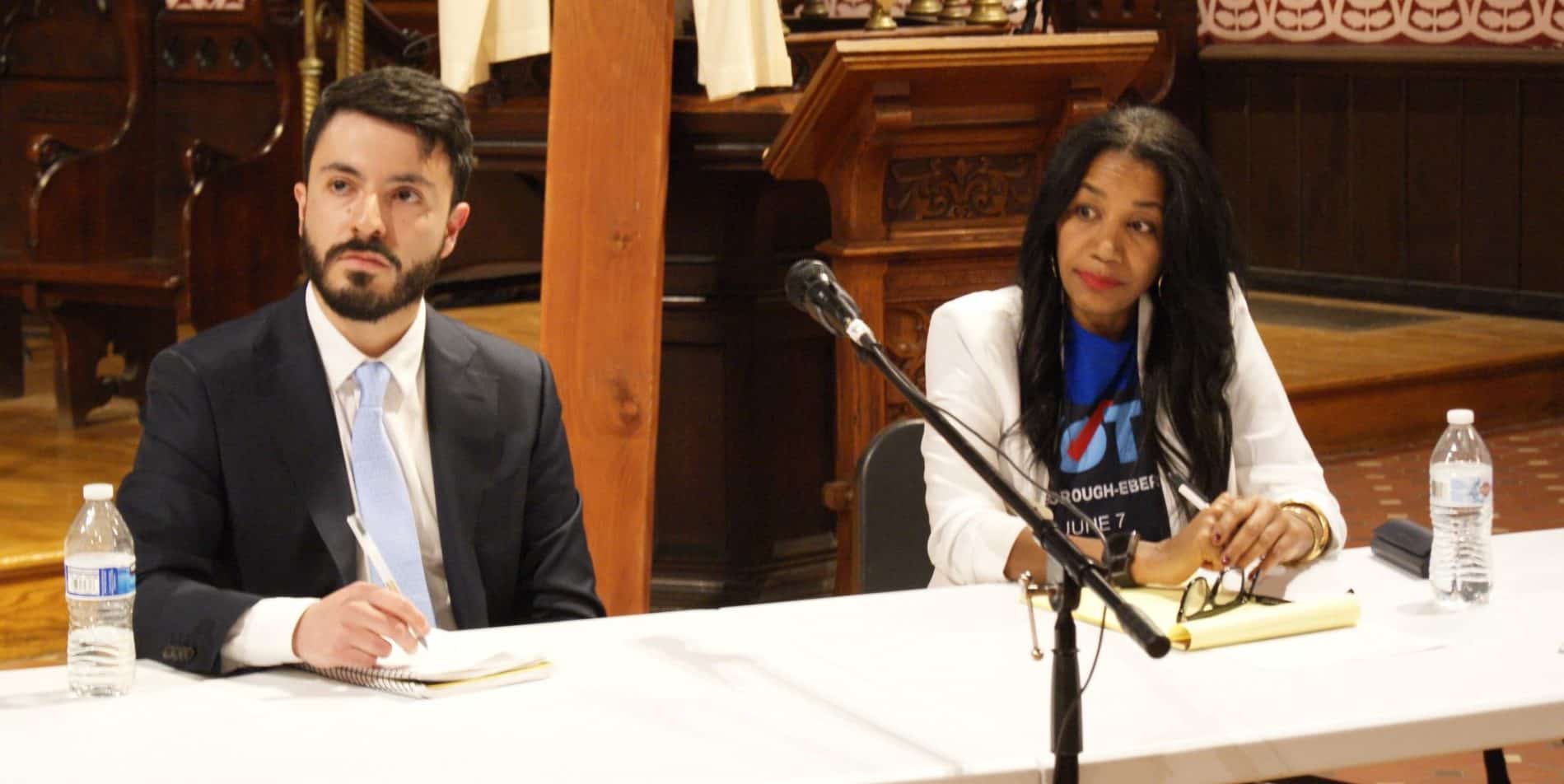 Two of the progressive candidates running in the 8th Congressional District of New Jersey discussed their ideas and policies at a forum in Grace Church Van Vorst in Jersey City on Friday night.
The two candidates, David Ocampo Grajales and Ane Roseborough-Eberhard, are running in the Democratic primary and are looking to potentially succeed retiring Rep. Albio Sires, a Democrat, in 2023.
The forum was moderated by Hector Oseguera, a former congressional candidate, and John Heinis of Hudson County View, and was hosted by Force the Issue NJ, the Progressive Democrats of Hudson County, and the Good Government Coalition.
Robert Menendez Jr., the son of U.S. Senator Robert Menendez and the establishment's favorite to succeed Sires, was originally scheduled to attend the forum, according to an announcement by Force The Issue NJ on April 14, but his campaign informed Heinis the week of the event that he would not attend, explaining that they weren't asked to confirm his attendance by the organizers.
With Menendez Jr. absent, Ocampo Grajales and Roseborough-Eberhard pitched their progressive policies to the audience, such as a Green New Deal, Medicare for All, and canceling student loan debt.
"We deserve a champion who is going to work tirelessly, every single day, to fight for change, and that's what I stand for," said Ocampo Grajales in his opening statement.
"I'm running because of the great people of the state and nation, the American people who have to understand that the Democratic Party is a party of people who are driven by rationality, facts and integrity," said Roseborough-Eberhard in her opening statement.
Oseguera asked the candidates what number one policy they would advocate for if they win the primary, to which Ocampo Grajales said he would focus on climate change and the environment, "hound" U.S. Senators Joe Manchin (D-W.Va.) and Krysten Sinema (D-Ariz.), and help get other progressives elected across the country.
Roseborough-Eberhard answered that she would advocate for legalizing cannabis on a federal level, noting that after recreational cannabis started sales last week in New Jersey the tax revenue from sales can be used for spending programs such as free college education. She also said she would focus on climate change.
Although Menendez Jr. was absent from the meeting, Heinis had questioned the candidates there about running against him in the face of the establishment's support of him. "What made you guys decide that you weren't gonna buy [into it] and you were gonna put your names on the ballot and give the old college try?"
Ocampo Grajales answered that democracy is about competing ideas, and criticized the establishment's endorsements as "undemocratic".
"Nothing against Menendez Jr. or Sr., but more of the same is not what we need," he said.
Roseborough-Eberhard replied that she wanted to serve the public for a long time at a higher level, and decided to go for running after hearing of Sires' impending retirement. "When a seat is open, we as citizens have the right to run, period," she said. "There's no other way to that."
Taking questions from social media, one question asked was whether or not the United States' two-party system was a positive or a negative.
Ocampo Grajales agreed with it being a negative, saying that members of the Democratic party exist across a wide spectrum of views, and warned about the Republican party's growing anti-democratic trends.
To that end, he said that he would support ranked-choice voting to promote more third parties, and expand the amount of members in the House of Representatives, which he argues will make representation more proportional and fix the Electoral College.
Roseborough-Eberbard said that the system is a positive, but also added that she would look into scrutinizing the Electoral College, noting that some presidential candidates such as Al Gore and Hillary Clinton had won the popular vote but not the Electoral College, and that they should reconsider or get rid of it.
Another social media question asked was about the Port Authority's approval for an Amazon Air hub at Newark International Airport, and how the candidates would watch over Amazon's power and their treatment of workers.
Both candidates said that they support unionization such as the recent vote in Staten Island. "I was really proud of what those people were able to accomplish on Staten Island," said Roseborough-Eberhard. "As a matter of fact, I shared it with my students, and I was like, 'This is the power of people'."
Ocampo Grajales added that he doesn't think that government funds, subsidies or special contracts should go to companies that don't meet basic standards such as a living wage or providing benefits such as paid-time off or sick leave.
Moving to audience questions, one audience member asked what they would do to support childcare and family care.
Both of them said that they support universal Pre-K. Ocampo Grajales supported nationwide parental leave, while Roseborough said that there should be a system in place so that parents can be with their child for their first two years.
Another audience member asked about the state's property taxes and how they would reduce the tax burden.
Ocampo Grajales said that he would reinstate the State and Local Tax Deduction, which was limited to $10,000 under then-President Donald Trump's tax cuts in 2017, and that he would work to make sure that the money that goes to federal government goes into state investments and resources.
Roseborough-Eberhard said that towns should start sharing resources, which she argues will be able to cut down on property taxes.
For updates on this and other stories, check hudsonreporter.com and follow us on Twitter @hudson_reporter. Mark Koosau can be reached at mkoosau@hudsonreporter.com or his Twitter @snivyTsutarja.