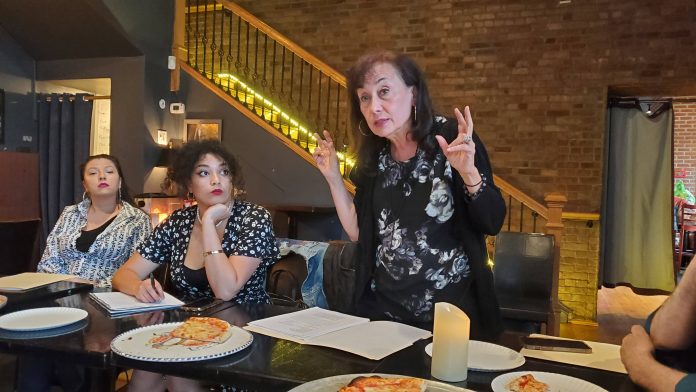 The Kennedy Dancers, a non-profit dance organization in Jersey City, have been fighting against a property assessment that could force them to pay property taxes despite their non-profit status.
The Dancers have been a nonprofit since 1979 for more than four decades, but say that they've been targeted by the city's tax assessor, Eduardo Toloza, for no reason that they've been told. They have filed a lawsuit in the New Jersey Tax Court to contest two memorandums of judgment for their two properties.
"I don't know what bothers [the tax assessor] so much about what we do," said Diane Dragone, the director of the organization at a recent board of trustee meeting.
The tax assessor office has been accused by other non-profit organizations in Jersey City such as WFMU for targeting them for taxes despite their status. For the Kennedy Dancers, they've been in litigation over their status for nearly two years.
"I make $23,000 a year for the last 10 years," continued Dragone. "Sometimes I don't take a salary if it means I can't pay some. So I don't know what's unethical about what I'm doing. But I'm tired of hearing that we are not an asset to the city and I'm doing unethical things."
According to the lawsuit, the case had begun back in June 23, 2020, when the Kennedy Dancers received a mail notice from the Jersey City Law Department notifying them of a complaint against their 79 Central Ave. location, which assessed the property for $466,500.
About two weeks later, the organization then sent a letter contesting the challenge to their tax-exempt status. They also requested reasons for complaint from the tax assessor and why their status was rejected, but had not received an explanation.
On Oct. 1, 2020, a letter was received from Toloza that "to continue your tax exemption, a claim should be filed in duplicate with this Office no later than November 1, 2020."
A week later, the Hudson County Board of Taxation issued the memorandum of judgments for both their Central Ave. property and their 120 Beacon Ave. property, which was assessed at $613,800.
Then a week after, the Kennedy Dancers filed an appeal of determination to the board, but then on an unknown date in October, the board held a hearing without notifying the dance company, resulting in the determination that the properties were taxable.
The organization has also disputed the status of a caretaker who lives at their Beacon Avenue property, which they allege the tax assessor has used a reason that they should pay taxes.
The Kennedy Dancers are currently being represented by John Fazzio of Fazzio Law Offices.
The Jersey City Tax Assessor office was unable to be reached for comment.
For updates on this and other stories, check hudsonreporter.com and follow us on Twitter @hudson_reporter. Mark Koosau can be reached at mkoosau@hudsonreporter.com or his Twitter @snivyTsutarja.