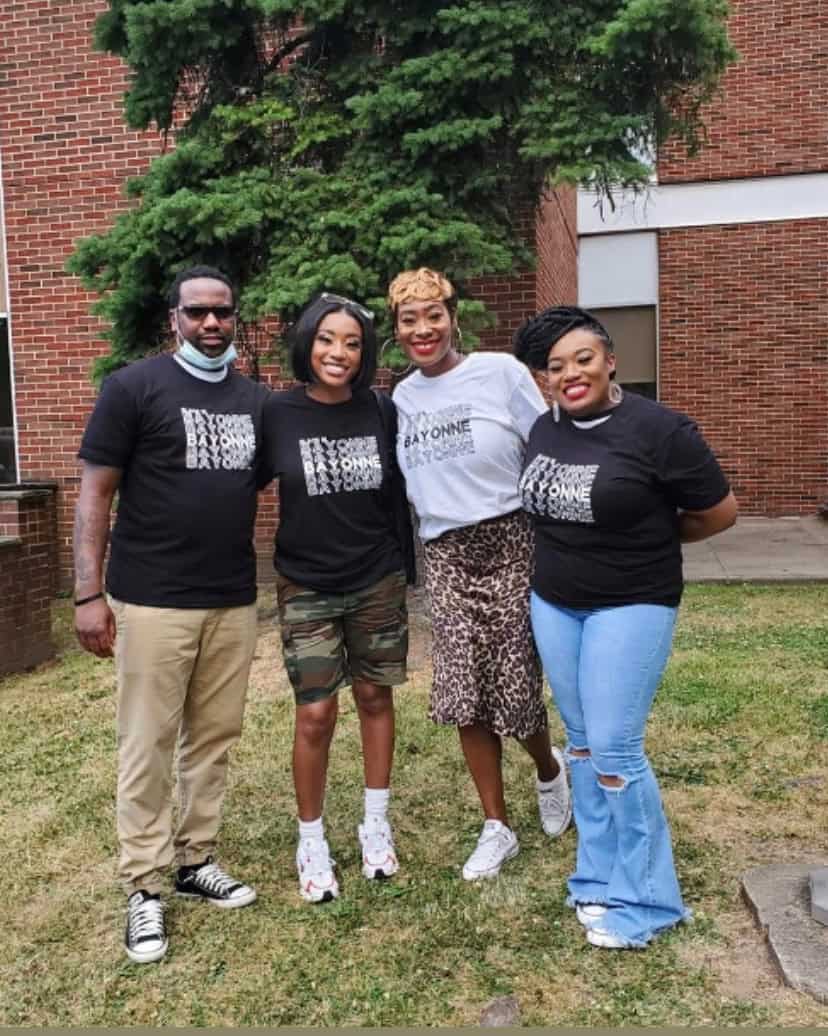 Nearly two years after the formation of local activist group Black in Bayonne in the wake of the police killing of George Floyd, the organization has officially become a nonprofit.
In an interview with the Bayonne Community News, co-founder Camille High reflected on the roots of the organization following the iconic "Power in the Park" peaceful protest put together by her, Clarice High, Shaniqua Borders, and Rashad Callaway.
"It all started out as the idea of doing a photo shoot in the wake of Breonna Taylor and George Floyd's deaths," High said. She and her sister, as well as Borders and Callaway had protested in neighboring cities, but had never done anything in Bayonne. 
"With the idea of just capturing Black excellence in Bayonne, a local photographer named Juanita Irving gathered Shaniqua, who gathered me and Clarice and Rashad, and we sat down and discussed the idea of a photoshoot," High said.
Meeting in Border's spa on Avenue C, The Crowned Social Beautique, she proposed the question to the group: "'If we're protesting in every other city, why aren't we protesting here?'" High recalled. "That moment, we stood still. Why weren't we doing anything?" 
Bringing activism to Bayonne
The photoshoot, combined with the idea by Malcolm Robinson, Paris Crawford, and their group of friends, to kneel for eight minutes and forty eight seconds in honor of the length of time former police officer Derek Chauvin kneeled on Floyd's neck, became the perfect storm for what shaped up to be the peaceful protest in Stephen R. Gregg Park Hudson County Park in Bayonne known as "Power in the Park." 
High continued: "They were doing the kneel, Juanita was doing the photoshoot. It was like 'What are we doing? And why can't we just encompass all these things together?'" 
Seeking to create an authentic Black protest experience tailor-made for Bayonne, the vision for a gathering at the gazebo in the county park and a march to the stairs where the kneel would occur was born. Wrapped up in the other aforementioned plans, the peaceful protest would go on to make history in the city.
"The thought was, if other cities could stand up, why couldn't we?," High said. "We were just four young people, who all born here and raised in the educational system. We knew how to function here, but we no longer wanted to just function in Bayonne. We didn't just want to survive here, we wanted to thrive here. And thriving here looked like starting our own movement."
Forging a lasting movement 
What began with "Power in the Park," continued with the official formation of Black in Bayonne by the High sisters, Borders, and Callaway. However, the protest wasn't well received by everyone, High recalled.
"We had white people mad at us. We had Black people mad at us," High said. "Everyone was mad at us because it wasn't the protest they saw on TV. We were all watching amid a global pandemic, every protest and wondering if it was going to come to our city… We were all watching the looting and the rioting. So a lot of white people got upset and started to board up their business and complaining like they do all the time on Facebook."
High continued: "Then we had Black folks upset because they felt we were just entertaining white people. That's what they really thought, but it wasn't about that. Never before had a group of Black people decided to occupy space. We didn't ask for permission. We never reached out to the city of Bayonne that we were going to hold a protest. We posted it on Facebook, Twitter, and Instagram and it just erupted. It went viral because we have a city ingrained with racism that was finally deciding to stand up."
'Occupying space without permission'
High underscored that Black in Bayonne's protest was peaceful and took place on a weekend afternoon. Additionally, practically all of the city officials and many state officials were there, although the group did not seek prior permission for the protest.
"It was the idea of occupying space without permission," High said. "It was letting Black and Brown people in Bayonne know that they can be unapologetically Black, that we are here, and that we can't continue to sit still."
According to High, Black people had made strides in Bayonne in the past and the peaceful gathering was another major step in the right direction.
"They never would have allowed us to do that when we were younger," she said. "That's an interesting part that still always gets me two years later. We celebrate those that stood before us, and two years later there's still an impact. Black people here in Bayonne now know that representation is coming, that we're here and we're not going anywhere. We can decide to be who we want to be and how we can live here and not live in fear." 
'Doing the work'
Emboldened by the success of "Power in the Park," Black in Bayonne went on to hold the first Pan-African flag raising in the city on Juneteenth in 2020. From there, the group continued to evolve, repeatedly meeting with school and city officials on issues affecting Black people, as well as participating in other initiatives such as a Thanksgiving food drive known as "Give Thanks Bayonne," leading efforts to support Black-owned business on Black Friday dubbed "Buy Black Bayonne," and helping a Christmas toy drive, on top of helping Black voices be heard in a local ferry study.
Near the one year anniversary of "Power in the Park," for Juneteenth, Black in Bayonne held "Power in the City." This time, the group marched from Edith Ferrell Way and Avenue C to City Hall, where there were performances, readings, and speeches, before the Pan-African flag was raised for the second time. Other efforts continued throughout 2021, such as the food and toy drives and measures to promote Black-owned businesses, as well as the promotion of Black history and culture during Black History Month and all year long, encouraged Black people to register to vote and vote, and reiterated called for police reform.
Throughout this year, Black in Bayonne has kept up the work, advocating for domestic violence awareness, holding a candlelight vigil remembering those lost to domestic violence, and becoming a part of the Bayonne Mental Health and Domestic Violence Task Force. Now, for Black in Bayonne's third anniversary, it has become a nonprofit. While having applied back in December, High said they just got confirmation of the acceptance of Black in Bayonne's nonprofit status this June.
Commemorating two years
"We didn't know the magnitude of our actions that day." High said. "That two years later, we're here as a non-profit. That we would be pushing policy and change within the city. That we would be sitting down with these lawmakers. That people would be asking our opinion. Or that we would be case managers for Black and Brown people here in Bayonne. We didn't know all of that. It was the just in the moment, we're going to do this, and whatever comes after that comes after that." 
High said the timing was fitting since it was the anniversary of the group's formation.
"Everything evolved into so much more than what we expected," High said. "The idea of Black in Bayonne was not be a moment, but a never-ending movement."
Additionally, High said the organization's goal over the last two years was to provide a clear understanding of what it means to be Black in Bayonne and the issues Black people face in the city.
"Our work aims to promote the understanding of and respect for others' diversity, equity, and inclusion, as well as the issues faced by Black and Brown people," High said. "it was just whispered before, but now we're bringing it to the forefront. And we always making sure to recognize and tell the stories of those who came before us."
According to High, the organization plans on continuing to evolve to meet the needs of the community. 
'The Blackest weekend in Bayonne yet'
Currently, Black in Bayonne is working with the Bayonne branch of the NAACP to put together a 2022 Juneteenth Celebration for the culture. June 19 commemorates the day in 1865 when Union soldiers landed in Galveston, Texas, spreading word that the war had ended and that the enslaved were now free.
"We want to make sure that we're providing events for Black people that promote the most opportunity for cultural enrichment, even for our allies with them understanding the purpose of why and standing with us," High said. "We are also holding events that provide a culture fix, because being Black or Brown in Bayonne, you can really get impostor syndrome. You can easily lose your sense of self or culture. We want to make sure that we provide safe spaces for Black and Brown residents and allies to be their most unapologetic self. We're dedicated to the growth of the engagement of events with the a group of Black and Brown people here in Bayonne."
As such, Black in Bayonne will raise the Pan-African flag in front of Bayonne City Hall on June 16 at 4 p.m. There won't be a parade this year, instead a slew of festivities at 16th Street Park hosted by the Bayonne NAACP.
"It's going to be the Blackest weekend that will probably take place in Bayonne in a very long time," she said. 
Working with the local NAACP
High said that Black in Bayonne has been working with the Bayonne NAACP closely regarding Juneteenth, with each organization mutually supporting the other.
"Black organizations are working together to promote Black excellence, to encourage diversity, and to also educate and liberate all the Black and Brown community here in Bayonne," she said.
As for what's next, Black in Bayonne will keep "doing the work," evolving with the challenges that face the community. One can only wonder where Black in Bayonne will be in 2023.
"When we see a need, Black in Bayonne will always work to serve the people," High said. "People come first. The people will always be served and we will still continue to provide case management services. As we develop as a nonprofit, our goal is to provide accessible resources for the Black and Brown residents here in Bayonne, as well as connect residents, share resources, and offer support for issues regarding mental health, housing, food, and employment. We've been doing that for last two years, really acting as a community liaison to make sure that peoples' needs are met and concerns are heard. That's the highlight of what we do: making sure Black and Brown people have opportunities, regardless of their social or economic status. We're really big on inclusivity and equity and we look forward to continuing doing the work."
For updates on this and other stories, check www.hudsonreporter.com and follow us on Twitter @hudson_reporter. Daniel Israel can be reached at disrael@hudsonreporter.com.