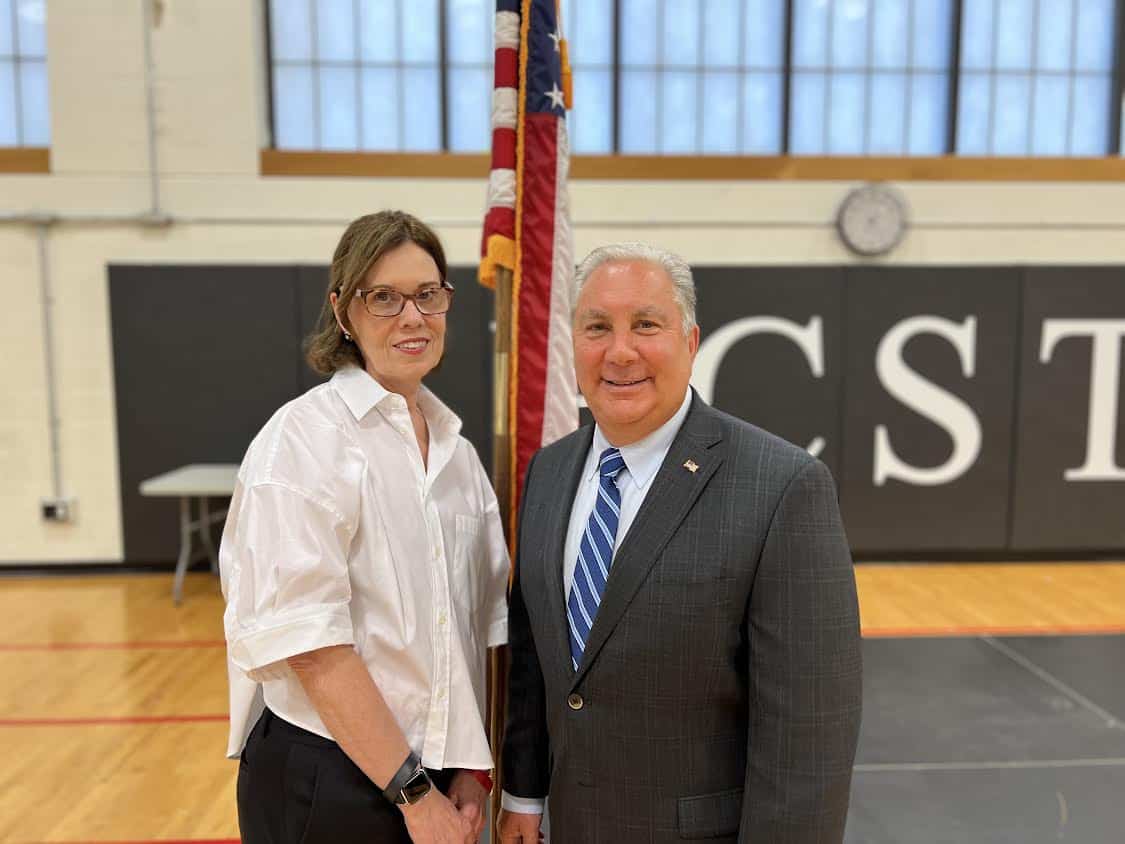 Chairman of the Hudson County Board of Commissioners Anthony Vainieri has been elected as the new chairman of the Hudson County Democratic Organization after a vote of the county's 900 elected committee members.
Vainieri succeeds Jersey City Councilwoman Amy DeGise and will be joined by a slate of Executive Board members that includes Vice Chair Barbara Stamato of Jersey City, Recording Secretary and Mayor Gabriel Rodriguez of West New York, Corresponding Secretary and Mayor Al Santos of Kearny, Treasurer Craig Guy of Jersey City and Sergeant at-Arms Margarita Gutierrez of Union City.
The meeting was held at County Prep High School in Jersey City.
"Public service is in my family's DNA and nothing means more to me than having the chance to serve the people of Hudson County, so it is an honor to be elected to this position as Chairman of an organization I've been an active member of since I was 18 years old," said Vainieri.
"Winning elections is about organizing block by block and working with your neighbors to make sure their concerns are being addressed, and that's exactly the kind of mentality I will bring as Chairman of the HCDO. I would like to thank all the Mayors for their support, especially my hometown Mayor Nick Sacco, as well as my family and friends. Most of all I'm thankful to the elected men and women of the county committee — they are the backbone of our organization and I will work hard to live up to the faith they have placed in me to lead our party forward."
A lifelong North Bergen resident, Vainieri was elected to the Hudson County Board of Chosen Freeholders, now County Commissioners, in 2014 and has chaired the board for the past six years. He touts his work to upgrade county parks and facilities to improve quality of life for Hudson County residents, while also keeping costs under control and ensuring that county government operates efficiently and with integrity.
Prior to his election to county office, Vainieri served on the Hudson County Schools of Technology Board of Education and was Chairman of the North Bergen Zoning Board. He presently serves as Chief of Staff to North Bergen Mayor Nicholas Sacco and is the owner and operator of Vainieri Funeral Home in North Bergen.
For updates on this and other stories, check www.hudsonreporter.com and follow us on Twitter @hudson_reporter. Daniel Israel can be reached at disrael@hudsonreporter.com.