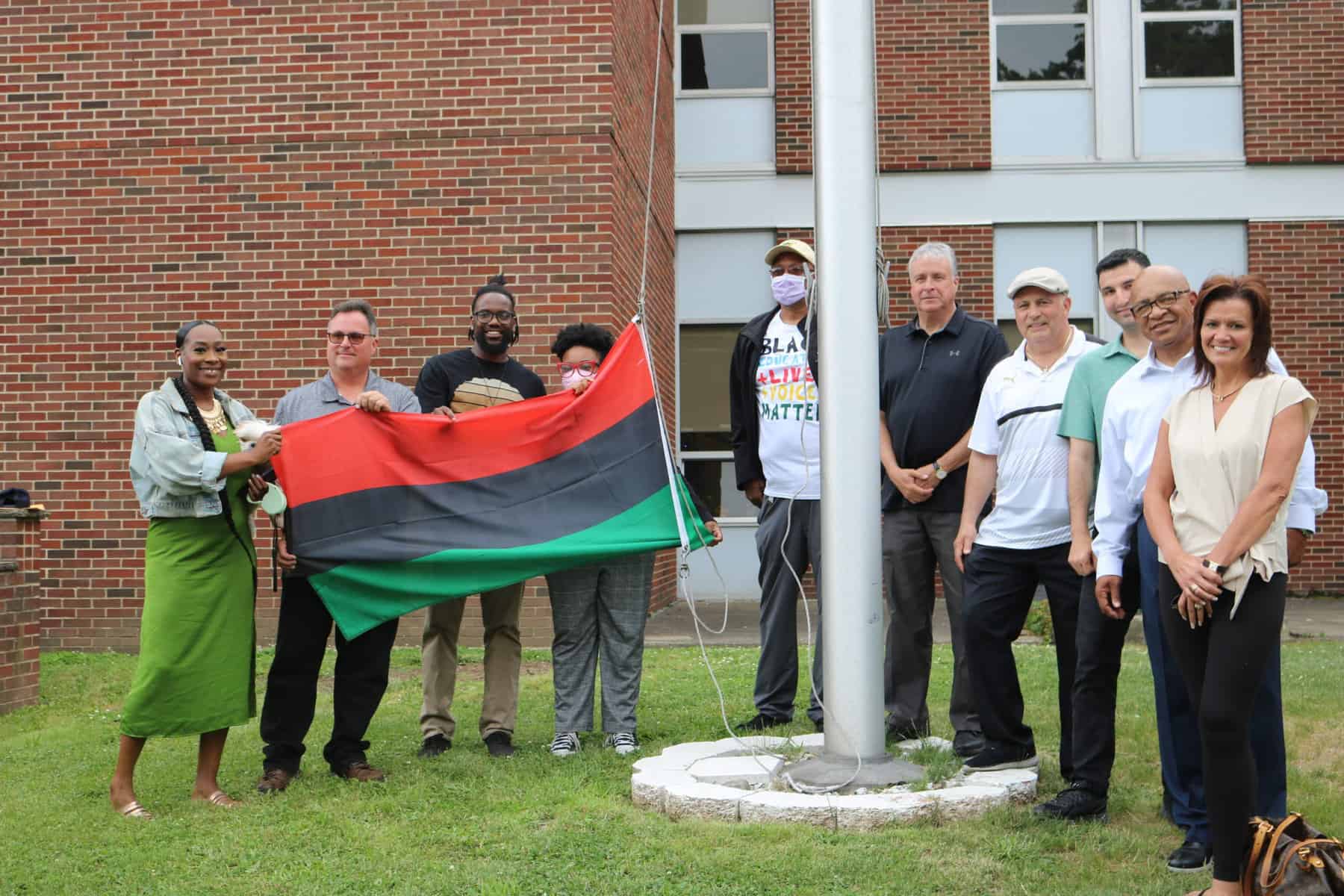 Black in Bayonne raised the Pan-African flag along with officials the City of Bayonne on June 16. The ceremony held by the local non-profit in front of City Hall at 630 Avenue C was honor of Juneteenth on June 19.
Juneteenth commemorates the day in 1865 when Major General Gordon Granger landed with Union soldiers in Galveston, Texas, spreading word that the war had ended and that the enslaved were now free. This was two years after President Abraham Lincoln signed the Emancipation Proclamation, meaning that the slaves in the Confederacy remained enslaved until Union troops arrived to enforce the Proclamation.
Prior to the flag raising, the ceremony began with the singing of "Lift Every Voice and Sing." Also known as the "Black National Anthem," the hymn was performed by Ronald Onion Jr.
After the solemn song, Black in Bayonne co-founder Camille High reminded everyone of the events that are going on this weekend. Between Black in Bayonne and the Bayonne branch of the National Association for the Advancement of Colored People (NAACP), there is a lot to do in the city.
"This is going to be the Blackest weekend we have probably ever had in Bayonne, New Jersey," High said on June 16. "Today we are raising the Pan-African flag for the third time in Bayonne."
On June 17, there is a block party at Drip Gelato and Cafe at 439 Avenue C hosted by Black in Bayonne, High said. There will be soul food, sorbet, gelato, and music for the cultural fix at the block party from 5 p.m. to 10 p.m.
Lastly, High reminded residents of the inaugural Juneteenth Celebration being hosted by the Bayonne branch of the NAACP on June 18 from 12 p.m. to 5 p.m. in 16th Street Park. A basketball tournament will occur at the nearby courts at the park at 3 p.m.
"If you could find your way to either of those activities, that would be great," High said. "We have a whole weekend festivities, so find yourself at one of those."
Then High and co-founders Shaniqua Borders and Rashad Callaway joined Bayonne NAACP President Donald Byrd, Mayor James Davis, First Ward City Councilman Neil Carroll, Second Ward City Councilwoman-elect Jacqueline Weimmer, Third Ward City Councilman Gary La Pelusa, City Councilman At-Large Juan Perez, and City Councilman At-Large-elect Loyad Booker in raising the flag.
Look out for more events in Bayonne throughout Juneteenth weekend.
For updates on this and other stories, check www.hudsonreporter.com and follow us on Twitter @hudson_reporter. Daniel Israel can be reached at disrael@hudsonreporter.com.