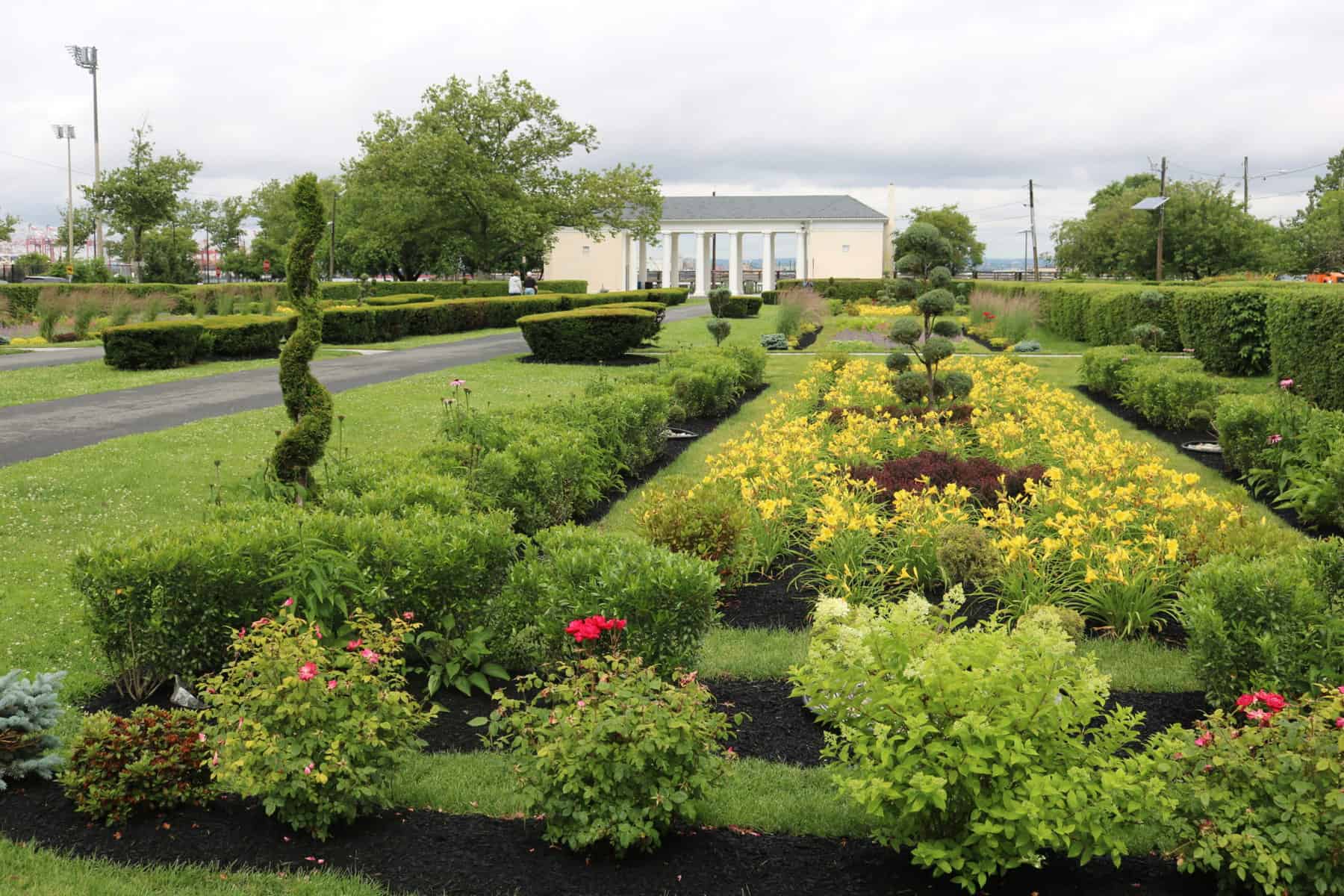 Hudson County and the City of Bayonne have officially named the landscaped gardens in Stephen R. Gregg Park after Cherie La Pelusa, who passed away from COVID-19 in April of 2020. The gardens are also dedicated to all other Bayonne residents who have passed away from the virus.
At the ceremony, the colors were presented by the Hudson County Sheriff's Office and the Hudson County Department of Corrections Honor Guard. Following the Pledge of Allegiance, Officer Lakia Gaillard of the county Department of Corrections sang the National Anthem before the colors were retired.
Hudson County Commissioner representing Bayonne Kenneth Kopacz emceed the event. Father John Fencik of St. Mary's Orthodox Church in Bayonne gave an invocation prior to speeches from local and county officials.
"My wife told me Kenny, I'm so sorry it's raining for Cherie's event," Kopacz said. "I  said that's not rain, that's Cherie getting up early to water her flowers.
County executive lauds gardens 
County Executive Tom DeGise spoke first and echoed Kopacz regarding the weather. "That's just God watering the garden, getting it ready for all of us." DeGise added the park has come a long way from when he used to be play ball at the fields there in his youth.
"The park didn't look like it looks now," DeGisa said. "All of our parks are beautiful and this one in particular serves the people of Hudson County and Bayonne so well… Each year we went on improving this park, adding things to it."
DeGise said it was fitting the park was named after Cherie as well as those who have passed from COVID-19.
"Dedicating it to Cherie is so applicable here. You're looking at a guy who lost his wife at too young of an age," La Pelusa said. "You never get over, but you get on with it and you continue to grow. And for the La Pelusa family, every time somebody walks by this beautiful garden, which looks like Downton Abbey to me, every time they come by they're going to think of Cherie and the La Pelusa family. I can't think of a better remembrance to have. So for Gary and the family, on behalf of us in Hudson County, we're very proud of this and to house these gardens right now."
Gardens memorializing those lost to COVID-19
Mayor James Davis also offered a few words about Cherie.
"This is a solemn day for you to remember," Davis said speaking to Gary and his family. "Cherie's gardens are always going to be here. I couldn't have found a better person that could have designed it and come out with it. Cherie's gardens are for Cherie La Pelusa and for everyone who died from COVID. We went through a really, really tough time for two years, especially the first six months. Nobody knew what to do or how to handle what we were all dealing with. And as a community and as a county, we came together. We were all pretty much on our own to figure out how to fight this and how to keep our neighborhoods, our neighbors and friends, and our families together."
With 137 residents who have passed from COVID-19 in Bayonne alone, Davis said that no one has been unaffected. Davis said the gardens are a great way to reflect on those lost to the virus
"COVID became just like cancer; I don't think there's anyone sitting here today whose life wasn't touched by COVID," Davis said. "That's what this garden will do for each and every one of us. It's for all of us to reflect and remember all of those we lost during COVID. But also, to remind us of what we went through and how we came out the other end… I always say this: We're all different. Look around, everybody here is different. We all look different. But at the end of the day, we all want the same thing. We want to live our lives in peace and we want to raise our families. We want to be with our friends and watch our children grow and prosper. That's what this garden for Cherie will stand for, each and every one of us."
Husband remembers late wife
Third Ward Councilman Gary La Pelusa thanked everyone for coming out amid the potential rain. La Pelusa, who is also the Manager of Hudson County Parks and Grounds, said the community has been supportive even as the gardens were being planted.
"While we were doing the work here, the outpouring of support, even from the people visiting the park, has been outstanding," La Pelusa said. "People taking pictures and coming up and giving us compliments. It's just an amazing thing. I feel a little overwhelmed sometimes when people give us those compliments."
While the whole area can be considered "Cherie La Pelusa Garden," he explained, there are six individually planted gardens that line the overall garden in the county park in between Newark Bay and the famous stairs.
"These six gardens are named for my wife Cherie, but they're also for all those who lost their lives to COVID-19. Also, I'd be remissed if I didn't mention my mother-in-law Adrienne Marangio, who also passed from COVID-19, four days after my wife Cherie."
Each garden is 29 feet by 63 feet wide. He thanked this crew that helped him plant it, the Hudson County Landscaping Division including Supervisor Federico Nealon, Sykes Dunbar, Harold Healy, Mike Soluri, Jerome DePippa, as well as La Pelusa himself.
"This started in Decmeber of 2020. I envisioned making these gardens with a lot of color, a place where June bride and grooms could take wedding photos and high school kids could take prom photos. I wanted to make my own little Versailles if I could. A place that no one would forget. I pitched my idea to our county bosses. They were all interested to see what could be done with this area. This area habitually floods, and so I came back from vacation last year on August 30. The gardens were under construction. We had a couple somewhat done.
Project perseveres amid flooding
"On September 1, we had record rains," La Pelusa recalled. "There was two feet of water that surrounded everything that we had planted. So we were wondering how are we going to take care of this habitually flooded area. We persevered and as we went along with the project, the more plants that we put into the ground, the more they absorbed the water. We still get some water issues here and there, but they're not as bad as they used to be."
In addition to helping with flooding, the gardens add color back to an area that historically was adorned with colorful shrubs and flowers. He spoke with Kopacz before heading to the county for support.
"We spoke to some our bosses here and we wanted to do something spectacular," he said. "He supported me in such a big way, I can't even begin to thank you for that. So last spring, we got the budget approved to install sprinklers, drains, pavers, walkways, and 3,000 plants. These plants will bloom at various times between April and November."
La Pelusa chose the best out of ten designs he drew up using digital landscaping software. Now each of the six gardens has a unique design, with plants that will bloom continuously throughout the year.
"We tweaked each garden so there's a couple of subtle differences in each garden," La Pelusa said. "Right now, there's close to 4,000 blooming flowers in these gardens. I am not sure, but I believe this is one of the largest projects in the history of the park system. The project took four and a half months to complete. The installation was done by my crew from the Hudson County Landscaping Division. They did a great job, and they worked tirelessly to get these gardens looking their best."
An homage to Cherie
La Pelusa described how the gardens were a loving homage to his late wife: "While we were designing and planning and installing the gardens, I couldn't help but think of my wife Cherie. She was such a big part of my life and my home… We were married for 28 and a half years and have four beautiful children: Gianna, Jennifer, David, and Gary. She really was the best mother and wife, and one of the smartest women I've ever known. She was a great judge of character. And much like my daughter Gianna, she was tough but lovable; she was my biggest critic and my biggest fan at the same time. She was my life partner, my business partner, and my political partner. I always talk in my fundraisers, I used to always mention that Cherie was my right arm. And she was my right arm, and everything else. I threw myself deeper into my landscaping work when we lost Cherie. And she didn't deserve the end that she got. There was no wake, no funeral. COVID was in full force when she passed. And I can't draw. And I can't paint. So I wanted to make a statement to Cherie. And though these gardens, which are my art, this is the only statement that I could probably make."
Overall La Pelusa was over the moon with the gardens and thanked everyone involved in the multi-million dollar project he touted was done in-house.
"A couple of really good things came out of this," La Pelusa said. "We get to enjoy the park itself forever and Cherie is going to be immortalized in the park. Another thing is, there's been some wildlife that's been coming around the park. We have a family of blue herons that come around now. We've had turtles that want to lay their eggs in our gardens. Just in the last couple of weeks, we had three or four. So I'm very pleased with the way it came out and the outpouring of love."
A commemorative plaque for Cherie was unveiled at the start of the gardens by Gary and Gianna. Then Fencik led the closing benediction, and food and refreshments were served to those in attendance.
For updates on this and other stories, check www.hudsonreporter.com and follow us on Twitter @hudson_reporter. Daniel Israel can be reached at disrael@hudsonreporter.com.