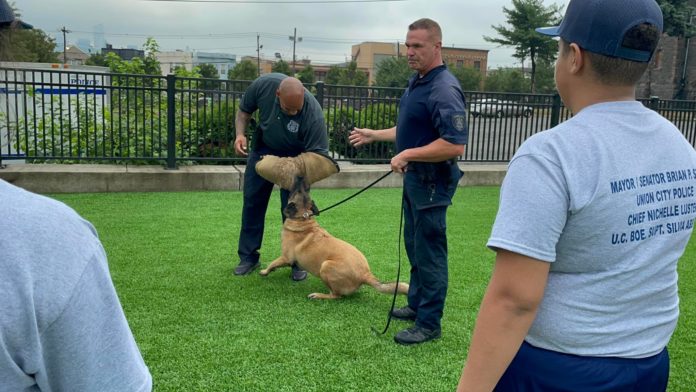 Court hearing on Jersey City ward map moved to August
A court hearing on the Jersey City ward map lawsuit was moved to August 5, where the commission behind the map is seeking a dismissal of a lawsuit that wants to overturn the map that was adopted back in January.
Jimmy Hoffa not found in Jersey City
The FBI announced that they have not found evidence of missing Teamsters leader Jimmy Hoffa from a search under the Pulaski Skyway bridge in Jersey City, according to the Associated Press. The FBI had obtained a search warrant for the area to look for Hoffa, who was last seen in 1975.
Arrests made in armed carjacking and robbery in Secaucus
Secaucus Police have announced the arrest of two men in connection with an armed carjacking and robbery.
Read the full story at: hudsonreporter.com/2022/07/21/arrests-made-in-armed-carjacking-and-robbery-in-secaucus.
North Bergen raises Colombian flag
Mayor Nicholas Sacco, Commissioner Hugo Cabrera, Commissioner Julio Marenco, and Commissioner Allen Pascual raised the Colombian flag over North Bergen Town Hall in honor of Colombia's Independence Day on Wednesday, July 20.
The event began with Michael Sera singing the National Anthem, followed by Nuri Capella singing the Colombian National Anthem. The mayor then presented certificates of appreciation to Capella and Michelle Galvis for their exceptional talent.
Certificates were also presented to Diego Fernando Mora Arango, Jhon Jairo Bustamante, Gabriel Jaime Rodriguez Naranjo, and Andrea Palacios for their work and leadership among the Colombian community. Also participating in this tribute were Township Administrator Janet Castro, Police Chief Peter Fasilis, County Commissioner Anthony Vainieri, NHRFR Executive Director Michael DeOrio, along with township employees and residents.
NJ DEP awards $1.5 million in grants to Hudson County
The New Jersey Department of Environmental Protection has awarded about $1.5 million in grants to a number of Hudson County towns to improve water quality and reduce the impacts of nonpoint source pollution from stormwater.
The following grants include:
$770,724 to Jersey City to expand the city's green infrastructure initiative by partnering with the Rutgers Cooperative Extension Water Resources Program to implement two shovel-ready green infrastructure projects including tree trenches and curb extensions along MLK Drive and Bramhall Street.
$562,060 to Hoboken to implement the construction of green/gray tanks to improve stormwater management efforts and delay stormwater discharge to Hoboken's combined sewer system.
$154,600 to Secaucus to implement the installation of rain gardens on Centre Avenue, near the Town Hall Annex and other municipal buildings.
North Bergen School District online registration is open
The North Bergen School District is now accepting online registrations for the upcoming school year 2022-2023.
The pre-registration website is available at fridayparentportal.com/northbergen/preregistration.
Hoboken Historical Museum awarded $20k grant
The Hoboken Historical Museum was awarded $20,000 in grants from the New Jersey Council for the Humanities to support their next Main Gallery exhibit, "The Hoboken Fires: A History of Gentrification & Arson for Profit."
The project is a partnership with artist Christopher López that will use community engagement, social justice, and digital practice to revisit Hoboken's history of the 1970s-80s. The exhibit will open in January of 2023.
Junior Police Academy returns in North Bergen after COVID-19
North Bergen students recently participated in this summer's Junior Police Academy, designed to operate like an actual police academy for kids interested in law enforcement.
Read the full story at: hudsonreporter.com/2022/07/18/junior-police-academy-returns-in-north-bergen.
Jersey City Council approves new towing fees
Getting your car towed in Jersey City will cost you more after the City Council approved changes in towing fees at their July 13 meeting.
Read the full story at: hudsonreporter.com/2022/07/18/jersey-city-council-approves-new-towing-fees.
North Bergen hires four officers, promotes one
Mayor Nicholas Sacco and Public Safety Commissioner Allen Pascual presided over the Oath of Office for five NBPD officers at a ceremony inside town hall chambers on July 20.
Hector Botello, a 10-year veteran of the NBPD, was promoted to sergeant. Four additional officers joined the NBPD in full-time positions, including Joseph Bufis, Andrew Brennan, Jeffrey Ruiz and Roberto Gonzalez.
Police Chief Peter Fasilis was master of ceremonies at the swearing-in. Pastor Steve Germoso performed the invocation and benediction. Also in attendance were members of the new officers' families, along with representatives from the township administration and the police department.