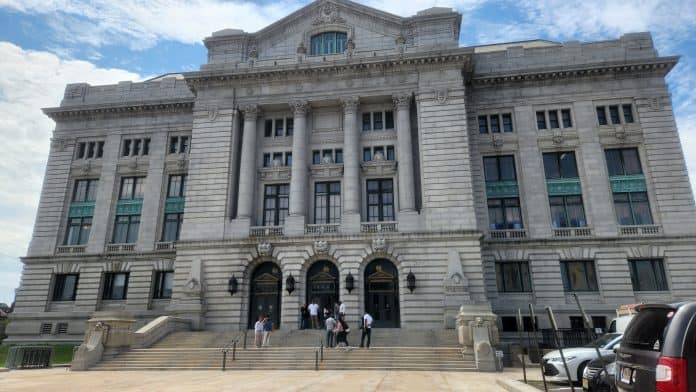 The judge overseeing the Jersey City lawsuit to overturn the controversial ward map will make his decision on whether or not to proceed with the case on Thursday.
Hudson County Superior Court Judge Joseph Turula will render his decision on Aug. 25 at the William J. Brennan Courthouse at 3 p.m. He heard oral arguments earlier this month for and against going forward with the lawsuit.
A coalition of Jersey City groups alongside Councilman Frank Gilmore have sued the Jersey City Ward Commission, the creators of the map, to void the map, arguing that the commission violated state law and was political retaliation, while attorneys for the commission have defended it.
The commission, which consists of City Clerk Sean Gallagher and six members from the Hudson County Board of Elections, are seeking a motion to dismiss the case. The chair of the commission, John Minella, is also Mayor Steven Fulop's Chief of Staff.
Attorneys for the plaintiffs that include former mayoral candidate and Corporation Counsel Bill Matsikoudis of Matsikoudis & Fanciullo made a number of arguments that included alleged violations of the Open Public Meetings Act (OPMA), the impact of the map on different communities, and alleged retaliation against Gilmore after he unseated an incumbent backed by Fulop last year.
Attorney Jason Orlando, a former state Deputy Attorney General from Murphy Orlando LLC representing the commission, disputed those arguments, saying that the commission did not violate OPMA, that the map had to be redrawn because of population growth in the city, and that the allegations of retaliation were "absurd."
The plaintiffs are also being represented by Renée Steinhagen of New Jersey Appleseed, and Brett Pugach and Yael Bromberg of Bromberg Law. The defendants are also being represented by John Bartlett from Murphy Orlando LLC.
For updates on this and other stories, check hudsonreporter.com and follow us on Twitter @hudson_reporter. Mark Koosau can be reached at mkoosau@hudsonreporter.com or his Twitter @snivyTsutarja.