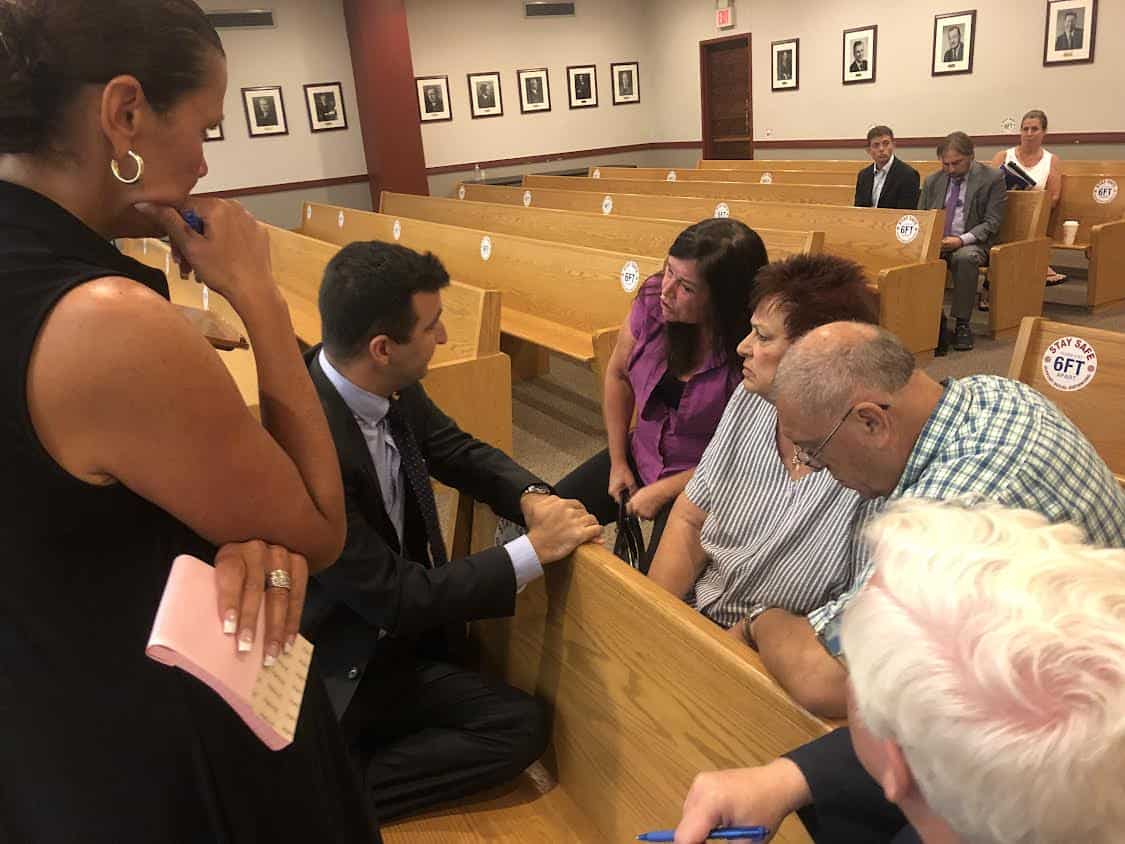 Neighbors of the planned six-story, 40-unit public housing building at 7 Oak Street are furious over the new redevelopment.
The plans by the Bayonne Housing Authority (BHA) call for 20 units of senior housing and 20 units of supportive housing, with 30 parking spaces and associated amenities, in an area currently dominated by two-family homes.
A group of residents from Oak Street spoke their minds at the August meeting of the Bayonne City Council during the public comment section.
Changing the character of the neighborhood
Joe Matousek, who lives directly across from the planned public housing on Oak Street, said he represents about 20 or 30 people from the neighborhood who oppose it. He said the project is wrongly being built on land where two-family homes used to stand.
"Years ago, they knocked down housing because of contamination," Matousek said. "We had the impression they were going to build two-family homes. Now, all of a sudden, out of nowhere, we find out that there's going to be a six-story building."
In addition, Matousek took issue that an ordinance to approve the amended 8th Street Station Rehabilitation Area Plan to move the project forward was initially slated for a public hearing at the August 17 meeting he was speaking at, but that ordinance was already adopted by the City Council at a special meeting on August 5 and the project's final site plans were approved by the Planning Board at its regular meeting on August 9.
"We didn't get any notification, I didn't hear anything," Matousek said. "It appears to me, the council has predetermined what they want to do, when they want to do it."
On top of that, Matousek said that there was a note left on his door stating that a meeting on the matter was cancelled. He continued to decry the situation, criticizing the redevelopment process for the public housing project, and asking if there was any way to stop it.
"We have a lot of people here that are outraged over the way this council works," Matousek said. "This is not the right way to do stuff."
Matousek concluded by calling the project part of the current administration's "overdevelopment" of the city with "monster places" that are causing traffic and parking issues among others. He called for the council to rescind the project's approval.
"We're going to do all we can to stop it," Matousek said. "We're going to vote everyone out if you don't work with us."
Block fumes over public housing plans
Teresa Newman is another resident of Oak Street outraged by the public housing project. Newman also alleged that she and other residents within 200 feet were not notified about the zoning changes.
"If I want to do work on my house, you want a permit, you want to be notified," Newman said. "Why can't I be notified?… We pay high taxes over there to keep our area nice. For you guys not to even inform us, or ask us what we thought about it, is disgusting."
Newman also argued that the land that was supposedly remediated was not actually clean. She alleged many who lived in the homes torn down prior to remediation died from the contamination.
"All those people that lived in those houses, they lost their lives," Newman said. "So when you start digging, and that dust goes flying, am I going to lose my life?… Is my dog going to die?… Are the rest of the residents that live around there going to die?… Because that land is contaminated.. Why don't you pull up the records and see how many people died that lived on that property?"
Newman said she has contacted the Environmental Protection Agency (EPA) to come test the soil and the agency has opened a file on the situation. She wants proof that the site was actually remediated.
"I also want the city to pay for private testing," Newman said. "We want to hire our own custom company to see if that land is still contaminated."
Newman also took issue with parking and other facets of life on the block that will be changed by the new building, to which Matousek agreed, yelling from the audience the council should rescind the project. She concluded by again vowing the land is still contaminated.
"I spoke with the people not even a year ago, and they said it was still contaminated," Newman said. "Even if the topsoil is not, when they start digging down it is."
Other residents echo concerns
Frank Maglio, another Oak Street resident, also addressed the council regarding potentially remaining contamination.
"I just want to put on the record that I am also opposed of tearing up potentially contaminated soil on that property," Maglio said. "Many people died when they tore up all those houses and got everyone out. It's been contaminated for all these years."
Maglio, who said his house is 40 feet from the property, is not opposed to the public housing building itself but the fact that the residents might be exposed to contamination.
"Everybody could potentially be affected by whatever they're going to pull out of the ground," Maglio said. "I'm most concerned as a property owner… We pay… $17,000 a year in taxes, now we're going to have to worry about contamination?"
Maglio also confirmed there was no notice to residents. In contrast, he said he recently held a block party which Councilman Neil Carroll also attended and he had to knock on doors on the street to get everybody to sign off on it.
Mary Besta was another resident of Oak Street who speak on the issue. Besta also felt like the site was still contaminated, referencing the adjacent contaminated site just feet away across the street.
"PSE&G still owns the other side… That area is publicly known to be contaminated," Besta said. "So what makes us think that the Bayonne Housing Authority, where they're going to be digging is just not as contaminated?"
Besta, who has lived on Oak Street for 12 years and said she also pays $17,000 in yearly taxes, called for the release of records related to the remediation. She also noted other issues in the neighborhood that have gone unaddressed by the city, relating to the Route 440 soundwall, overgrown vegetation, and feral cats.
Officials to discuss issue in private
Josephine Matousek was the last resident to speak on the matter. She also said that people on the block died from the contaminated land, and that the neighborhood is not allowed to plant things in the ground.
"I myself had neighbors on both sides of me that died from cancer," Matousek said, adding that she herself has a pituitary tumor. "Now you're trying to tell me that one side is good and one side is not… That property is totally contaminated… This is just totally unsafe."
Responding to the comments about contamination, Law Director Jay Coffey said the land was remediated when it was purchased from PSE&G and was certified by the New Jersey Department of Environmental Protection (DEP). When asked if the city had documents confirming that, Coffey deferred to the BHA board.
City Planner Suzanne Mack interjected to clarify that the BHA would not be able to build on land that is not clean and that corresponding documentation that the site is remediated is needed. Only the land across the street still owned by PSE&G is contaminated, she said.
Mack said she would check records to ensure the site was clean. That would be forwarded to City Council President Gary La Pelusa, who said that "everything that is found out about the site will be presented to the public."
Mack also explained that the 200 foot notice is actually only required for redevelopment studies, which was done for this project in preparation to amend the redevelopment plan back in June. She said she would also check to ensure there was notice on the site and report that to La Pelusa also.
Throughout the discourse, La Pelusa interjected to direct residents to speak with officials after the meeting to avoid a question-and-answer period during the public comment per the council's new rules. Some of the vitriol was directed at Councilman Carroll, whose ward the project is in, to which he said he would meet with residents privately but in the meanwhile redirected them to address the BHA board.
No action taken at meeting
Despite their passion and anger, residents' pleas were largely unanswered. No official action was taken by the council at the meeting regarding the project.
After the meeting, Carroll and Second Ward City Councilwoman Jacqueline Weimmer met with the Matouseks and Newman on the issue. However, it seems unlikely that the city will stop the redevelopment at this point given the desperate need for public housing in Bayonne.
For updates on this and other stories, check www.hudsonreporter.com and follow us on Twitter @hudson_reporter. Daniel Israel can be reached at disrael@hudsonreporter.com.