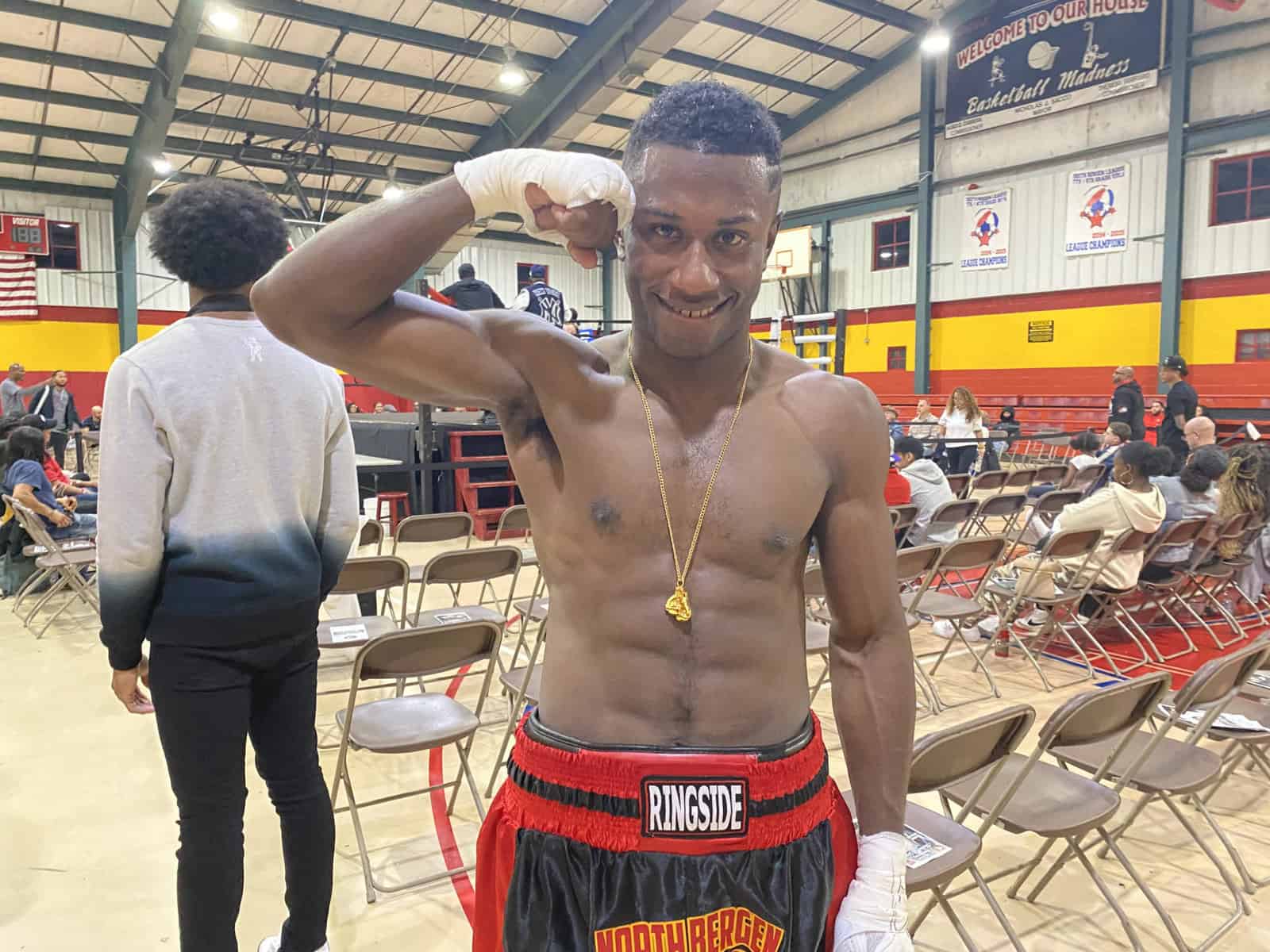 North Bergen boxers had a successful run at the 2022 New Jersey Diamond Gloves tournament, winning four championships at the North Bergen Recreation Center this past weekend.
Jean Pierre Valencia (165-pound novice), Peter Roldan (203-pound open), Erick Rivera (112-pound sub novice) and Luis Aybar (147-pound novice) all brought home championships in the amateur tournament, while Jimmy Martinez finished as the runner-up in the 147-pound open class final. All of the boxers represent Little Mac Boxing in North Bergen.
Valencia, a 22-year-old of West New York, entertained fans on Saturday, October 15, and Sunday, October 16. He outfought the heavy-punching Ryan Leonard to a decision win in the semifinals before pummeling the overmatched Alvin Matthews in the championship fight on Sunday.
The win punctuated a meteoric rise in amateur boxing for Valencia, a native of Esmeraldas, Ecuador who only arrived in America four months ago after spending several years in Barcelona, Spain.
"I thank God for giving me this victory. I am grateful for all the support from my team, friends and fans. My goal is to keep growing and improving as a boxer," said Valencia, who is known in boxing circles as "El Verdugo de Esmeraldas," or "The Executioner of Esmeraldas."
He will be back in the ring on Friday, November 18, when he faces NJ Golden Gloves champion Abedallah Elaiwah at the Police Athletic League in Wayne. Trainer Ryan Songalia expects this to be the first of many championships for Valencia.
"I believe Jean Pierre will be a champion at all levels of the sport. The greater the challenge, the greater his will to win becomes. There is no one who listens better and trusts the process more than this young man," said Songalia, who works alongside coaches Danny McDermott, Ryan McElroy, Bruce Seldon and Carlos Solano.
Big wins for Little Mac Boxing squad
Roldan, a 28-year-old of Englewood, finished old business by winning the title unopposed, having fallen short twice in past Diamond Gloves finals. Now the 2013 NJ Golden Gloves champion turns his attention to his upcoming bout against West Point cadet Matthew Beason on Sunday, October 23 in Haledon.
Roldan will have a busy schedule next month as well when he represents New Jersey in the Inter-state Diamond Gloves tournament in Atlantic City from Friday, November 4, to Sunday, November 6. Then he will receive his NJ Diamond Gloves championship belt at the New Jersey Boxing Hall of Fame dinner on Thursday, November 10 at the Venetian in Garfield.
"What a beautiful welcome back gift from the universe," said Roldan, who had been inactive from boxing for six years. "I've earned my stripes in this game. I'm back full throttle and I'm looking forward to shaking this sport up."
Rivera, a 19-year-old of Guttenberg, also won unopposed when his opponent no-showed the championship fight. He will be in the ring on Friday, November 11 when he competes at an amateur show at Park Elite Boxing Academy in Roselle Park.
Aybar, a 19-year-old of Perth Amboy outfought the tough Jason Aguilar to win his title on points. He had previously competed on the Perth Amboy High School wrestling team.
For updates on this and other stories, check www.hudsonreporter.com and follow us on Twitter @hudson_reporter. Daniel Israel can be reached at disrael@hudsonreporter.com.